Jun. 29
2016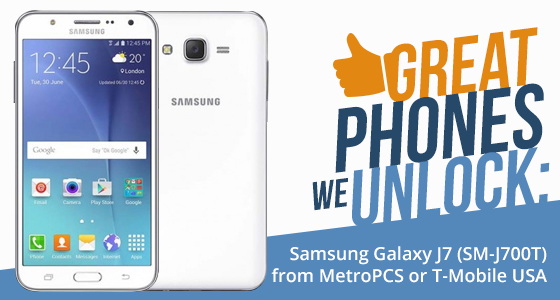 With its Super AMOLED display, the highly successful and value for money mid-range Samsung Galaxy J series offers quality and performance capabilities that would have been considered high-end even just two or three years ago. The J7, bigger brother to the J5, enables you to upgrade your photo-viewing, video-watching and gameplay sessions with rich, true-to-life color reproduction and an exceptional contrast ratio for deeper blacks.
The Samsung Galaxy J7, which was introduced a little earlier this year, features an immersive 5.5-inch HD Super AMOLED display, a 1.7GHz Octa-Core Exynos 7870 SoC, with 2GB of RAM, 16GB of on-board storage, a 13-megapixel rear camera, a 5-megapixel front camera, and a 3,300 mAh battery. MicroSD support is also included, as is LTE network connectivity. Running on Android 6.0.1 Marshmallow, T-Mobile and MetroPCS, the two major service providers that stock the J7, have different marketing strategies to entice you to buy the phone, and both of them are tempting.
T-Mobile USA offers the Samsung Galaxy J7 for only $239.99, and comes with a second phone free provided you pay with a prepaid MasterCard credit card. While MetroPCS USA does not offer a free second phone but opts instead for a super low price for the J7 of just $179.00.
Whether you're watching an HD streaming movie or reading a book, the Samsung Galaxy J7 is more involving thanks to the large 5.5″ HD Super AMOLED display. And while the 13MP main camera captures clearer photos, the 5MP front camera gives you fast and flattering selfies even in low light conditions. The 3,300 mAh battery has the power to keep up with your demands. The phone comes with in-built Ultra Data Saving which compresses data and restricts background apps from chewing up too much data, thereby supplying an unfailingly fast and cost efficient 4G experience.
Unlock the Samsung Galaxy J7 with UnlockBase
UnlockBase, the web's leading unlock remote phone unlock service, can quickly and cost efficiently extricate you from T-Mobile, MetroPCS or just about any service provider around the world from which you wish to unlock. If your Samsung Galaxy J7 comes from MetroPCS USA or T-Mobile USA then it's most likely your Cell Phone is locked with "Device Unlock App" and not asking for an unlock code (SIM Network Unlock PIN). In this situation it's really important to order the unlock of your device using this special service:
For T-Mobile USA:
https://www.unlockbase.com/phone-unlocking-service/tmobile-device-unlock-app-official-unlock/

For MetroPCS USA:
https://www.unlockbase.com/phone-unlocking-service/metropcs-device-unlock-app-official-unlock/
Most customers are able to quickly and cost effectively permanently unlock their phone within 5 minutes using the app. However, should any problems arise, UnlockBase also offers a 24/7 365 day a year service center manned not by robots but living, breathing human beings ready day or night to help answer your questions. UnlockBase also offers a 100% money back guarantee if you are not delighted with the service, and, should you find a genuinely cheaper like for like deal elsewhere UnlockBase will either match it or better it.