Jan. 8
2018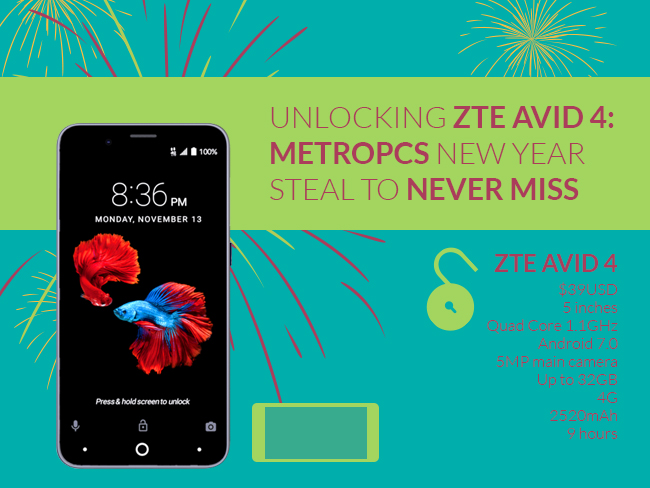 If you still haven't gotten yourself a new phone or if you are looking for a cheap steal, then MetroPCS has got something for you. ZTE Avid 4 is out in MetroPCS and just like its brothers in the ZTE family, it is mid-ranged price and a perfect budget phone for anyone who wants value for money more than fancy brands or flagships.
The phone comes at a bargain price of $39USD (*after all discount and rebates) without contract and you can easily pick one from any MetroPCS stores near you. If this phone doesn't convince you enough or if you are looking for more options you can take a look at these MetroPCS Phones of 2017 Under $100USD.
You'll be amazed how far your one hundred bucks is going to get you, but for now, let's take a look at what ZTE Avid 4 has got to offer by comparing it to other phones in the budget phone department.
| | | | | | | |
| --- | --- | --- | --- | --- | --- | --- |
| Specs | ZTE Avid 4 | ZTE Blade Z Max | Moto E | Alcatel A30 Fierce | Coolpad Defiant | Samsung Galaxy J3 Prime |
| MetroPCS Price/(after all offers) | $39USD | $99USD | $49USD | $79USD | $29USD | $49USD |
| Screen | 5 inches | 6 inches | 5 inches | 5 inches | 5 inches | 5 inches |
| Processor Speed | Quad Core 1.1GHz | Octa Core 1.4GHz | 1.4GHz | Quad Core 1.5GHz | Quad Core 1.4GHz | Quad Core 1.4GHz |
| OS | Android 7.0 | Android 7.1 | Android 7.1 | Android 7 | Android 7.1 | Android 7.0 |
| Camera | 5MP main camera | 16MP+ 2MP dual rear cameras and 8MP front camera | 8MP autofocus camera + 5MP LED flash | 13MP rear autofocus w/ LED flash camera and 5MP wide-angle LED flash | 8MP autofocus main camera+2MP front camera | 5MP autofocus rear camera + 2MP front camera |
| Internal Memory | Up to 32GB | Up to 128GB | Up to 128GB | 23.5GB user-available memory | 3.5GB available user memory | 10.9GB user available memory |
| Connectivity | 4G | 4G | 4G | 4G | 4G | 4G |
| Battery | 2520mAh | 4080mAh | 2800mAh | 3000mAh | 2450mAh | 2600mAh |
| Talk Time | 9 hours | 31 hours | 23 hours | 12 hours | 9 hours | 18 hours |
Build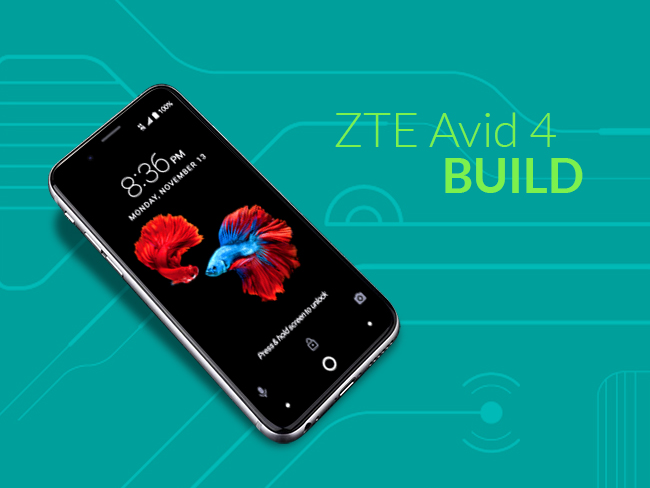 ZTE Avid 4 isn't a show-stopper type because it doesn't have a glossy glass front and back cover, but what it boasts instead is a big 5" screen with an FWVGA display. It does look like a mini ZTE Blade Z Max, standing at 6", which you can get at a meager *$99 (after all discount and rebate offers).
It is 4G LTE enabled which runs perfectly on the fast MetroPCS network. The biggest caveat on this specific model is that it comes only in one color – BLACK. On the other hand, if you are fan of headsets, this phone will not disappoint you because it has a 3.5mm headphone jack sitting at the top.
Software Interface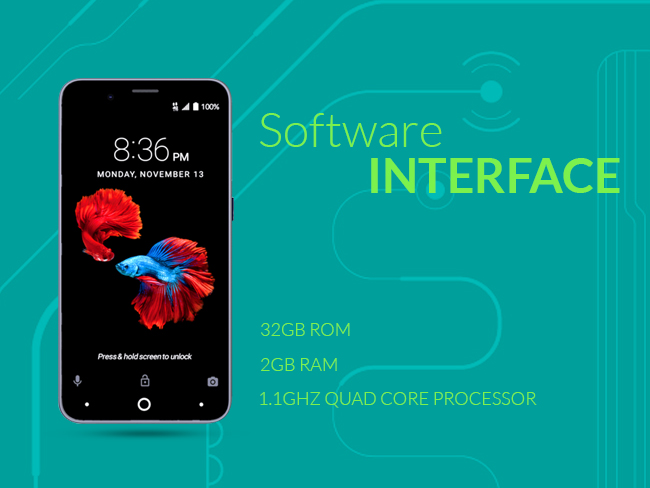 Unlike most mid-range phones, this ZTE Avid 4 doesn't have any fingerprint sensors for security so you'll have to stick with the basic password or pin to lock your phone.
The ZTE Avid 4 also has a clean and spacious dock that gives you the basic apps and features like most Android devices. It's running on Ice Cream Sandwich and it has 1.1GHz Quad Core Processor, so you can consider that it is fast, interactive, and smooth when using multiple apps at the same time.
The phone's Settings is organized just like any stock Android. It has 32GB ROM and 2GB RAM which gives a pretty decent amount of storage for all your pictures and a seamless music and video streaming, and mobile gaming. The internal memory is unfortunately not expandable via MicroSD Card but only up to 32GB.
The phone is also pretty straightforward to use – that is if you are used to using Android.
Camera and Battery Life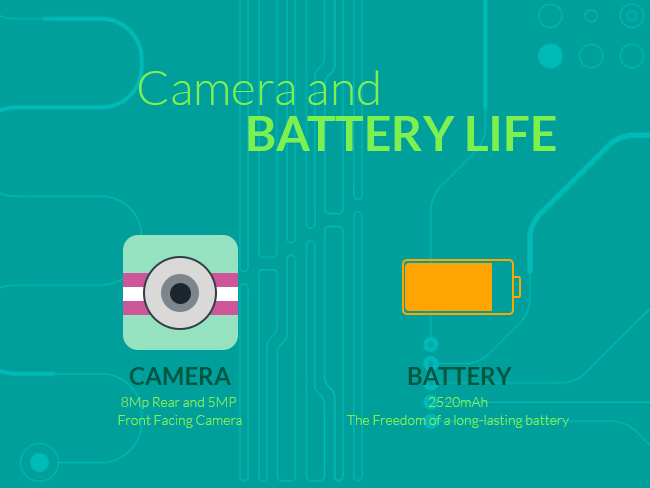 The battery life in the ZTE Avid 4 is pretty disappointing because it only has an average of 9 hours talk time from its 2520mAh battery. And compared to the ZTE Blade Z Max it does come almost half the battery life because it has a whopping 4080mAh and can handle up to 31 hours of talk time.
You can use its USB port to charge it or in transferring data from your phone to your computer or vise versa.
This phone isn't really the best in the mid-range camera department but it prides a few features that you might also like. It has a 5MP autofocus main camera. You can take videos in Panorama mode and you can also take photos while recording a video at the same time.
Other than this, the camera on this one is pretty average and wouldn't stand out in the tight mid-range or budget phone competition. It is not even on par with other ZTE released mid-range phones. However, considering the price, it surely is a bang for the buck.
Takeaway
The ZTE Avid 4 wouldn't really stand out compared to its other ZTE brothers nor to other mid-range phones out there. Nonetheless, considering its specs and features, we can safely assume that it does more for its price tag.
Want to Unlock Your ZTE Avid 4?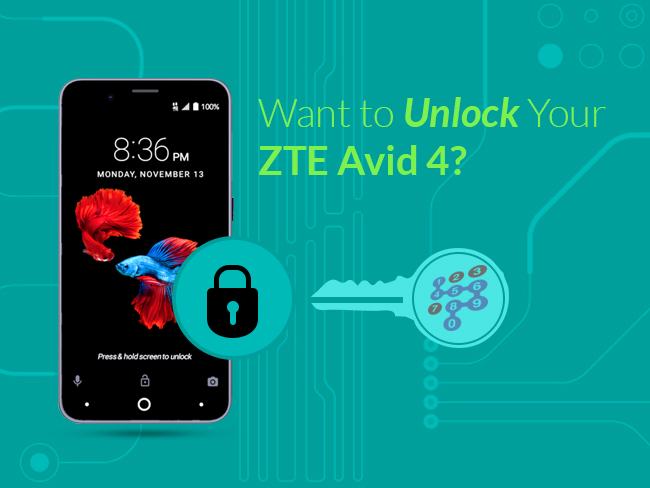 An unlocked ZTE Avid 4 phone is a good gift for yourself or for a friend. It could serve as your budget back up phone or you can give it to someone who is using a different network or maybe living in a different country.
UnlockBase can unlock your ZTE Avid 4 phone in a fast, easy, and convenient way. You wouldn't have to break the bank or send your phone over to get it unlocked. If you're ready to unlock your ZTE Avid 4 now, you can go here.
If you have questions or if you need help you can also contact our chat and email support team who are online 24/7 to cater your needs.
All products, and company names, logos, and service marks (collectively the "Trademarks") displayed are registered® and/or unregistered trademarks™ of their respective owners. The authors of this web site are not sponsored by or affiliated with any of the third-party trade mark or third-party registered trade mark owners, and make no representations about them, their owners, their products or services.