Jan. 10
2018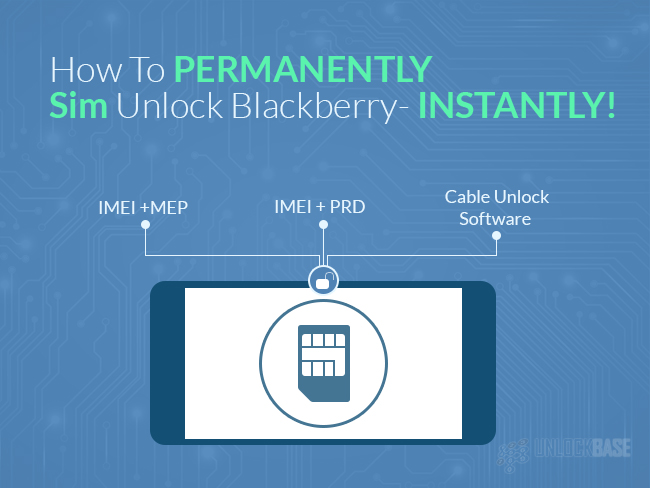 UnlockBase offers you 3 different easy, safe, and convenient ways to unlock your Blackberry phone. You can even get your code in an instant! There's no need to be a geek because all you need to know are the following.
1. Unlock Your Phone Using "IMEI + MEP"  or  "IMEI + PRD" – Simply find your Blackberry's IMEI and MEP and/or PRD number for us to calculate the unlock code. The IMEI is your phone's serial number. On the other hand, the MEP and PRD are specific codes about your Blackberry that will help us determine the correct unlock code for your phone. You can get the MEP or PRD of your device and get the sim unlock code in an instant.
2. Unlock Your Phone Through Direct Cable Unlock – If you find the first two processes confusing, you can also choose to unlock your Blackberry through our Cable Unlock Software. Through our Cable Unlock Software, you will be able to unlock your phone with a little help from your computer. It's a simple plug and play process and you can just easily enter the License Number we'll give you to allow the unlock to push through.
3. Order a Permanent SIM Unlock Code – We supply Blackberry unlock codes for 217 Blackberry cell phone models. It doesn't matter if it's an old Blackberry, or one of the latest releases, with UnlockBase you will find a solution to successfully unlock your Blackberry, fast. There's no need to send us your phone, just provide us the Serial Number (IMEI) of your phone and we will promptly deliver your unlock code.
1. Unlocking Your Phone Through "IMEI +MEP" or "IMEI + PRD"
Simply find 2 important details of your phone:
IMEI
MEP/PRD
Either you unlock through MEP or PRD, it'll be the same of the same price and unlock process. The matter between choosing which service to use will depend on which data is more conveniently accessible for you.
4 Ways To Find IMEI: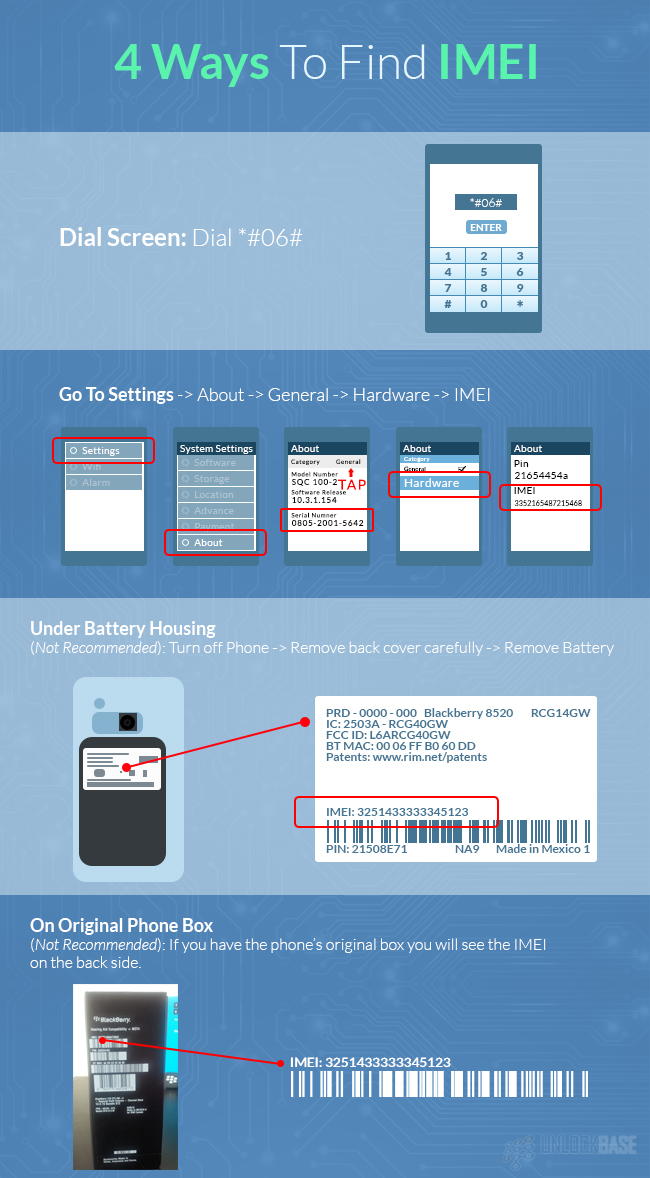 Dial Screen: Dial *#06#
Go To Settings -> About -> General -> Hardware -> IMEI
Under Battery Housing : Turn off Phone -> Remove back cover carefully -> Remove Battery
On Original Phone Box : If you have the phone's original box, you will see the IMEI on the back side.
2 Ways To Find MEP

1. Cable Method
With the cable method, you will have to download a file in our website which is the Blackberry MEP reader. This is exclusively from UnlockBase and the download process is super easy. It will also instruct you to add Blackberry drivers on your computer if necessary.
Simply go to: http://www.unlockbase.com/download/blackberry-mep-reader-software-by-cable.zip. Since this is obviously a zip file your computer will be automatically downloading this or you'd have to click allow to download it.
Install the Blackberry Driver. While installing the driver, let's tweak a phone settings on your phone to allow the software to read it.
On your phone, go to Options > Media Card > Memory Card or just type Memory or Storage on search bar
Uncheck Media Card Support, Mass Storage Mode Support, and Auto Enable Mass Storage.
Save all Settings and exit.
If there's a password, temporarily disable them for a more seamless process.
Go to Options > Security Options > General Settings or simply type Password on search bar.
Uncheck Enable. Save Settings and exit.
Open Blackberry MEP Reader on your computer.
Connect Blackberry phone to your computer via a USB cable (the cable that originally came with it).
Click Read Phone.
Your MEP should be there in a minute or two.
It's pretty easy. You simply download a software, install Blackberry drivers, temporarily disable added password on your Blackberry and storage, and then connect it via a cable to your computer.
Take note that our software is designed only to read the MEP of your Blackberry and the purpose it serves for. No data from your phone other than that will be taken. Nonetheless, if you don't have a cable or if you are using a Linux or Mac, you can use the next available method.
2. Keypad Method
This method lets you get the MEP code using your keypad. You will have to take note of a few codes during the process, so it will be helpful if you have pen and paper handy. However, this doesn't work on all models.
Go to phone's Main screen.
Access Help Me Menu: Press Alt + H (caps) at the same time – 1. Pearl & Sure-type phone: Press and Hold Alt + type E, A, C, E; 2. Storm phone: Hold the Back Arrow + Tap screen's Top Left, Top Right, Top Left and Top Right.
You will see the image illustrated above.
On your computer or any other device go to this page: https://www.unlockbase.com/widget/blackberry-escreen-keygen.php.
Type the details it's asking for: PIN, App Version, and Uptime. Follow everything including the decimals.
Click Generate Key. Wait while it generates the key.
Type the key on your phone. You won't see it appearing on the screen, so just type the letters once. If you are typing numbers hold the Alt key. If you are going to close the screen the uptime may change and you may need to restart the process again.
You will then see the Engineering Screen Contents.
Go to OS Engineering Screens. Note: we are not changing any setting on your phone, we are simply navigating through its systems to get the MEP code.
Go to Device Information.
Scroll down to MEP-XXXXX-XXX  – (X are of course replaced by digits)
Take note of your MEP and send it over to us along with the IMEI.
How To Find The PRD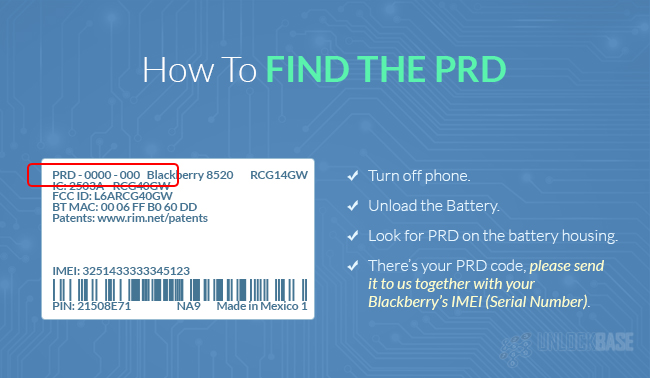 If you find that finding the MEP is a lot more thorough than you expect, you can also choose to unlock your Blackberry via IMEI+ PRD. Do note that we recommend the IMEI+MEP method because there are instances where the PRD is not consistent on some Blackberry devices.
Here's how to find the PRD on any Blackberry Phone:
Turn off phone.
Unload the Battery.
Look for PRD on the battery housing.
There's your PRD code, please send it to us together with your Blackberry's IMEI (Serial Number).
Once you have this information, you can now proceed on ordering your Unlock Code for Blackberry phone from UnlockBase. Before we go on how to do that, let's explore one more way, you can have your phone unlocked without the need to enter any unlock code – Cable Unlock Software.
2. Unlock Your Phone Via Cable Unlock Software

The Cable Unlock Software is an exclusive unlock software offered by UnlockBase. Before you download the software, please check if your Blackberry is one of our supported models for this unlock process.
Do take note that before ordering the Cable Unlock Software on our website, you should have the original cable that came with your Blackberry phone (or an equivalent if it works).
Here's a complete guide on how to unlock your Blackberry phone via the Cable Unlock Software/ Direct Unlock Process.
Find your phone's model number here – https://www.unlockbase.com/cable-unlock/blackberry/8520/
Click on Order Now.
Enter your email address to receive your License.
Click on Proceed to Checkout Now.
You will receive an email from UnlockBase and it will contain the link from where you can download the Cable Unlock Software (it's unique for each customer) and all the instructions to guide you all the way.
Download the software.
Right click on the icon and run as administrator.
On the LICENSE box, please paste the License Number we have given you via email.
Click APPLY.
Wait for LICENSE INFO details to load.
Click on NEXT-TUTORIAL. You will see this on the lowest portion of the box.
You will now see a new screen which has instructions. Please follow as stated.
Connect USB Cable To Phone and PC.
Phone can be with or without battery
Install Blackberry USB drivers.
Click on NEXT-DIRECT UNLOCK.
Wait for it to load.
Once the unlock is done you will see a message at the bottom that says: Blackberry Blackberry (model number) UNLOCK—– END!
This means that your phone is now successfully unlocked!
3. Get Your Permanent Sim Unlock Code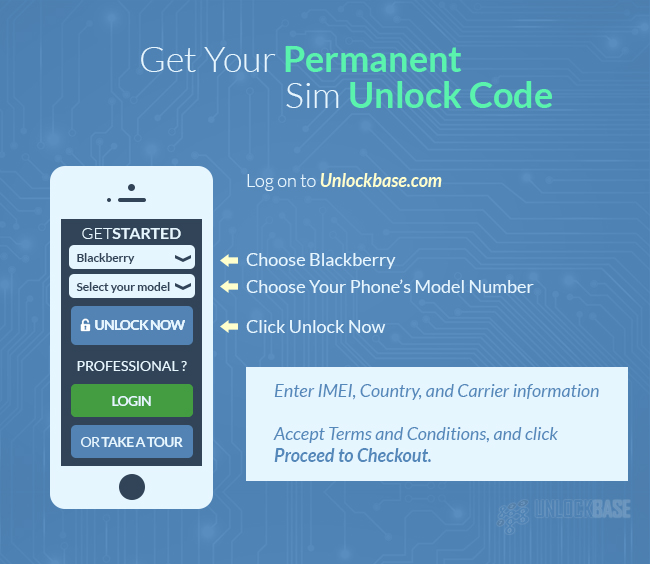 Your unlock code will be your key to having freedom over your choice of carrier. With UnlockBase, you can get your code in an instant and this one time process guarantees a permanent SIM unlock for your Blackberry phone. If you're ready to purchase your code, please follow these steps:
Log on to Unlockbase.com
Click Unlock
Choose Blackberry
Choose Your Phone's Model Number
Enter IMEI, Country, and Carrier information
Accept Terms and Conditions, and click Proceed to Checkout.
Before you can proceed on entering the code, we will be sending you our Eligibility Requirements page and you have to tick on the checkboxes if you already did all the pre-unlock requirements (which we will discuss later) and if you agree on all that's stated therein.
This is our guarantee that should the unlikely event that your phone will not be successfully unlocked using our code, we will provide you a refund. It is your protection and our guarantee.
Once you submit this back to us, it means you confirm your order and we will then send you the corresponding unlock code/s.
Turn off phone
Carefully remove back cover and battery
Insert a non-accepted SIM card
Go to Settings
Go to Security and Privacy
Go to SIM card
Tap Unlock Network
Enter Network Unlock Code (You will see how many attempts there are left to enter unlock code)
Tap OK
You should see "Network Code Entered Successfully"
Congratulations! Your Blackberry phone is now successfully SIM unlocked!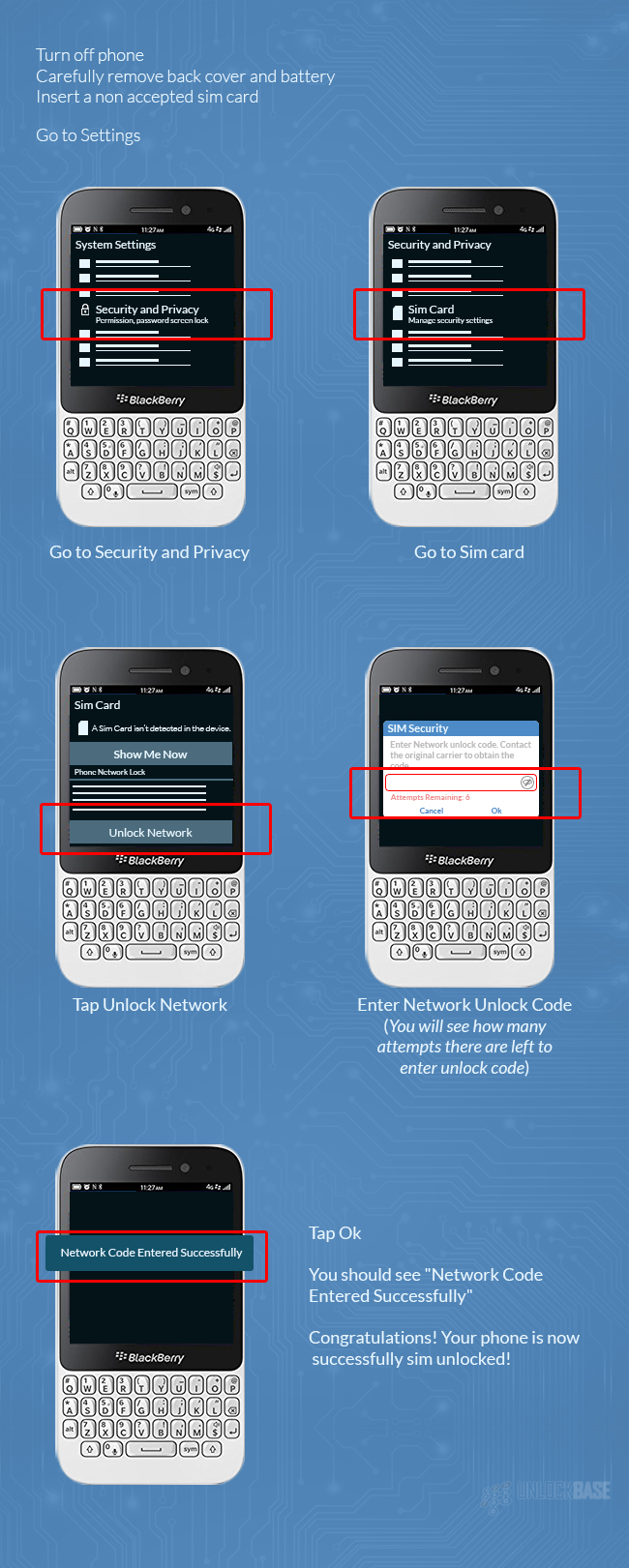 Here's a sample video on how to enter unlock code for Blackberry Q10:
Eligibility Requirements vary per phone model and manufacturer, so if you are unlocking two different Blackberry phones they will each have a unique unlock process and pre-unlock requirements. Please follow the added instructions diligently.
There are four common requirements on all phones (manufacturers). These are also just a few of the major reasons why our unlock codes don't work.
4 Instances That The Unlock Code Doesn't Work
1. When Your Phone Is Running A Custom OS
If your phone is running a custom OS it means that it is not using the original/stock ROM or operating system that Blackberry had officially installed in it.
If you are not the first owner of the phone, you can check this via the Settings.
Although Blackberry developed its own software, there are certain models which are running on Android.  So, if your Blackberry is running Android, you need to check whether it is still using the stock Android OS or not. A few of the most common custom Android ROM/ OS developers are Cyanogen, XDA, etc.
2. When Your  Phone Is Hardlocked
If your phone is hardlocked, it means that you have zero unlock attempts. It is probably because you have entered the unlock code wrong too many times or the last owner of the phone did.
Unfortunately, we cannot unlock hardlocked phones using an unlock key. Before you confirm your order, you will be given an instruction on how to check the remaining unlock attempts on your phone (it varies per Blackberry model). Please diligently do so.
3. When Your Phone Has A Mobile Device Unlock App Installed
The Mobile Device Unlock App is pre-installed on all T-Mobile and MetroPCS phones. So if your Blackberry is from any of these two mobility providers, please check if this app is already installed.
If you unfortunately, mislooked this app and confirmed your order for an unlock code, then it will not be unlocked. We will not be able to provide you a refund for this, though.
4. When Your Phone Is Blacklisted
A Blacklisted phone is a phone that is either reported lost or stolen by the owner or by the mobility/telco service provider. Your service provider will put your phone on a blacklist if the device is under a postpaid contract and was not paid in full or if there's an unpaid balance.
If that's the case, you will not be able to use your phone to any network. A Blacklisted phone cannot be used with any carrier in your country.
Although, we can safely assume we can unlock a Blacklisted phone, you will not be able to use it as a phone anyway, so why unlock it?
Why Choose UnlockBase
UnlockBase is an expert in this industry. We have over eight thousand reviews from customers all over the world and we have an average of 4.9 out of 5 stars! Let me give you a few reasons why our customers love us:
✔ 24/7 Email and Chat Support
✔ Easy and convenient unlock process
✔ Fast turnaround times
✔ Match competitor pricing
✔ Secure Payment systems
✔ Money-back guarantee!
Contact Us
If you have any questions or if you need help with unlocking your phone, don't hesitate to send us a message. We're ready to cater you anytime of the day!
All products, and company names, logos, and service marks (collectively the "Trademarks") displayed are registered® and/or unregistered trademarks™ of their respective owners. The authors of this web site are not sponsored by or affiliated with any of the third-party trade mark or third-party registered trade mark owners, and make no representations about them, their owners, their products or services.