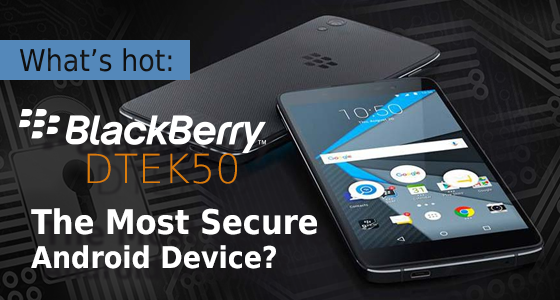 BlackBerry is still trying to play catch up with the smart phone some nine years after Apple iPhone started the revolution. Last year it launched Priv, its first high-end smart phone powered by Android, but it was matched with a high-end price of $700, which priced it above arguably the most admired smartphone of them all, the Samsung Galaxy Edge and the iPhone 6s.
Even BlackBerry CEO John Chen admitted that introducing such a high ticket phone was not the best thing the struggling manufacturer could have done. Sales of the Priv were understandably muted and disappointing. So it's not often these days that the name BlackBerry and 'what's hot' go together in the same sentence. But now BlackBerry has launched its first touchscreen-only Android handset, in a bold bid to diversify its range of devices, and for now at least, it is causing something of a stir in the mobile phone market.
The new phone is called the BlackBerry DTEK50. It's a smartphone – you can have any color as long as it's black – which the company claims to offer improved security over rival Android devices, and, at $299 will cost significantly less than its previous handset, Priv.
It is the Canadian firm's second Android handset after switching focus away from its struggling BB10 platform – for which many of the most popular apps such as Whatsapp have simply given up providing versions. One analyst has described the new phone as the "right move" but that the company still faced an "uphill battle" with devices. And unlike the Priv, the DTEK 50 does away with BlackBerry's signature physical keyboard and opts for a full screen.
The company said it would go beyond selling the phone through carriers and offer the DTEK 50 through security resellers and other distributors as it angles for more business customers. While the Canadian carriers will sell the phone, in the US the DTEK 50 will be sold through Best Buy, B&H and Amazon.
The DTEK's main claim to fame is as the most secure Android smartphone you can buy. It features a 5.2-inch scratch resistant display, runs on Android 6.0 Marshmallow, and there's a convenience key which you can map to your favorite app and much more. BlackBerry has hardened the OS on the DTEK50, and added a secure boot process to ensure that it is the most secure it can be.
The DTEK50 can make suggestions to improve your phone's security as well as give you much more information about what each app is doing, and what social media your apps are accessing. The phone also has unique internal hardware, with its chips protected by cryptographic keys to prevent tampering and thwart any would be hackers. An important advantage if you are one of the many who has switched to mobile phone banking apps. It was recently reported that mobile phone banking apps now outstrip traditional visits to banks and online banking via PC combined. So for that reason, a truly secure mobile phone such as the DTEK50 could be well worth investigating.
The phone has 16GB of storage and 3GB of RAM with a MicroSD that can take up to 250GB of extra capacity. The phone has a 13 megapixel rear facing camera and an 8 megapixel front facing camera for selfies with geo-tagging, touch focus, face detection, HDR, and panorama.
The BlackBerry DTEK50 phone is expected to be released August 8th, and only time will tell if BlackBerry has a winner on its hands for the first time in too long. New physical keyboard phones are also said to be in the pipeline.