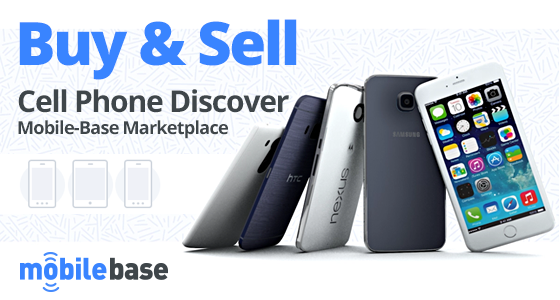 Mobile-Base is a dynamic new site that offers customers around the world a safe, secure and properly vetted buying experience for mobile phones of all kinds and for all budgets. With over two billion mobile phones currently in use around the world, there's always a great bargain to be had, but when you buy remotely it's often difficult to know what you are getting.
Buy Cell Phone from Sellers you can trust
Instead of working with Sellers you don't know or trust, Mobile-Base takes the time and effort to work with cell phone stores and dealers around the world who are keen to work with us. They want to extend the good service and reputation they have built up in traditional bricks and mortar stores and start to offer their products and services online. And because every dealer is checked, buyers can feel confident that they will receive exactly what they pay for.
The site is designed to be easy to navigate, and refreshingly fast to find exactly what type of phone or device you are looking for, or where is the best section for you to sell your own wares. Whether you're looking to buy, or you want to sell a phone, you can be up and running on Mobile-Base fast.
Tell us what you want, we'll tell you when it's available
Whichever model you are looking for from a wide choice of brands, if you don't find what you want straightaway you can subscribe to the site and we'll let you know as soon as a seller offers the phone you are searching for.
With each Seller we feature you can quickly check what inventory they have on the site, as well as their pricing history. If you find better value, just move on, Mobile-Base is like a multi storey shopping mall that only sells phones and devices, so there's a lot of choice.
We make sure everything runs smoothly. Mobile-Base has a a team of ten dedicated mobile phone experts working 24/7 to review and monitor every single deal posted on our site so as to offer maximum protection to our customers, and to ensure prompt and efficient payment for our trusted dealers.
So whether you're a webmaster or a cell phone store owner, you should get in touch to find out more about our affiliate program and details on how you can make some serious money by trading your phones with us.
Trade older phones and devices on Re-Boot Hill
In addition to selling new or newish phones and devices, you can even buy or sell older products, many of which are rare and no longer in production, in our special section called Re-Boot Hill. There is still a thriving market for older phones, tablets, iPads and other devices, as well as all those easy to lose accessories such as chargers and cables that go with them. And even though these are older products you're still protected to make sure you get exactly what you pay for. All item descriptions must be accurate and truthful.
Learn handy hints on buying and selling online
In the coming months we'll be adding informative articles on best practice for buying and selling mobile phones and other devices remotely. There are already articles on how not to get scammed, how to find that all important IMEI, and how you can make money from older devices. You can learn a lot without having to lift a finger.
Tell us what you want!
Rather like a smartphone, Mobile-Base is a two-way communications tool. We tell you what's out there, you tell us what you want and how you want the site to improve. We're here to listen to what you need to make ours the best mobile phone market on the web. Check us out!