The LG G7 ThinQ (LMG710TM), Thinks
That was a pun right there, but anyways, we're not kidding when we say that this phone is really smart. The thoughtfulness of the creators and designers of this phone is even beyond genius. Here are a few reasons why.
You might me interested: How to unlock your LG G7 ThinQ trough T-Mobile "Device Unlock" App
Explore The World With A Powerful Camera
Using Google Lens this phone gives you the ability to search the web by simply focusing your camera on whatever thing or place you want to learn about. It gives you smart suggestions based on web search results and information.
The feature makes shopping and traveling easier and more efficient. For an avid online shopper, this is ultra-convenient. For a wanderlust, it makes getting lost a learning adventure.
You can access Google Lens through the Google Assistant button on the left side of the phone. Launch the Google Assistant by pressing once, and quickly double press to skip to the Google Lens.
There are many reasons why this flagship is called a ThinQ, and the AI Camera is one of them. With this intelligence on board, you will have an extra 'creative eye' that provides you with real-time and easy recommendations on how to better enhance your photo.
The camera automatically detects low light shots (in dark or poorly lit areas) so it adjusts the amount of brightness needed for you to get the best pictures.
The best thing about flagships are their camera, and LG surely didn't let us down. It has two rear cameras, one is a wide angle lens, and the other is a standard angle lens with apertures of f/1.9 (LED Flash) and f/1.6 respectively.
You can have a portrait mode that lets you have a bokeh background effect or wide-angle shots that lets you capture beautiful scenery or a group of people.
There are several camera modes to choose from, such as the Manual photo mode that lets you change ISO, shutter speed, white balance and more.
Just like in previous models, you can also choose between 17 pre-set cinematic filters.
There is a whole lot more to discover with the LG G7 ThinQ's camera that you couldn't possibly ask for more.
You might be interested: Activate permanent Unlock  T-Mobile LG G7 ThinQ using the "Device Unlock" App
Superb Sound
LG has held on to the 3.5mm headphone jack that everyone seems to be ditching these days. If the sound is your #1 concern when buying a phone, this LG flagship is going to make it without a doubt. Here's what you have on deck:
Hi-Fi Streaming. Reads MQA file. High-resolution audio streaming.
32- bit Hi-Fi Quad DAC. For crisp, out-of-the-world sound experience when you are listening to your wired headphones.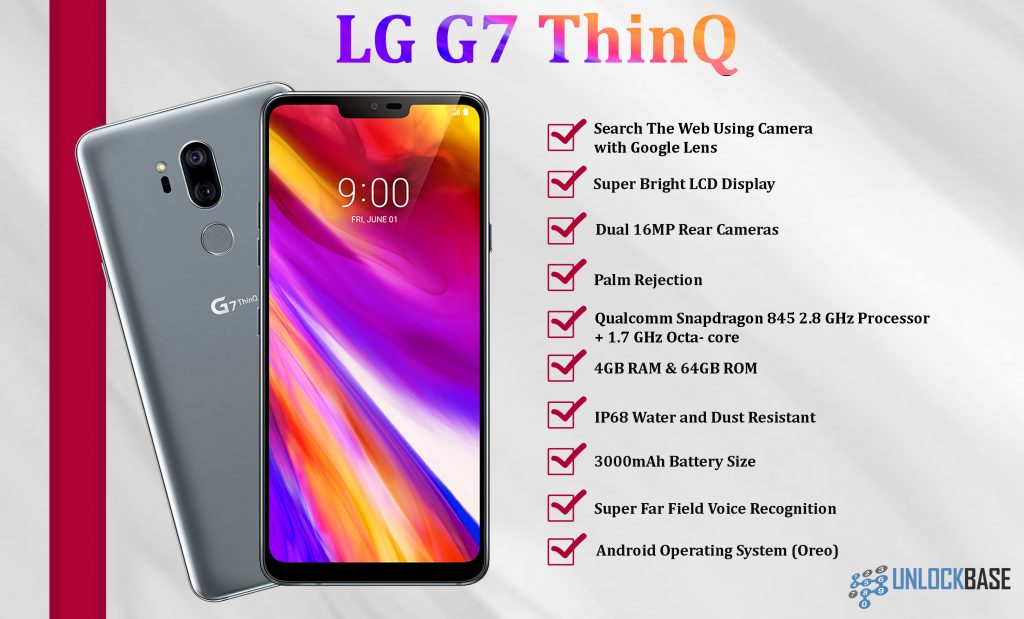 Hi- Fi Video and HD Audio Recorder. It has 2 high AOP microphones that record audio in higher quality. You have 3 different mode options depending on the sound you like when recording audio on a different track.
In line with that, you can also minimize Wind noise when recording a video.
Your mics are also combined to the phone's receiver to record better sound quality even in loud and noisy environments.
Super Far-Field Voice Recognition. It recognizes and amplifies your voice even when you are not near it or when it is noisy around you when you are taking a call.
Boombox speaker, DTS:X 3D Surround Sound. These are two different features but they work as one. This is LG G7 ThinQ's most unique selling point.
The Boombox speaker feature uses the phone's internal space as a resonance chamber that results in an amplified bass and louder sound.
This is further improved by the DTS:X 3D Surround Sound which makes it more consistent and rich. It has a custom equalizer as well. The 7.1 Channel also brings cinematic effect to its sound.
The LG G7 ThinQ is going to win every audiophile's heart.
Military-grade Durability
For a phone with all the above features, we would rarely expect more but LG just doesn't stop there.
This flagship phone can withstand unbelievable conditions such as the Samsung S8 Active which retails for a $100 more. It is MIL-STG-810 Compliant which means it can withstand accidental drops.
It is IP68 water and dust resistant so it can withstand up to 1.5 meters of water submersion.
It also has a dedicated heat pipe that prevents the heat from being trapped and damaging the processor.
You might be interested: How to troubleshoot the "Device Unlock" App on your LG G7 ThinkQ
Battery Life, Processor, and Software
This phone just like most flagships has a huge 3000mAh battery that can last you all day even under heavy usage.
The large battery is complemented by a Qualcomm Snapdragon 845 2.8 GHz Processor + 1.7 GHz Octa-core, so you rest assured of fast and efficient use of power.
It is of course running in the latest Android System (Oreo). It is wireless charging capable, and has a USB Type-C charging port as well. It is Qualcomm Quick Charging 3.0 supported so you can rev up in just a few minutes.
ROM is 64GB expandable up to 2TB. RAM is 4GB ideal for heavy usage and can handle multi-tasking seamlessly.
Super Bright LCD Display.
With a peak brightness of over 1000 nits, this phone would let you still see your screen clearly even against direct sunlight.
The LCD screen also makes the screen really crisp, with images undistorted even in its peak brightness. Moreover, it is 30% more power efficient than the LG G6, the flagship predecessor.
The screen also has a Palm Rejection feature that prevents you from accidentally pressing any buttons with the highly sensitive touch screen.
Final Thoughts
We think that LG G7 ThinQ is deserving of its name, and buying one is definitely buying into an experience. For $750 it has offered way more thoughtfulness in design and feature than many flagship phones that retails for almost $1000. Surely, this one is one if the best Android flagship phones we've tried so far.
All products, and company names, logos, and service marks (collectively the "Trademarks") displayed are registered® and/or unregistered trademarks™ of their respective owners. The authors of this web site are not sponsored by or affiliated with any of the third-party trade mark or third-party registered trade mark owners, and make no representations about them, their owners, their products or services.