Huawei has recently unveiled its newest flagship smartphone, the Huawei P50 Pocket. This compact device is packed with features and boasts a sleek design, making it a top choice for smartphone users.
Huawei P50 Pocket Phone is the foldable variant of the Huawei P50, which was introduced in December 2021, and its projected price is roughly $1,412. However, there is no competitive advantage apparent in this phone when compared to the Samsung foldable smartphone.

But, the foldable 6.9-inch OLED display offers immersive colors and 120 Hz refresh capability, and the hues and saturation are rather good. The phone also has a fingerprint sensor on the side. In terms of computing power, the phone is powered by the Qualcomm Snapdragon 888 4G processor. The Huawei P50 Pocket Phone, unfortunately, did not support the 5G band. Hopefully, HarmonyOS 2.0 is a breath of fresh air in comparison to the standard Android OS.

Huawei P50 Pocket Phone Pros and Cons
| | |
| --- | --- |
| Pros | Cons |
| A choice of immersive color palettes. | Not equipped with gorilla glass protection. |
| Colorful and bright OLED screen. | Expensive phone compared to the specs available. |
| Fantastic foldable design. | Lack of IP rating certification. |
| Lots of memory and CPU speed. | Without support for custom UI. |
| Refresh rate of 120Hz for a fluid experience. | No NFC support. |
| HarmonyOS 2.0 support. | Comparatively low battery capacity. |
| 4K videography and stunning pictures. | Not compatible with 5G connectivity. |
| Support for secondary coverage screen. | No Google services |
| Allows for rapid charging and reverse charging. | |
Huawei P50 Pocket Phone features excellent hardware that surpasses Samsung's finest efforts, but the primary issue is the lack of 5G connection and compatibility for essential Google applications and services.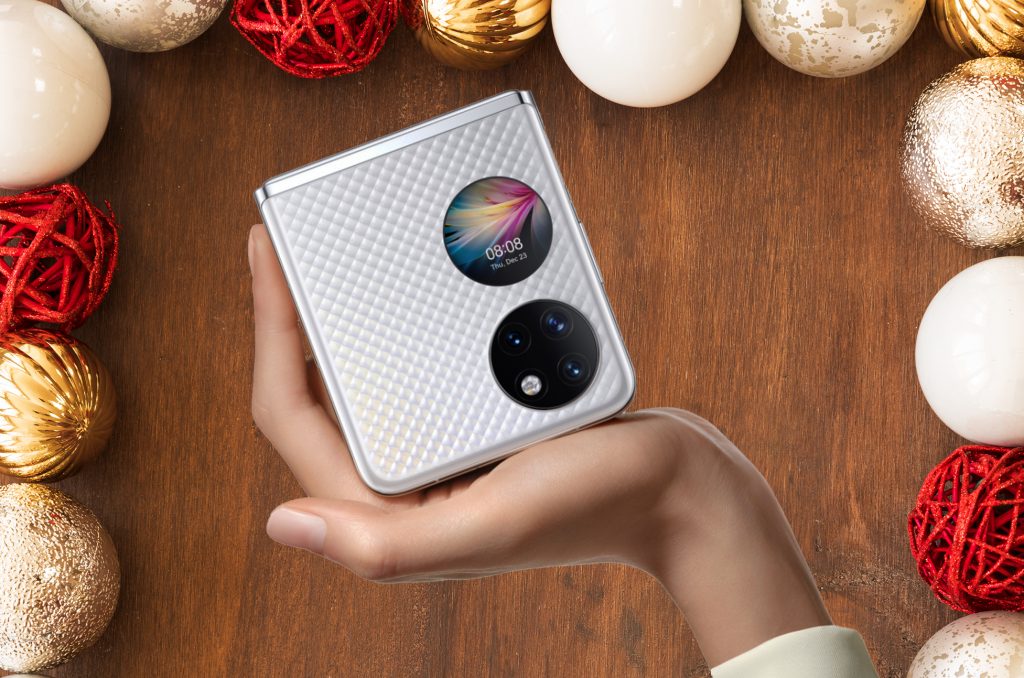 Huawei P50 Pocket Phone Camera
One of the standout features of the P50 Pocket is its camera system.There are three primary lenses, but only two are active for your core photography, so this is actually more like a duel camera, with a 40Mp main shooter and a 13Mp ultra-wide, which can both capture 4K video at 60fps.
A 32Mp 'Ultra Spectrum' camera is included. This isn't used to shoot images on its own but, together with a separate multi-spectrum sensor, gives depth and color information to aid the two primary lenses produce better photos with richer color details.
Huawei P50 Pocket Phone Display and Performace
In addition to its impressive camera capabilities, the P50 Pocket also has a compact and lightweight design. The device measures only 6.9 inches, making it easy to carry and use with one hand. Despite its small size, the P50 Pocket has a large 6.9-inch OLED display, providing users with a beautiful and immersive viewing experience.
The P50 Pocket is also powerful and efficient, thanks to its Snapdragon 888 processor. This state-of-the-art chip ensures smooth and efficient performance, even when multitasking or running demanding apps and games. The device also has a 4000 mAh battery, capacity is not tremendous, but it is much more than Samsung's 3300 mAh. As a consequence, the Pocket is readily capable of lasting a whole day and can go a little longer if necessary.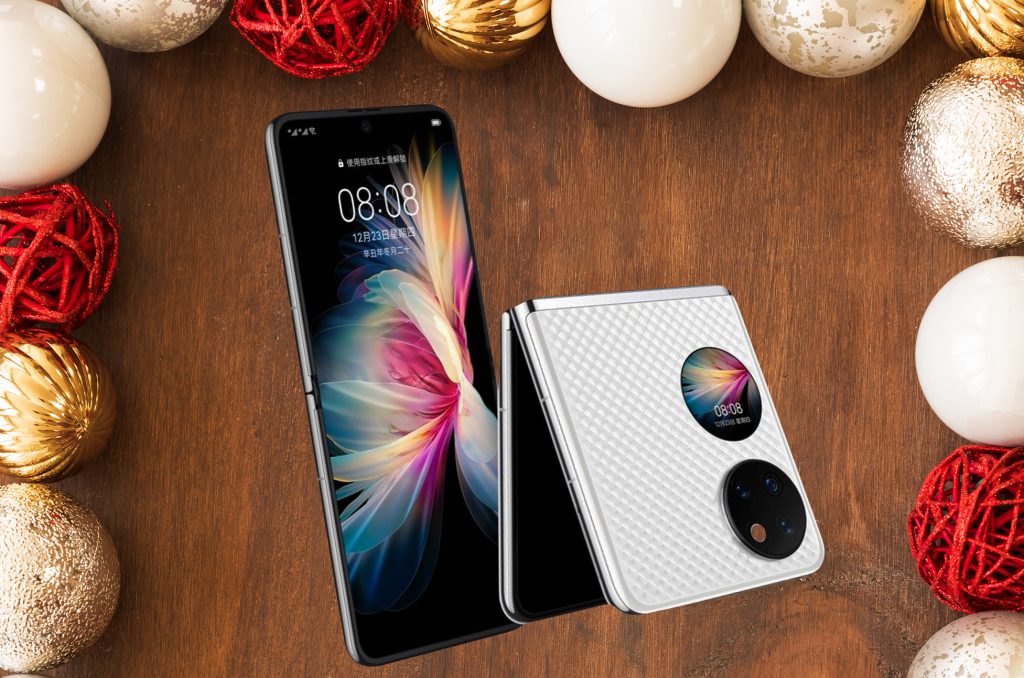 Huawei P50 Pocket Phone Price
The P50 Pocket may be purchased in Europe for a starting price of €1,299, or around $1,450. Some Asian cities, like as Hong Kong and Singapore, offer slightly lower prices, but you may still expect to pay $1,300 or more. The white version costs this much, while the gold "premium edition" goes for €1,599, or about $1,800.
Neither the Galaxy Z Flip 3 from Samsung nor the Oppo Find N, which has a larger screen, cost as much as these two large-format foldables.
Fans of smartphones may question Huawei's pricing strategy. On the other hand, Huawei is an experienced player. In the realm of high fashion, the suggested retail price of $1,300 to $1,800 for the P50 Pocket is not excessive. You'd have to pay twice as much for a designer bag.
Huawei P50 Pocket Phone Unlock
Do you currently possess a Huawei P50 Pocket that is unfortunately bound to a certain network provider? We've got your back!

Unlocking your Huawei P50 pocket can provide many benefits, including the ability to use any carrier you prefer and the potential for increased resale value. Here's how to unlock your Huawei P50 pocket:
Just go to this link: https://www.unlockbase.com/unlock-phone/huawei/p50-pocket/
Just follow the instruction given below!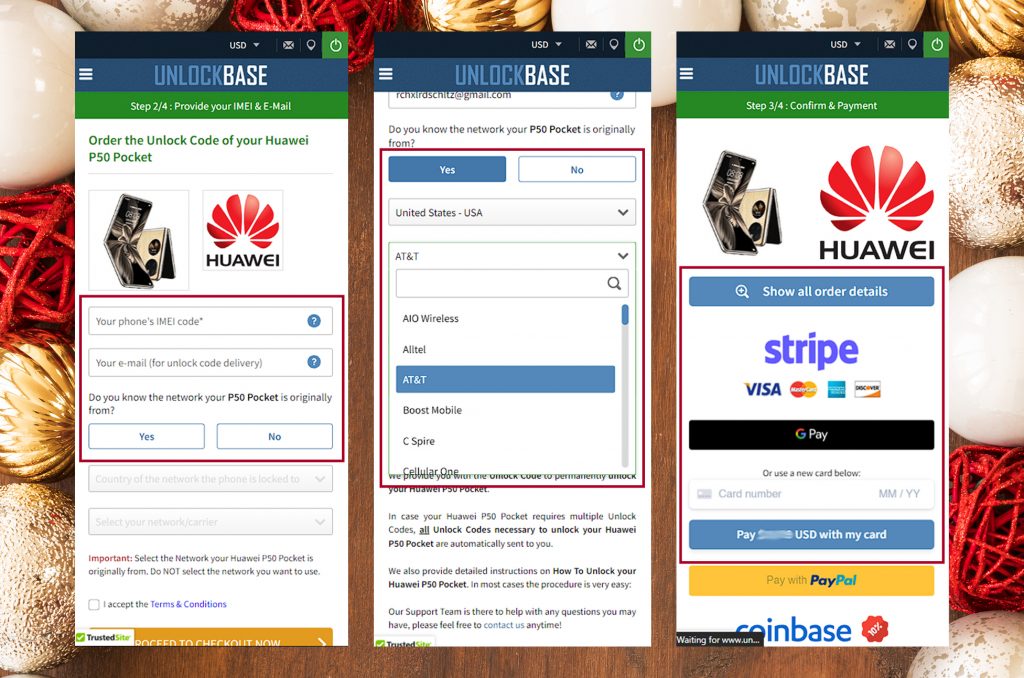 Keep in mind that unlocking your phone may void your warranty, so it's always best to check with your carrier and manufacturer before proceeding. Overall, unlocking your Huawei P50 pocket can provide flexibility and potential benefits, but it's important to carefully consider the potential drawbacks before proceeding.
Conclusion
Overall, the Huawei P50 Pocket is a compact and feature-packed smartphone that offers users an impressive mobile experience. With its impressive camera system, compact design, and powerful performance, the P50 Pocket is a top choice for smartphone flagship users. Leave a comment below if you have any questions!
All products, and company names, logos, and service marks (collectively the "Trademarks") displayed are registered® and/or unregistered trademarks™ of their respective owners. The authors of this web site are not sponsored by or affiliated with any of the third-party trade mark or third-party registered trade mark owners, and make no representations about them, their owners, their products or services.