Choosing a good phone is not an easy thing to do. Price always matters and we always end up sacrificing one good feature or more.
Good phones come in the shape of a flagship and they are oftentimes too expensive. Budget phones exist unfortunately, they only offer a good camera and not enough battery life or the other way around. We can't seem to have the best of both worlds, especially in the budget phone department.
Good thing, those days are now over. And luckily, Motorola has created the phone that meets all of our needs.
And yes, that beast is the new Motorola Moto e5 Plus. Whether you game or vlog, this phone should be number one on your list.
Moto E5 Plus is a winner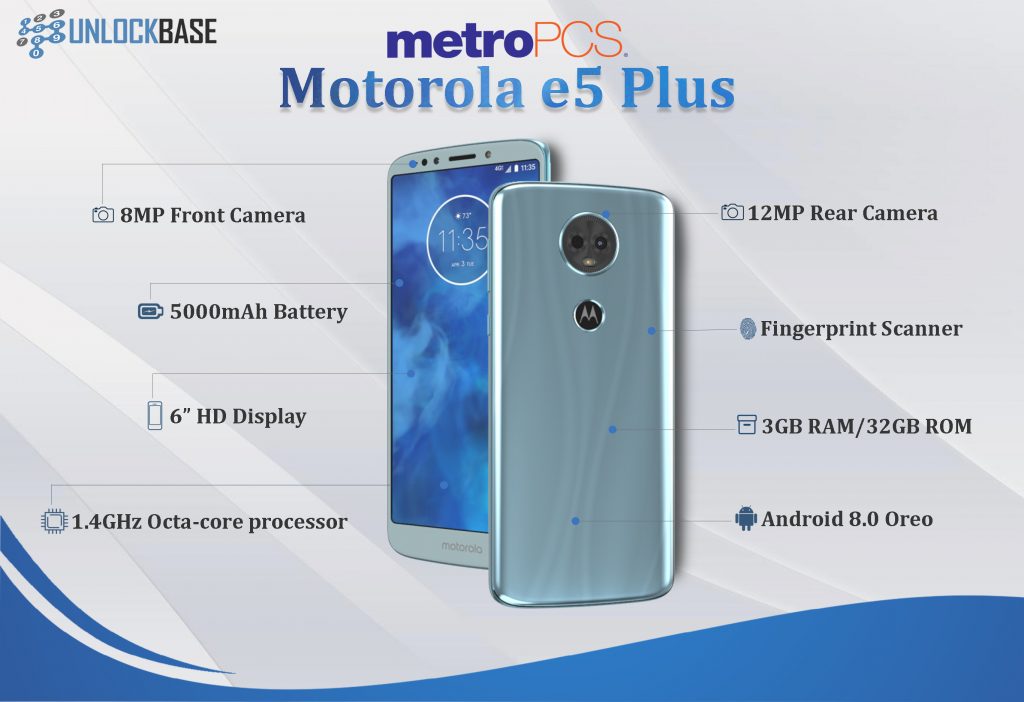 Want To Permanently Sim Unlock Your Phone From MetroPCS?
For starters, it has a 12MP rear camera and an 8MP front camera, but that's not the most amazing thing about the Moto E5 Plus.
It has a whopping 5000mAh battery! For a budget phone, this is definitely a road less taken, and Motorola Moto E5 Plus is a certified trailblazer.
This phone also comes with 6" HD display meant for less scrolling, more fun, and wider gaming screen.
Camera and battery life? 100! You got the beast and the beauty all in one phone.
You'll never have to compromise about the specs and the price, because you can get this phone from MetroPCS for only $49 if you port over. The phone comes locked to them, but you can easily have a temporary or permanent unlock using the Device Unlock App.
Help Guide: How To Use The Device Unlock App- MetroPCS
You'll never be sorry buying the phone outright because it's only sold for $209.
Moto E5 Plus: A Certified Beast
This phone will always come handy for when you are travelling. Say goodbye to the not-so-nice sight of charging in the airport or losing battery when you are lost in a new city.  You will never have to look for an outlet and charge every hour just to make sure you have enough power until you arrive at your hotel.
For a gamer, a huge battery is great, but having a huge RAM is even better. Well, the Moto E5 will never disappoint you with a 3GB of RAM and 1.4GHz Octa-core processor.
This beastly phone will give you both the power and the speed even for an entire day of gaming.
And the phone is designed with an ergonomic weight; it looks and feels so compact you can't even tell it has a huge battery in it.
Though it has a big battery, charging for 6-8 hours is not necessary because you only need 15 minutes to use it for another 6 hours non-stop.
All thanks to the TurboPower charger on board.
Moto E5 Plus: A Budget Beauty
You can also unleash your vlogger-wannabe side with this phone.
The 12MP Rear Camera with laser autofocus technology can help you capture sharp, bright, and livelier photos or videos in an instant.
Whether you are shooting inside your room or in any dark places, this phone will still encapsulate all the beautiful details of your selfie in the best light because of the 8MP front camera that has its own LED flash for the low-light environment.
Now, you don't have to worry about blurry pictures, you can take them anywhere and anytime!
Though it is truly a big phone, it still comes handy and can be use with one hand because it has a slim design that can fit in your pocket or palm. The 6in edge-to-edge screen is packed with a Max Vision display that will help you enjoy the "crazy-wide" landscape view.
One of the things we so love about the Moto E5 Plus is the fingerprint scanner. You don't always see a budget phone that offers all of these convenience!
If you think that's all that this phone can offer, well, there's more to that!
Both the Moto E5 Play and E5 Plus are water-repellent; you don't have to worry about a little splash of water.
Don't get it wrong for being waterproof, this phone can handle sprinkles, but not submersion to water.
Nonetheless, it makes it more amazing isn't it?
Getting Unlock Errors? Here's A Complete Guide On How To Troubleshoot It. 
Moto E5 Plus has more in store!
If you plan on taking a lot of photos, this phone can house all of them. It is packed with a 32GB internal memory and has an expandable external memory of up to 128GB via microSD.
Last but not the least, this phone runs on the Android 8.0 Oreo operating system. You get to enjoy all the beautiful features the new Android system has to offer, like a split screen when you have to do too many things like play and text people at the same time.
Now that's what you call a phone! If you want this phone, grab one through MetroPCS and enjoy the life without worries.