What will I receive after my order?
Device Unlock is an Android app that allows you to request and apply a MetroPCS mobile device unlock directly from the device. The features of this app include the ability to remotely request Mobile Device Unlock without having to contact Customer Care and automatically apply the Mobile Device Unlock to the device without the use of a manual code.
Thanks to this app, we're now able to Register any IMEI as "Eligible" in the MetroPCS Database so you can unlock your Cell Phone using the "Device Unlock" App. Turnaround time for delivery is minimum 15 Days and up to 20 Business Days.
WARNING: Before order, please read this post: "Mobile Device Unlock App (Android) – Troubleshooting". It details properly the whole entire process and how to apply the unlock. Order only if your phone shows: "Unlock Failed: This mobile wireless device is not eligible for unlock. For Device Unlock eligibility details, please go online or contact Customer Care."
Once the unlock request is processed, you'll need to:
Make sure you have an active data connection via 3G/4G/LTE or Wi-Fi.
From the Application list, tap Device Unlock. (Note: The application may be located in the MetroPCS folder).
Tap Continue.
Choose the Permanent Unlock type:
If successful, restart the device to apply the settings.
All you need is an Android device that supports the Mobile Device Unlock app:
Alcatel 1X Evolve,
Alcatel 7,
Alcatel A30 Fierce (OT-5049Z),
Alcatel OneTouch Fierce XL (OT-5054N),
Alcatel OneTouch Fierce 4 (OT-5056N),
Alcatel TRU (OT-5065N),
Coolpad Catalyst (3622A),
Coolpad Defiant (3632A),
Coolpad Legacy (CP3705A),
HTC Desire 530,
HTC Desire 626s,
Kyocera Hydro ELITE (C6740 & C6740N),
LG Aristo (MS210),
LG Aristo 2 (LMX210MA),
LG Aristo 3 (LMX220MA),
LG Aristo 3+ (LMX220MB),
LG Leon 4G LTE (MS345),
LG G Stylo (MS631),
LG K7 (MS330),
LG K10 (MS428),
LG K20 Plus (MP260),
LG K30 (LMX410MK),
LG K40 (LMX420MM),
LG Q7 Plus, Q7+ (Q610MA),
LG Stylo 2 Plus (MS550),
LG Stylo 3 PLUS (MP450),
LG Stylo 4 (Q710MS),
LG Stylo 5,
Motorola moto e4,
Motorola moto e5 Play (XT1921-3),
Motorola moto e5 Plus,

Motorola moto G7 Play,

Motorola moto G7 Power,
Motorola moto G Stylus,
Samsung Galaxy A6 (SM-A600T1),
Samsung Galaxy A10e (SM-A102U),
Samsung Galaxy A20 (SM-A205U),
Samsung Galaxy J2 (SM-J260T1),
Samsung Galaxy J3 Prime (SM-J327T1),
Samsung Galaxy J7 (SM-J700T1),
Samsung Galaxy J7 Prime (SM-J727T1),
Samsung Galaxy J7 Star ( SM-J737T1),
Samsung Galaxy On5 (SM-G550T1),
Samsung Galaxy S7 (SM-G930T1),
Samsung Galaxy S8 (SM-G950T1),
Samsung Galaxy S8+ (SM-G955T1),
Samsung Galaxy S9 (SM-G960U),
Samsung Galaxy Core Prime (SM-G360T1),
Samsung Galaxy Grand Prime (SM-G530T1),
ZTE Avid 4 (Z855),
ZTE Avid Pluis (Z828),
ZTE Avid Trio (Z833),
ZTE Blade Z Max (Z982),
ZTE Obsidian (Z820),
ZTE Zmax Pro (Z981).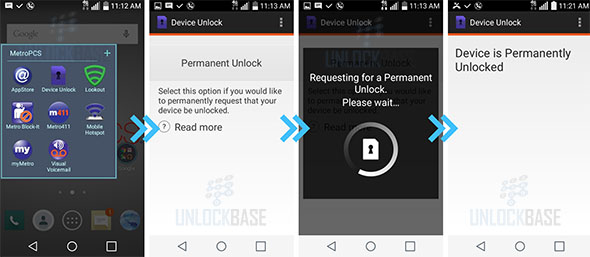 Note: If you do not restart the device, you will have a persistent alert in the notification tray.
WARNING: It is very important to mention that the customer has to have data when attempting to perform the unlock, either 3G, 4G or wi-fi but data on the phone. If there is no data the unlock will be unsuccessful, once a device has been whitelisted we will not be responsible for unsuccessful unlocks. If customer has changed the original software or IMEI we will not be responsible for the app not to work (Do not install custom firmware like Avatar or Cyanogen before unlock your phone). If customer cannot find the app on its phone he can easily go to applications and make it visible but a Hard Reset will always bring the app back to the phone. Before place your order try to use the application and make sure it show "Not Eligible for Unlock", if you see "Communication Error" or "Server not responding. please try again later." do not order until you find a way for your phone to communicate properly with server. It is mandatory to check before ordering if your phone have "Server not responding. please try again later." issue. If the answer is yes then you can try to fix this error by performing a hard reset on your phone, or upgrading his firmware. Again make sure your phone can communicate with "Device Unlock App" server BEFORE place your order.