Feb. 22
2023

Android and iOS are the two most popular mobile operating systems worldwide. Both have their distinct benefits and drawbacks. Android is a highly adaptable open-source operating system, whereas iOS is noted for its simplicity and user-friendliness. In this blog, we will compare the most recent versions of both operating systems, Android 13 and iOS 16, to determine their relative strengths and weaknesses.
Android 13 vs iOS 16: Customizable lock screen and home screen
Android has always had great customization, but Android 13 takes this to a new level. Material You enables users to create a fully personalized smartphone experience by customizing colors, fonts, and icon shapes. In addition, Android allows users to install custom launchers, which can radically alter the device's appearance and functionality.
iOS 16's lock screen outperforms Android 13's. Since app developers regarded them as an afterthought, Google seems to have lost interest in lock screen widgets. Two years after introducing widgets to iOS, Apple is adding a few to the lock screen.
Apple's lock screen has more than widgets. The company allows the wallpaper to hide the clock. This produces a three-dimensional, immersive experience. With the flexibility to choose your favorite typeface and wallpaper, iOS 16's lock screen customization is unmatched. Focus Mode lets your iPhone automatically switch lock screens and backgrounds. This lets you receive personal app notifications just at home or away from work.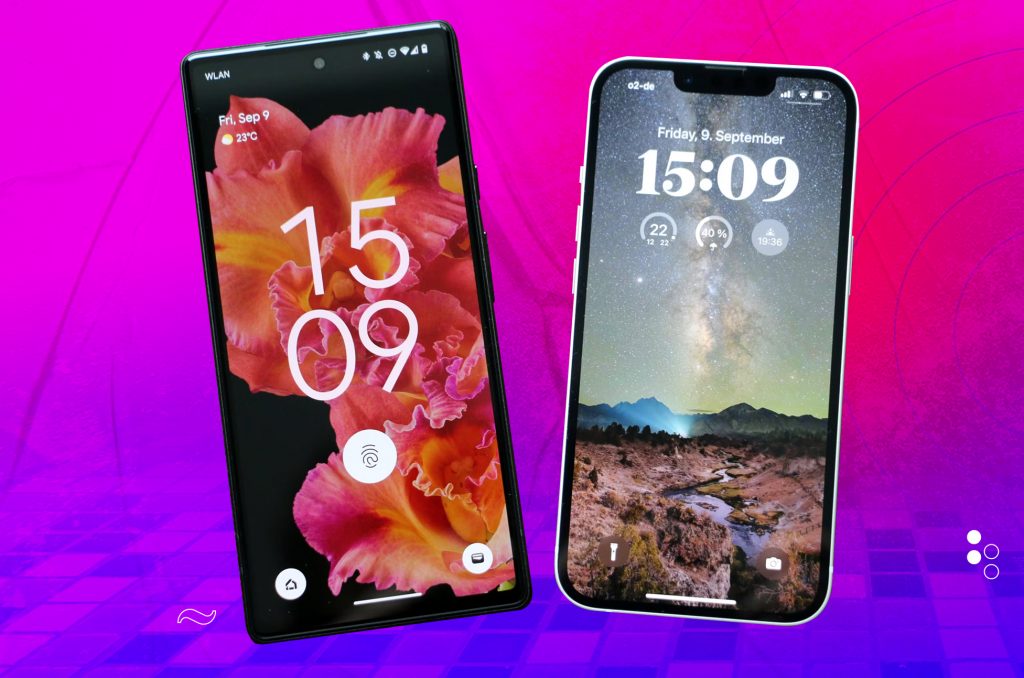 Android 13 vs iOS 16: Language options per app
Google first supported per-app language options in Android 13. This lets you utilize any app on your phone in your favorite language, regardless of your system or app language. The choice is excellent for multilingual people, who comprise half the world's population.
Google offers two simple ways to translate apps. Long-press the app on your home screen and tap the app details button (usually a small I in a circle) at the top of the popup on Pixel phones and others. Scroll down until you find the Language menu. Tap and choose. This is the fastest way to switch languages.
You can also check a list and change your apps' languages. System settings, Languages & input, App languages. The supported apps and languages you assigned will appear. Tap one to alter your selections. Mishaal Rahman's ADB program removes the opt-in and allows all apps to swap languages. We use various apps in English and German on a Google Pixel 6 without any concerns.
In iOS 16, however, per-app language choices are not new. Apple began supporting the functionality with iOS 13 in 2019. The company has simplified the procedure for its developers more than Google. Suppose an application is localized into multiple languages. In that case, the developer does not need to add additional code to their project for the per-app language switching option to appear in system settings.
With iPhones, changing the language is significantly more complex than on Android 13, and you must know where to find the choice. Long-pressing the home screen icon does not take you directly to the language preferences. Instead, you will navigate to system settings and seek the application toward the end of the list. Touch it to find the language selection option. iOS lacks a list indicating which languages are assigned to which apps, as Android 13 does. Apple has not modified this feature for iOS 16.
Android 13 vs iOS 16: App Ecosystem
Millions of apps are available for download on Android and iOS app stores. Yet, iOS is recognized for its more vetted app store, which can give a more safe and more trustworthy experience. On the other hand, Android offers a more open app store, which might occasionally result in less dependable or secure apps.
The iOS keyboard is integrated into the Apple ecosystem, but Google's Gboard is an app that can be upgraded anytime through the Play Store. This enables Google to iterate on improvements faster than Apple, as it does not need to deploy a system update. In addition, Gboard is accessible on almost every Android smartphone, not just Google Pixel phones.
As part of system update announcements, Google and Apple keyboards will continue to undergo modifications. As part of the Pixel 6 series launch and Android 12, Gboard gets enhanced on-device dictation capabilities. Apple attempted to imitate with iOS 16. The dictation functionality on both platforms is comparable, although there are significant variances. On both platforms, punctuation is inserted automatically, and you may effortlessly transition between voice input and typing when you need to make changes or modify what you say. On both platforms, you can also dictate a selection of standard emoticons.
Apple's iOS 16 dictation has become more dependable and represents a step forward, although Cupertino cannot catch up to Google in this area. Using Gboard on the Pixel 6 and Pixel 6 Pro, you can use dictation to send and delete messages and undo your previous dictation. Voice commands such as "send," "clear," "clear all," and "stop" do this. Moreover, you may keep the microphone engaged indefinitely, allowing you to chat without touching your phone.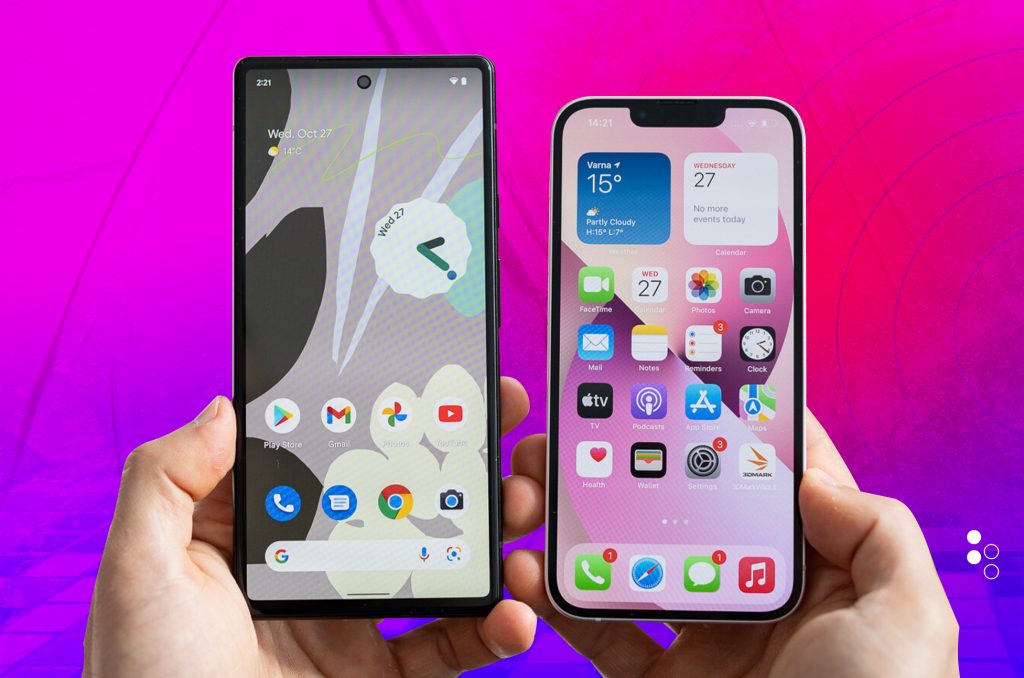 Android 13 vs iOS 16: Privacy
Privacy has been an increasingly vital concern in recent years, and Android 13 and iOS 16 have advanced. Android 13 features a new privacy dashboard that allows users to see which apps can access their location, microphone, and camera and an easy option to revoke these permissions.
iOS 16 has a new privacy dashboard that displays the apps that have accessed your location, camera, microphone, and contacts. In addition, Apple has launched a new tool called App Privacy Report, which displays how frequently apps utilize your data and who they share it with.
Android 13 vs iOS 16: Smart drag-and-drop feature
Apple's iOS 16 is playing more than catch-up regarding image identification, compared to Google's image recognition prowess, which was made possible by Google Photos. Apple's new intelligent drag-and-drop Visual Look Up tool appears to be from another planet, and it is something we wanted Android to have the instant Apple revealed it. You can select a random subject or object from any photo displayed on your screen, tap and hold it, and then drag it into another program as a single object. Apple has included the ability to copy live text from videos. This allows you to hold and choose text in paused video frames so that it can be copied or shared.
Even though Google has not included these functionalities in Android 13, the firm currently offers similar text-related capabilities. When you access the Recents overview, you can tap and hold the text you wish to remove or select the Select option in the lower-right corner. While Google was the first to implement this function, it is less reliable than Apple's. It frequently recognizes Instagram photos with text as images from which you cannot extract text and must instead publish as cropped screenshots. Moreover, you cannot extract text from YouTube videos. DRM-protected apps like Netflix, Disney+, and Amazon Prime Video are excluded from the equation because you cannot view their films' contents from the Recents screen (or rather, you cannot take a screenshot of the content, which is required for Google's text recognition to function).
Android 13 vs iOS 16: Digital Wellbeing and Focus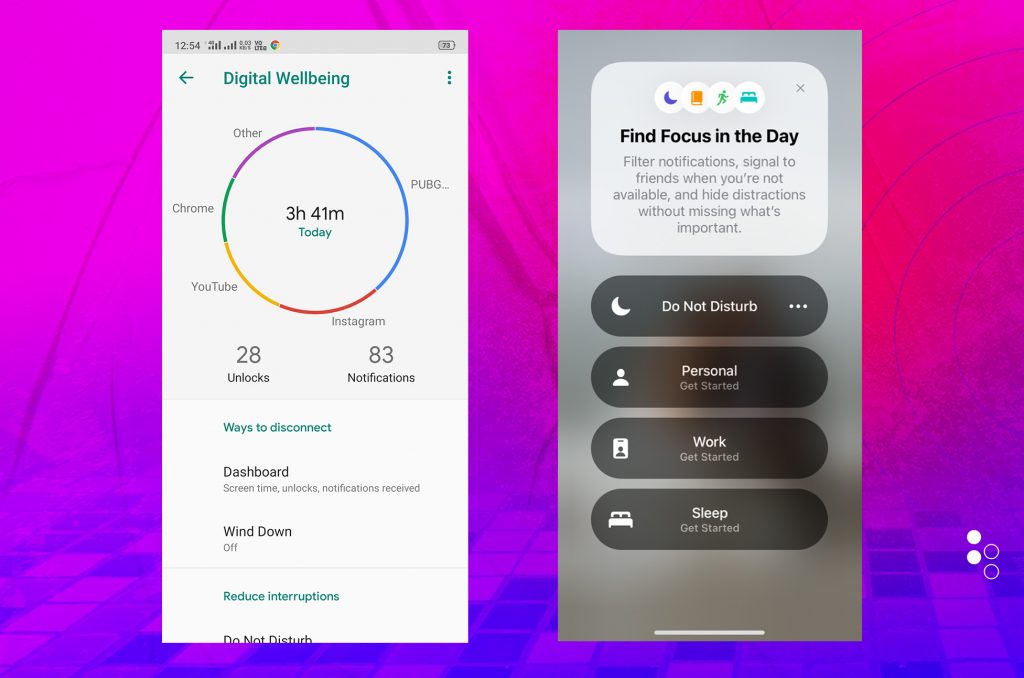 Apple added Focus Mode to iOS 15, and with iOS 16, the company is increasing its efforts. The feature prevents specific apps and individuals from contacting you and your notification shade at particular times, allowing you to focus on your job during the day and converse primarily with family and friends at night. Unfortunately, not all apps have well-defined boundaries. You may use the same Calendar and Mail app for personal and professional activities, and only a portion of your online browsing on your smartphone may be for business. Here comes iOS 16's Focus filters into play.
Under the Digital Wellbeing banner, Google has not changed Android 13's focus and dwindling collection of features. Google does not provide alternative focus modes for various situations. It employs a technique that is simpler to comprehend. The business offers a single Focus Mode available via Digital Wellbeing settings. It allows you to choose annoying applications and disable them based on a schedule or manually. During that period, access to restricted apps is denied (unless you allow yourself a five-minute break). For all other situations, you are urged to use Do Not Disturb, which mutes notifications and incoming calls except those you specify. My method may not be as granular as Apple's, but it is less daunting and complex.
Conclusion
Android 13 vs iOS 16 both have their respective strengths and weaknesses. Android 13 offers more customization options and a refreshed user interface, while iOS 16 prioritizes simplicity and ease of use. Both operating systems have improved privacy and security, and both have many apps available to download. Ultimately, the choice between Android and iOS comes down to personal preference and what features are most important to the individual user.
All products, and company names, logos, and service marks (collectively the "Trademarks") displayed are registered® and/or unregistered trademarks™ of their respective owners. The authors of this web site are not sponsored by or affiliated with any of the third-party trade mark or third-party registered trade mark owners, and make no representations about them, their owners, their products or services.