Mar. 2
2017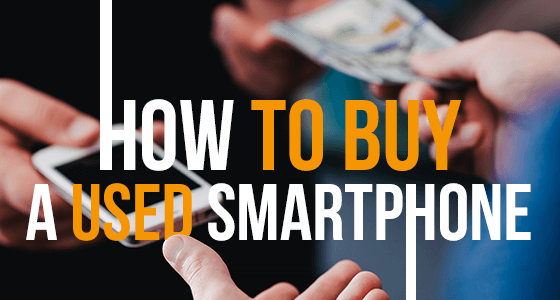 If you're in the market for a new smartphone but don't want to pay the, let's be frank, not so advantageous monthly price of a service provider contract phone, you could decide to look for a "behind the curve" model. That is a secondhand smartphone that's perhaps a year or two old, but still functions perfectly adequately.
There are several good sources for 'behind the curve' phones including Mobile-Base and Amazon. These sites often have deals on newish phones at close to used prices. But if you do decide on a second-hand smartphone, it's vital to bear in mind some of the potential phone buying pitfalls.
The first thing to consider is what type of second hand phone option you want.
Save money on a popular brand second hand phone from a previous owner.
Or pay more for a refurbished phone. A refurbished phone is one that has been tested, fixed and made serviceable by a retailer. If you opt for this route, make sure you get a guarantee, even if it's for a warranty of only six months.
Buying second-hand
Check the IMEI
If you decide to go the second-hand route, it's vital to check that the smartphone works correctly, and above all, that it isn't stolen. If it is and you buy it, your mistake will be discovered as soon as you try to fit a new sim card into it. The phone will die on you, not only that, you could be held responsible for handling stolen goods. 1 in 4 mobile devices checked has a significant used history.
To check if the phone is clean and not stolen you need to run a check on the IMEI (International Mobile Equipment Identity) number. To find the IMEI on the phone check under Setttings/About Device on Android, or punch in *#06#. The IMEI will instantly appear on the screen.
You can then check the phone's status at sites such as IMEIPro or CheckMend, said to be the world's largest data resource on smartphones. While there is a small charge to check on this site, it's well worth the price. Equipped with the IMEI number you can quickly find out the phone's full specifications and its history, whether or not the Seller wants you to know about it. It's like a VIN check for vehicles.
As soon as dodgy sellers realize you know about the requirement of checking for the IMEI, they may well quickly back off and try their luck with a less savvy buyer.
Meet face to face when possible
Whenever possible it's always best to meet the seller face to face. Buying sight-unseen from eBay or sites that are not rigorously monitored can quickly lead to buyer's remorse. Sites such as Mobile-Base are monitored, and in the event there is a provable problem they will intercede on your behalf, because all Sellers are vetted.
Consider sim size
Another important point to check is whether you have the right size sim right size sim for the phone you want to buy, but you can always pick up a cheap one.
Check for damage
An important advantage in viewing a phone face to face rather than online is that you can check for scratches, dents, screen cracks and full functionality. Don't forget to check the camera lens for scratches or misting. If the back opens, open it: the smartphone should be clean inside, and the battery still serviceable.
A fair price
Getting the best bargain for your purchase of course involves several factors including the age of the phone, the condition, the model, whether it's brand new in box, all the usual variables, however, before you start discussing price, have a good idea in your mind as to what the same model is selling for elsewhere. It makes it much easier to spot a bargain price, but then is a bargain price truly a bargain. Only homework can help you decide.
Buying refurbished
Across the States there are dozens of sites that cater to refurbished phones including Mobile-Base, BestBuy and Overstock. Then of course there is eBay and Amazon. With the exception of eBay, you can spread the cost of your purchase with a credit card and even opt for added protection to guard against any technical or hardware problems.
Buying in-store
If you decide to buy from a bricks and mortar store, remember to bring along a laptop, a charging cable, earbuds or headphones, and even a microSD or SD card. Check the smartphone charges by plugging it into your laptop to make sure it charges. Check the headphone jack and card slot. Place your own sim in the phone and make a phone call.
Locked or unlocked
If the smartphone is locked to a certain network provider which you don't want, you can quickly, easily and cost effectively unlock it with UnlockBase, the leading online remote unlock service. You can also bargain down the seller as it should be cheaper than an unlocked phone. An unlocked phone gives you complete freedom to choose your own network at a price you want to pay.
Secret codes and apps
Smartphones usually have hidden codes that provide access to extra information and self-test routines. As an example of this, Android phones, *#*#4636#*#* will provide usage statistics and battery information, while *#*#0*#*#* will run an LCD display test. A useful site for checking out codes is Redmond Pie. You can also research the phone you're after on a YouTube. You can alternatively run an app test such as Phone Tester for Android or Phone Doctor Plus for Android and Apple's iOS. These apps will give you a quick gauge of the smartphone hardware and the state of the battery. There's no excuse for not doing your homework, it takes just a few minutes to save yourself a lot of hassle down the line.
Armed with this information and plenty of due diligence, you should be able to find a good quality second-hand or refurbished phone at a good price.
All products, and company names, logos, and service marks (collectively the "Trademarks") displayed are registered® and/or unregistered trademarks™ of their respective owners. The authors of this web site are not sponsored by or affiliated with any of the third-party trade mark or third-party registered trade mark owners, and make no representations about them, their owners, their products or services.