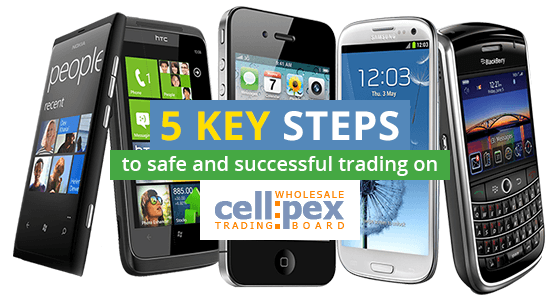 Cellpex is the next generation trade network for cell phones, tablets and accessories; they deal exclusively in wholesale lots. They have over 7 years of industry expertise with ambitions to become the largest industry platform with over 35,000 business accounts. Cellpex ranks no.1 on Google, Yahoo and Bing.
The idea behind the Cellpex Wholesale Trading Board is to cut out the middle man by purchasing from wholesale distributors, so as to negotiate better deals and secure better profits. Wholesale trade firms such as Cellpex are essential to the economy. They simplify product, payment, and information flows by acting as intermediaries between the manufacturer and the final customer. It's fair to say, if you want it, Cellpex probably has it, as hundreds of new suppliers join us every day.
In the past decade, wholesale cellphone markets have blossomed hugely and they act on behalf of the buyers and sellers of goods.
While Cellpex cuts out the middle man and subsequently cuts the cost of doing business, it does mean you are no longer dealing with a friendly, familiar sales rep who comes to you and discusses business face to face. It's a familiar scenario with anyone who deals on the internet: how do you trust your supplier if you have never met them?
Here are five key steps to safe trading on the site that will help you to safely start negotiating some great deals and get prompt delivery of your goods.
1) First find the models and stocks you want. Take your time to refine your search using the Advanced Search options.  Be sure to register first and start sourcing afterwards. By doing this you can post a purchase request which will be available online immediately and check out some of the members' details. It's a great way to find new business opportunities.  Also, make sure you browse the Members Directory, as it might reveal local business opportunities.
2) Always perform your due diligence. Cellpex has many of the world's leading wholesale suppliers on its database, but as with any business, if you find a supplier who is selling what you want, first do your homework. Cellpex works hard to screen all new suppliers, and places bad suppliers on a blacklist, but you should protect yourself with your own research about the company or dealer on the internet. Have other traders had a good or bad experience with them?
3) Understand the compliance issues. Get to know all the relevant import compliance regulations of your home country before you buy. Besides customs and border protection, other government authorities also regulate the importation of all kinds of goods including cellphones, tablets and other electronic devices. You should seek the services of a customs house broker before placing any order and learn the ropes.
4) Know your trade buzzwords. Called INCOTERMS, they refer to shipping procedures such as FOB (Free On Board), CIF (Cost, Insurance and Freight) and EXW (Ex-Works). These terms are used to divide transaction costs and responsibilities between buyer and seller and reflect best practices in transportation procedures. They closely correspond to the U.N. Convention on Contracts for the International Sale of Goods.
5) Never pay for online services or goods via Western Union. It doesn't matter where the store claims to be based, once you send money it can be picked up anywhere in the recipient's country, with no way of tracing the person who picked it up. Criminals therefore remain anonymous. And of course, be suspicious if the seller is using a free email service such as Gmail, Yahoo or Hotmail.
There is of course more to learn, but these steps will certainly help you to get going. For further information visit www.cellpex.com.
All products, and company names, logos, and service marks (collectively the "Trademarks") displayed are registered® and/or unregistered trademarks™ of their respective owners. The authors of this web site are not sponsored by or affiliated with any of the third-party trade mark or third-party registered trade mark owners, and make no representations about them, their owners, their products or services.