Finding a smartphone with both high-end capabilities and a reasonable price tag is a difficult task. But Motorola's newest offering, the Moto G Stylus 2023, has accepted this challenge and is now a serious challenger. Let's go into what makes the Moto G Stylus 2023 such a compelling option for those in the market for a stylish and feature-rich smartphone without breaking the budget.
In spite of the fact that Motorola's most recent triumph was the latest retro foldable, the company's most successful phones have been a mainstay of the low-priced smartphone market for years. Even when compared to market leaders like Samsung and Google, the company's smartphones continue to offer surprising value for the money.
| | |
| --- | --- |
| Display | 6.5″ HD+ IPS 90Hz display (1600 x 720) |
| OS | Android 13 |
| SoC | MediaTek Helio G85 |
| RAM | 4GB |
| Storage | 64GB/128GB, expandable up to 1TB |
| Battery | 5,000mAh, 15W charging |
| Rear camera | 50MP (f/1.8, 1.28μm), 2MP macro camera |
| Front Camera | 8MP (f/2.0, 1.2μm) |
| Connectivity | No 5G |
| Dimensions | 162.89 x 74.08 x 9.19mm |
| Weight | 195g |
| Colors | Midnight Blue, Glam Pink |
| Price | $200 |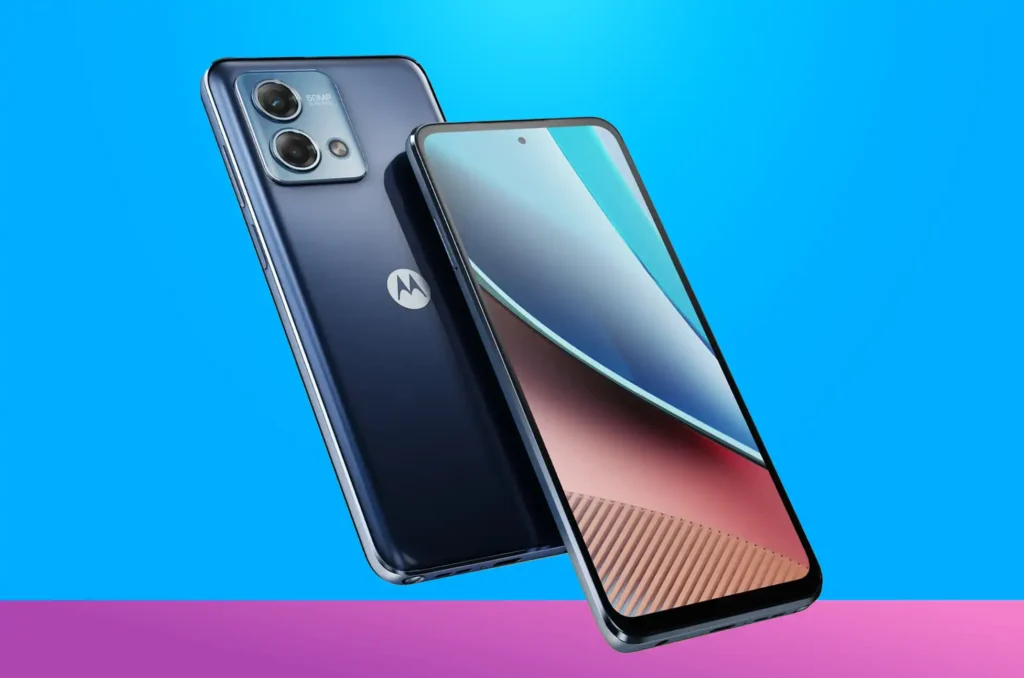 Moto G Stylus 2023: Price and Availability
The Moto G Stylus 2023 doesn't provide nearly as many configuration options in terms of pricing or specifications as the 5G variant. The base model costs $200 and comes with 4GB of RAM and 64GB of storage space. It comes in two fashionable colors—a dark blue and a bright pink.
The price is so low that you probably won't even need a deal to make you delighted with your purchase. Even so, Motorola phones are frequently on sale, such as the $30 discount on the Moto G Stylus 2023 that was offered during Prime Day earlier this year.
Moto G Stylus 2023: Design
The Moto G Stylus 2023, fresh from the package, doesn't feel like a $200 device. The plastic back does give away the fact that this is a low-priced device, but I was anticipating something much more flimsy for the asking price. The phone's back, which is blue for a contemporary look, is smooth and easy to hold. You could definitely forego a case if you didn't want to, as it has survived a couple drops without issue, although the screen is still vulnerable to breaks.
The bottom of the Moto G Stylus 2023 is where you'll find all of the device's ports. The USB-C port and the headphone jack are included, both of which are nice to have on a smartphone in 2023. Also located there is the solitary bottom-firing speaker, whose monolithic sound is easily muffled depending on how the gadget is held. Given how low on most people's to-do lists installing an external speaker is not a deal breaker by any stretch of the imagination.
As with previous models, the metal stylus is located on the right side of the device and can be accessed with a pleasing click after each usage. Since the Moto G Stylus 2023 ports and speakers are all located at the bottom, the phone's sides are unobtrusively minimalist, with only the SIM slot on one side and the volume and power buttons on the other. The fingerprint sensor built into the power button makes unlocking the device simple for anyone, regardless of hand size. Simply put, the design is understated and functional, just like any Motorola product should be.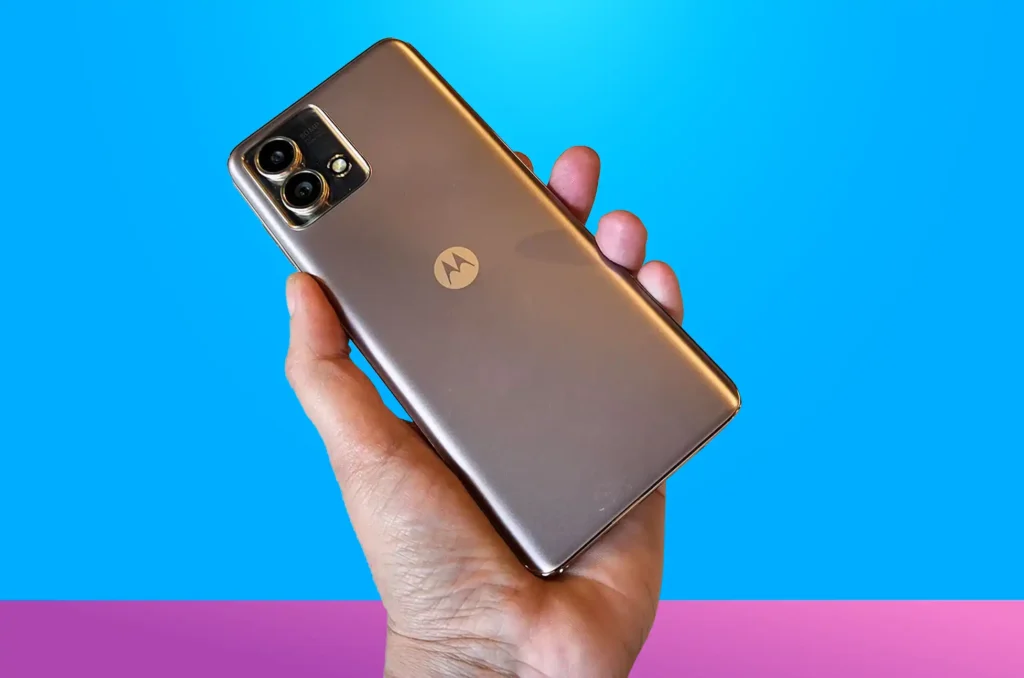 Moto G Stylus 2023: Display
While the 120Hz display on the more expensive 5G model is undoubtedly more striking, the 90Hz panel still gives a fluid experience while browsing through contacts and social media. Its resolution of 1600×720 is lower than that of the 5G version (2460×1080), but then again, you do pay twice as much for the latter.
You probably won't notice that the Moto G Stylus 2023 side bezels are thinner than they were on the previous 4G model until you do a direct comparison. The top and bottom bezels are slightly larger, but this doesn't detract too much from the experience because the overall screen-to-body ratio is still an impressive 84.5%. A hole-punch selfie camera sits in the top center of the screen, which may feel invasive at first but eventually becomes unnoticeable.
When it comes to brightness, LCDs in general won't be able to deliver those extra nits, therefore you'll have problems on sunny days. Still, you can get by without too much discomfort to your eyes if you don't try to read through dark mode Twitter on the beach.
Moto G Stylus 2023: Performance
The Moto G Stylus 2023 comes preinstalled with Android 13, and thankfully doesn't deviate too much from the norm. You can make some minor adjustments and pick from a few different skins, but otherwise, it's the same familiar Android experience.
You will only receive one update to Android 14 after its 2023 release, as the G Series is not receiving the same level of support from Motorola as other devices. Even so, Motorola offers three years' worth of security upgrades, so your data will remain safe during that time.
The Moto G Stylus 2023 isn't quite as powerful as its competitors. Even during first setup, the gadget was obviously inferior to the most reasonably priced flagships on the market. Compared to its 5G cousin, which has a Snapdragon 6 Gen 1 processor, this device's Mediatek Helio G85 processor is painfully slow. You could tell the gadget was inferior after putting it through its paces; simple tasks like switching apps took an eternity.
The Moto G Stylus 2023 responsiveness was enough for casual uses like browsing social media and checking email, and the 90Hz screen gives the impression that you're not using a $200 smartphone. The user experience isn't too reminiscent of a low-priced phone, but there were occasional hiccups like a slight slowdown when opening app folders that would annoy a flagship user.
Stylus Features
The Moto G Stylus 20203 high refresh rate is undoubtedly the most amazing feature, especially when it comes to utilizing the stylus. Each stroke of the stylus feels as natural and satisfying as writing with a real fountain pen. It's undoubtedly impressive, especially considering that phones with styluses like this generally cost a pretty penny more.
The Moto G Stylus, like its forerunner, offers a wide variety of stylus functions that improve the device's usability. When you take it out, a floating icon appears on the screen, from which you may select one of five personalizable, stylus-enabled apps, such as Moto Note or Google Keep Notes. When you unlock your device and remove the stylus, the device will launch the notes app, making it easy to swiftly jot down ideas.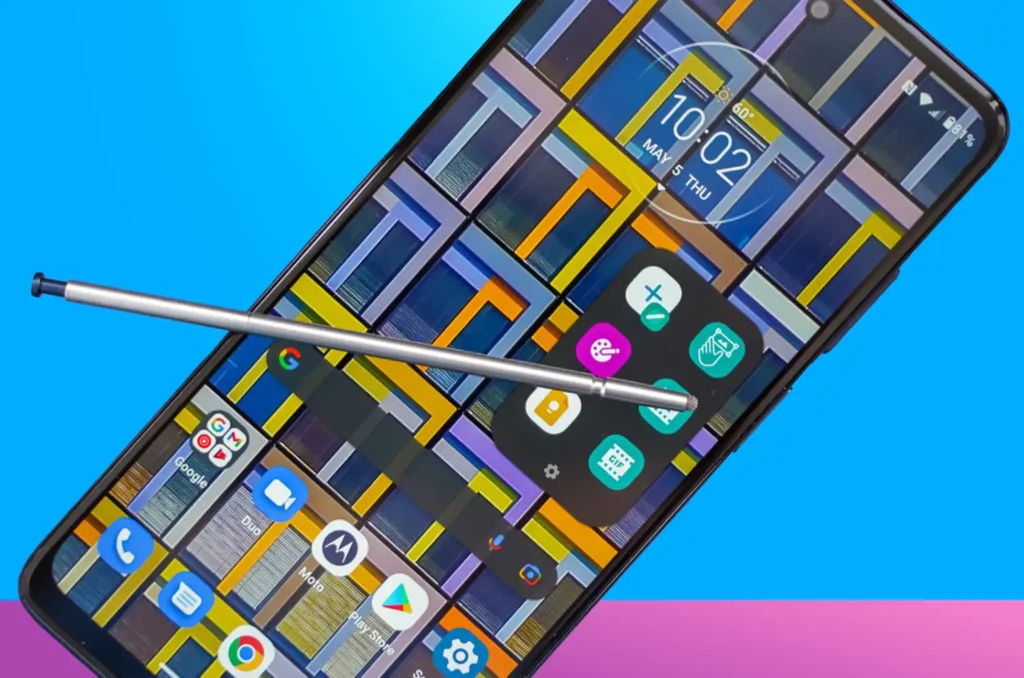 Battery
Motorola has made it a point in recent years to ensure that their smartphones have long-lasting batteries. The Moto G Stylus 2023, while being part of Motorola's budget line, has a sizable 5,000 mAh battery that lasted me close to two days, and that's with heavy TikTok scrolling and airplane Netflix viewing.
Compared to the Moto G Power, which has "Power" in its moniker, it's clear that the Moto G Stylus 2023 falls short. However, the Moto G Stylus 2023 isn't as efficient as the 5G version's processor, so it can't compete. However, if you're used to quicker flagship devices, the offered 10W charger may seem painfully slow. Still, two days should be more than enough time spent without a charger.
Camera
Be realistic in your expectations, especially for a $200 phone, as Motorola isn't known for having the same ground-breaking camera technology as Google or Apple. Cameras are one area where low-cost phones fall short. Despite this, the Moto G Stylus 2023 still has a 50MP camera, a feature that has trickled down to even inexpensive smartphones. It offers reasonably sharp images, with surprisingly distinct details. While the resolution is on par with flagship models, it is not the only factor in producing high-quality photographs.
Then you've got the selfie camera, which comes in at a modest 8MP. It's good enough to capture moments, but definitely doesn't have the wow factor of other, more expensive smartphone cameras. On top of all that, you'll get a 2MP macro lens instead of a wide angle lens, a trade-off that this reviewer finds irredeemable, but to each their own.
The Moto G Stylus 2023 and other Motorola phones come with a Pro mode that allows for a bit more control and customizability with how you take pictures. You aren't going to fully replicate a higher quality camera, but you can at least manually make some improvements, as long as you actually know what you're doing.
Conclusion
If you need a good smartphone that will put a nearly unnoticeable dent in your budget, the Motorola G Stylus 2023 is it. At $200, you're going to have a hard time finding a more affordable device that still holds its own as far as functionality is concerned. The body doesn't feel cheap, the specs are in line with more expensive phones, and the stylus experience from Motorola continues to be one of the best.Whether you're a creative soul or just someone who values a reliable smartphone, the Moto G Stylus 2023 is a testament to Motorola's commitment to providing top-notch features without the premium price tag.
All products, and company names, logos, and service marks (collectively the "Trademarks") displayed are registered® and/or unregistered trademarks™ of their respective owners. The authors of this web site are not sponsored by or affiliated with any of the third-party trade mark or third-party registered trade mark owners, and make no representations about them, their owners, their products or services.