Did you know that you can use a Z3X Box to unlock Samsung Galaxy J1?
And there are plenty of other Samsung phones you can unlock with it? But in this guide, we will cover how you can do it with the 2016 model Samsung Galaxy J1. If you already have configured the Z3 box and have installed the necessary drivers and software, you're ready for this tutorial!
On the other hand, if you think you need professional help, you can contact our remote unlock team for help. 
Below is the video guide created for this article:
The following steps have screenshots from the phone and the computer to give you a visual guide on how to navigate through each device. 
Step 1. Enable USB Debugging on Samsung Galaxy J1.
On the phone, go to "Settings" or tap the gear icon on the notifications bar.
Scroll all the way down and tap "About device" 
Scroll down and tap "Software info"
Tap the "Build number" 7 times or until it says "Developer mode has been enabled!" 
Press "Back" or "<"  two times. 
Scroll down and tap "Developer options"
Turn on Developer options by sliding the button right to turn it on. 
Scroll down and slide the enable button right for "USB debugging"
You will be prompted with a question box "Allow USB Debugging?"
Tap "OK"

Step 2. Connect Z3X box to the computer via USB. 
Step 3: Install Samsung Tool Pro to your computer. 
Download the Samsung USB Unlock Drivers from this page on our website. 
Open the downloaded file. Extract the file, and drag the Samsung folder to the desktop. 
Click open the folder and you will be prompted with the box for the installation process.
Step 4. Connect your phone to the computer via USB. 
Press the "Windows" and "R" key at the same time on your keyboard. 
In the "Run" box that will open on the lower left-hand side, type "compmgmt.msc".
A window will open, click on "Device Manager" on the upper left corner. 
Click the dropdown arrow in "Modems" and you should see your device "Samsung J1". 
Close window.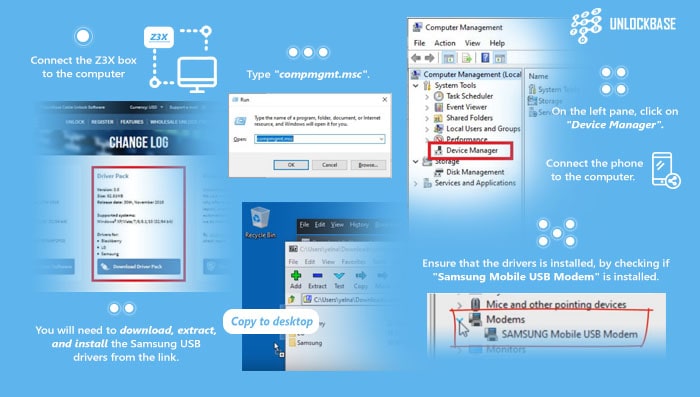 Step 5. Run the recently installed "
Samsung Tool Pro
" software.
A box will open asking permission, just click "Yes".
Wait for the program to open. 
From the left-hand side, you will see a list, click on your phone's correct model number. 
*Confirm your model number: On your phone, go to Settings > About Device > Model Number
Step 6. Generating the unlock code. 
From the uppermost, you will see several tabs, click on the "Unlock" tab.
On the right-hand side, you will see options, click on "Read Codes," it has a magnifying glass next to it. 

Step 7. Entering the unlock code. 
Wait a few seconds, and now look at your phone. On its screen you will see a prompt that says, "Allow USB debugging?", tap the checkbox "Always allow this PC" and click on "OK".
On your computer screen, the program will calculate the code. Just wait a few more seconds.
After a few minutes, you should find the unlock code, which is "NET lock".
Restart your phone. (It should still be connected to your computer).
Once it boots up, it will prompt you to enter the "SIM network unlock PIN" this means it's asking for the unlock code. 
Enter the code you got for "NET lock". 
Tap on the "UNLOCK" option.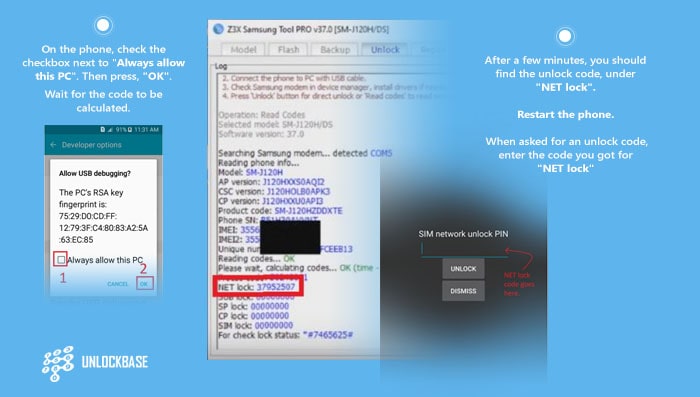 Congrats, your phone is now unlocked! You should see signal bars coming in from your new service provider!
That's it for this guide! If you followed the steps properly, your phone should be successfully unlocked. If you have questions about this guide, we can start the conversation at the comment box below! 
It's very easy, you don't have to be an expert to do it, but still, if you think you'll need professional help, let the pros from our very own remote unlock team help you out. Tell us how we can help you by giving us a chat! 
If you think this guide helped you immensely, please return us the favor and share this with your friends! Just click on the share button for Facebook or Twitter at the end of this post. Follow us on FB or Twitter for more guides, infographics, and the latest phone reviews!
All products, and company names, logos, and service marks (collectively the "Trademarks") displayed are registered® and/or unregistered trademarks™ of their respective owners. The authors of this web site are not sponsored by or affiliated with any of the third-party trade mark or third-party registered trade mark owners, and make no representations about them, their owners, their products or services.