Jan. 8
2012

There is a little revolution on UnlockBase for the popular "JIC Unlock Server". Now when you'll order one account with 1 Credit for any specific JIC Server tool below (Available from the "Cable Unlock" section of your UnlockBase account) you'll be able to use the credits for any service (ie: if you order an account for Palm, you can use it for iDen) :
– Dell Streak/Aero/Venue JIC Unlock Client v53.01
– HP Veer JIC Unlock Client v53.01
– HTC Android JIC Unlock Client v53.01
– Huawei G7010 JIC Unlock Client v53.01
– Motorola iDEN JIC Unlock Client v53.01
– Palm Pre/Pixi JIC Unlock Client v53.01
– SonyEricsson JIC Unlock Client v53.01
JIC Unlock Server it's more than 2.6 Million Unlocked Phones and we have always in stock account this mean you'll receive in real time the username and password with 1 Credit when you order from UnlockBase !
You can download the lastest version 53.01 here :
http://www.unlockbase.com/Download/Cable/239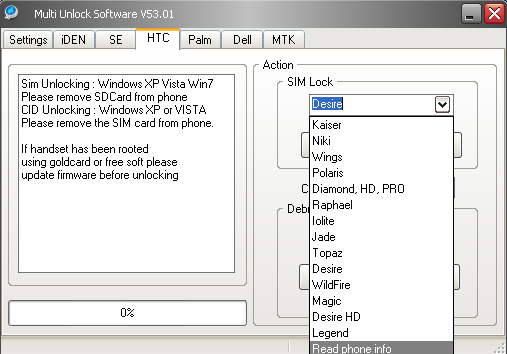 JIC Server = NO DONGLE or BOX
Work Under XP, Vista, 7
Work with Original USB Cable
Our official advertised price to unlock one phone with JIC Server is 20 USD. But much better price are available for returning customer, volume order, wholesaler, etc…  And as usual we'll beat any offer from competitor if you find cheaper (Just contact us by email to info@unlockbase.com if you need to discuss the price)
Here are the up to date list of supported phone with JIC Server :
– HP Veer
– Huawei G7010
– Dell Streak 5, Aero, Venue
– Palm Pre, Pre 2, Pre Plus, and Pixi Plus
– Absolutely all Motorola iDen !!! (CNS 1 & 2)
– HTC Android, Kaiser, Niki, Wings, Polaris, Diamond (HD/PRO), Raphael, Iolite, Jade, Topaz, Desire, WildFire, Magic, Desire HD, Legend (very usefull when you get wrong code using "IMEI Unlock" method using Factoruy Code)
– SonyEricsson Xperia X10, X10i, X10a, X10 Mini, X10 Mini Pro, U20, E10i, W8, E16, E16i, X8, E15i & Docomo SO-01B (Direct Unlock, without Test Point, even Android v2.3)
All products, and company names, logos, and service marks (collectively the "Trademarks") displayed are registered® and/or unregistered trademarks™ of their respective owners. The authors of this web site are not sponsored by or affiliated with any of the third-party trade mark or third-party registered trade mark owners, and make no representations about them, their owners, their products or services.