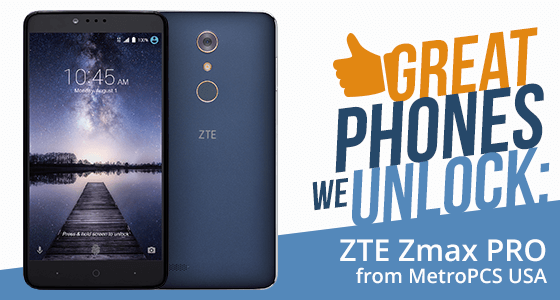 ZTE is the fourth largest smartphone supplier in the U.S. and the second largest in the no-contract market. This month they announced the availability of the next generation of the ZMAX series, the ZMAX PRO. It's available through MetroPCS for the affordable price of $99.00 after instant rebate. The ZMAX PRO breaks new ground as it is the first US carrier supported phone under $100 that features a fingerprint sensor, and a 3400 mAh battery. But seriously, a $99 smartphone? How good can it be?
Well, the ZTE ZMAX PRO will surprise you with its high performance for such a competitive price. The phone is packed with many of the features you would expect from a phone costing significantly more including:
A monster 6" Full HD LCD Display with resolution of 1920 x 1080.
Powered by SnapDragon 617 1.5 GHz Octacore Processor, + 2 GB of RAM
MicroSD slot
Powerful 3,400 mAh embedded battery that lasts a full day
Android 6.0.1 Marshmallow OS
13MP rear and 5MP front facing cameras
32 GB of internal memory upgradeable to 128 MB with the micro SD slot
Fingerprint sensor for added security
MetroPCS has also added its own app store offering Metro PCS apps that come pre-installed on the device along with a variety of utilities and games, although in reality this is little more than a link to the Android app store. The ZTE ZMAX PRO also features a USB Type-C connector. The cameras have the ability to frame, shoot and edit pictures on the go. Power hungry video games are playable without pause or problems, although some apps can take a little longer to load.
Unusually, the ZTE ZMAX PRO also includes a Qualcomm® Quick Charge 1.0 enabling you to charge the phone up to 40% faster than older phones.
In terms of styling and comfort, although it's a lot of phone, it's comfortable to hold in the hand. The soft touch back features the fingerprint sensor, which is fast and accurate. It can also be used to quick launch apps based on the finger that you use and you can also answer phone calls just by pressing the sensor.
The original retail price of the phone is $179.99 but Metro PCS' mail-in rebate offer whittles it down to just under the $100 price mark which makes this phone an exceptionally good deal.
Unlock your ZTE ZMAX PRO with UnlockBase
Love the phone but you don't want to stay with MetroPCS? If you would prefer another service provider, UnlockBase is the web's leading remote unlock service and even though the ZTE ZMAX PRO has only just been launched at the beginning of August, we can unlock it for you, safely, quickly and easily with Device Unlock. Device Unlock is an Android app that allows you to request and apply a mobile device unlock directly from the device. This allows you to automatically apply Mobile Device Unlock to the device without using a manual code. Please note that when your phone is locked with "Mobile Device Unlock" it's totally useless to order an unlock code. Instead it's really important to order the unlock of your device using this special service: https://www.unlockbase.com/phone-unlocking-service/metropcs-device-unlock-app-official-unlock/