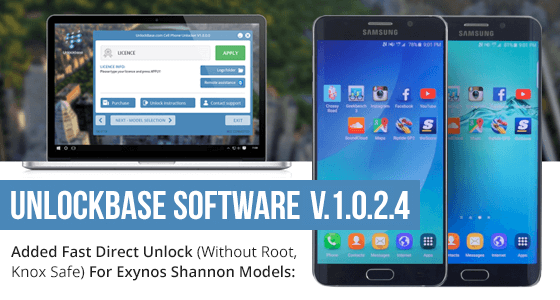 After our previous exciting update to Unlock Samsung from Sprint USA, we are pleased to inform you about the release of version v1.2.0.4 of the "UnlockBase Cable Unlock Software"   adding Fast Direct Unlock (Without Root, Knox Safe) for Exynos Shannon chipset Models (see list below). We have also finally released the "Unbranded" version of our exclusive software for all our resellers. Starting today, all the generated licenses will work on the branded and unbranded versions of our software.
List of Samsung Exynos Shannon chipset Models:
Samsung SM-G930F, SM-G930K, SM-G930L, SM-G930S, SM-G930W8,
Samsung SM-G935F, SM-G935K, SM-G935L, SM-G935S, SM-G935W8,
Samsung SM-G920A, SM-G920AZ, SM-G920F, SM-G920I, SM-G920K, SM-G920L, SM-G920S, SM-G920W8,
Samsung SM-G925A, SM-G925F, SM-G925I, SM-G925K, SM-G925L, SM-G925S, SM-G925W8,
Samsung SM-G928A, SM-G928C, SM-G928G, SM-G928F, SM-G928I, SM-G928K, SM-G928L, SM-G928S,
Samsung SM-G928W8, SM-G9287, SM-G9287C,
Samsung SM-N920A, SM-N920C, SM-N920F, SM-N920G, SM-N920I, SM-N920K, SM-N920L,
Samsung SM-N920S, SM-N920W8, SM-N9208,
Samsung SM-J120A, SM-J120AZ, SM-J120F, SM-J120G, SM-J120M, SM-J120FN, SM-J120ZN, SM-J120W,
Samsung SM-J320A, SM-J320AZ, SM-J321AZ, SM-J320W8,
Samsung SM-A310F, SM-A310M, SM-A310Y, SM-A310N0,
Samsung SM-A510F, SM-A510M, SM-A510K, SM-A510L, SM-A510S, SM-A510Y,
Samsung SM-A710F, SM-A710M, SM-A710K, SM-A710L, SM-A710S, SM-A710Y,
Samsung SM-J200BT, SM-J200F, SM-J200G, SM-J200GU, SM-J200M, SM-J200Y,
Samsung SM-J710F, SM-J710K, SM-J710GN, SM-J710MN,
Samsung SM-J700F, SM-J700H, SM-J700M,
Samsung SM-G903F, SM-G903M, SM-G903W,
Samsung SM-A800F, SM-A800I, SM-A800IZ, SM-A800S, SM-A800YZ,
Samsung SM-T377A, SM-T377W,
Samsung SM-T715, SM-T715C, SM-T715Y, SM-T815, SM-T815C, SM-T815Y, SM-T817, SM-T817W,
Samsung SM-N916K, SM-N916L, SM-N916S,
Samsung SM-T677A, SM-T677,
Samsung SM-G5500, SM-G550FY,
Samsung SM-G389F, SM-G890A.
Samsung Galaxy S7 Direct Unlock by Cable Video
For more details concerning "UnlockBase Exclusive Software" please check:
Software Official FAQ: https://www.unlockbase.com/cable-unlock/unlockbase-software-faq/
The list of the 745 Supported Models: https://www.unlockbase.com/cable-unlock/supported-models/
ChangeLOG and Software Download: https://www.unlockbase.com/cable-unlock/change-log-software-download/
You can order a license to unlock one cell phone here: https://www.unlockbase.com/cable-unlock/
Or for our Professional Customers directly from the "Cable Unlock" section of your UnlockBase Wholesale account.