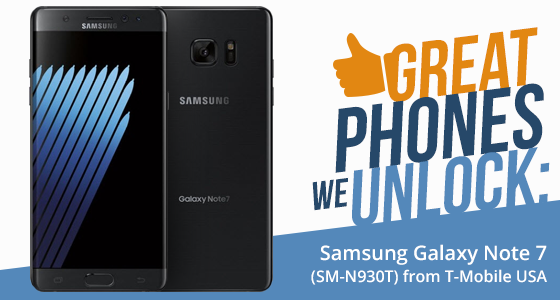 Samsung has skipped Samsung Galaxy Note 6 and gone straight to Galaxy Note 7. It's described as their kitchen sink phone, as contained within its sleek casing is it comes with everything you could possibly need. It comes with a cool almost bezel-less wraparound 5.7" QHD super screen made of scratchproof Corning Gorilla Glass, and strikes a balance between work and play, enabling users to achieve more than what they thought possible on a smartphone. The phone comes with 64GB of internal memory upgradeable to 256GB.
Key attributes of the Galaxy Note 7
The S Pen: With its new 0.7mm smudge-proof silicon tip everything you write, draw, and edit is sharp and to the point. The S Pen also gives users the ability to easily create and share GIF animations with Smart Select, and new Air Command functions, including Magnify and Translate enable users to zoom in on the screen or convert languages by simply hovering.
Water repellant: The Galaxy Note 7 repels splashes and dust, and protects against accidental dips in the water of up to five feet for 30 minutes. You can even write when it's wet with the S Pen.
Iris Scanner Security: The new iris scanner means you can keep your most valued items and notes secure with superior protection which is unique to you. With the Galaxy Note 7's advanced biometric authentication you can opt for fingerprint scanner and iris scanning technology. You can also interchange security options depending on how you use your phone. Taking secure purchasing to another level, the iris recognition technology can also be used to authenticate purchases with Samsung Pay.
Cutting edge cameras: The Galaxy Note 7 has a 12MP 2PD Rear-Facing Camera and a 5MP 2PD Front-Facing Camera which are capable of taking pictures even in dull conditions as they have faster autofocus and a lens that lets in 95% of available light.
First class entertainment: In addition to the ability to stream HD video in cinema like perspective, by pairing the Galaxy Note 7 with the new Gear VR powered by Oculus, users can experience premium virtual reality almost anywhere. Galaxy Note 7's Super AMOLED screen and powerful processor delivers a library of apps, photos, games and more to put users at the center of the action.
The T-Mobile deal
Not surprisingly, armed with its handsome new looks, superior functionality and security, it is Samsung's most expensive phone retailing through T-Mobile at $849.99 if you were to walk in and buy it off the shelf. But if you were to go on contract it can be yours for just $69.99 upfront and $32.50 a month for 24 months. In addition to the phone T-Mobile also tempt you with the choice of a full year of Netflix, a Samsung Gear Fit2, or a 256GB memory card.
Unlock the Galaxy Note 7 today with UnlockBase
The Galaxy Note 7 is Samsung's top of the line phone, so it makes sense to find the best phone deal to enjoy it. UnlockBase is the web's leading remote unlock service with the largest database of phones and service providers from around the world.
Even though the Galaxy Note 7 was only launched this month we can still unlock for it you with Device Unlock. It's an Android app that allows you to request and apply a mobile device unlock directly from the device. This allows you to automatically apply Mobile Device Unlock to the device without using a manual code. Please note that when your phone is locked with "Mobile Device Unlock" it's totally useless to order an unlock code.
The Android official unlock service for T-Mobile USA is available here:
https://www.unlockbase.com/phone-unlocking-service/tmobile-device-unlock-app-official-unlock/