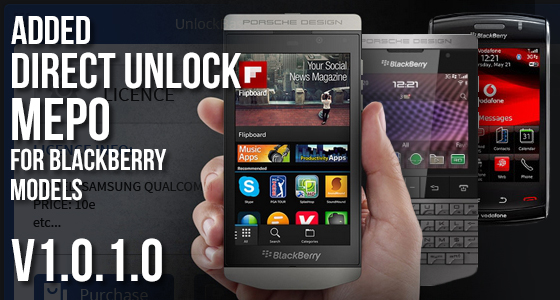 Did you know you can still benefit from everything that is so clever about a BlackBerry including BlackBerry Blend for seamless phone to PC synchronization, and the quality and slickness of the BlackBerry operating system without having to put up with a way too costly network provider? If you're happy with your BlackBerry, but not with your service provider, we have good news. We've just released a new update for UnlockBase Cell Phone Unlocker Software (v1.0.1.0). This major new update to our software enables anybody to unlock by cable an amazing 372 BlackBerry and /or Samsung models, quickly, easily and safely.
As of today we have just added DIRECT UNLOCK support for the following 107 new BlackBerry models:
BlackBerry Bold: 9000, 9650, 9700, 9780, 9790, 9900, 9980, 9981, Touch 9930
BlackBerry Curve: 8520, 8530, 8900, 9220, 9315, 9320, 9360, 9380
BlackBerry Curve 3G: 9300, 9330
BlackBerry Gemini: 8520
BlackBerry Niagara: 9630
BlackBerry Odin: 9550
BlackBerry Onyx I, Onyx II, Onyx III
BlackBerry Pearl: 9100, 9105
BlackBerry Porsche: P9980, P9981
BlackBerry Storm: 9500
BlackBerry Storm 2: 9530
BlackBerry Torch: 9800, 9810, 9850, 9860
BlackBerry Tour: 9630
Our solutions allows you to Read Info and Direct Unlock any of these BlackBerry models, including a phone with MEP0 issue (Hardlocked BlackBerry caused by entering too many wrong codes). And in the meantime we have also improved this new version 1.0.1.0 of our software:
Improved communication with the server,
Ability to read more information from phones,
Waiting from server time-out bug corrected.
You'll find some Video Tutorial on our YouTube Chanel: https://www.youtube.com/user/unlockbase/videos
BlackBerry 9860 (Torch) Unlock Tutorial