May. 19
2015
21 Tech Travel Hacks That Will Make Your Life So Much Easier
UnlockBase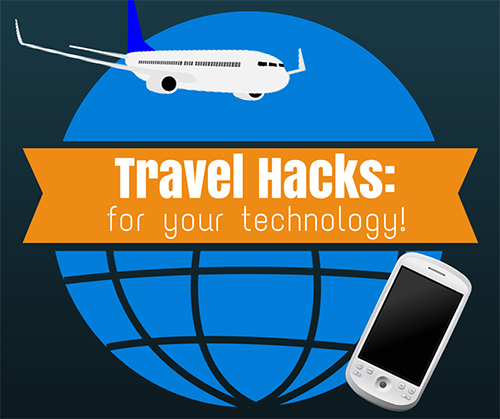 Whether you're traveling across the country or simply down the road to your grandma's, it's important that you take advantage of technology.  Here's a quick look at 21 tech travel hacks that will make your life so much easier. And don't forget that UnlockBase can take care of all your cellular unlocking needs.
1) Travel in style
If you can't afford a first-class ticket with access to a personal TV, simply use a plastic bag to turn your smartphone or tablet into a mini TV.  Put your device in the plastic bag and hang it from the tray hook on the back of the seat in front of you.
2) Do a screenshot of a map
When traveling abroad, roaming data rates can be enormous.  When you take a screenshot of a map you're needing, though, you can save it for later when you don't have access to WiFi; this will help ensure you don't use any unnecessary data while overseas.
3) Use cord retracting headphones
To keep your headphone cords from getting tangled, purchase a pair with retractable cords.
4) Save on data
Did you know you can use Foursquare to identify locals who don't care to share their WiFi passwords?  By doing this, you can keep your data usage to a minimum when traveling.
5) Use airport outlets
Most airports these days are full of USB and electrical outlets.  By using these outlets, you can stay charged when traveling by air.
6) Improvise with hotel furniture
Does your hotel room not come with a desk for your laptop?  If not, simply put your room's ironing board at the end of the bed.
7) Keep all important documents on your phone
From your Passport to your birth certificate, take pictures of these documents and save them to your phone.  Make sure to delete them after you've returned home.
8) Boost your charge
Often when traveling, you'll have limited opportunities to charge your phone.  By putting it in Airplane Mode, however, you can charge your phone faster.
9) Bring along adapters 
Depending on where you're traveling to, you may need adapters for your electronics.  Fortunately, there are all-in-one adapters that can meet almost all of your international adapter needs.
10) Pack a power strip
Since you'll likely have several devices you want to charge at once — phone, tablet, laptop, camera, etc. — make sure to pack a miniature power strip.
11) Plastic bags work well for water proofing
Going on a cruise?  For a walk on the beach?  When it comes to water proofing your tech gadgets, simply put them in a sealable plastic bag.
12) Use cloud storage
When taking pictures and videos while traveling, use WiFi at your hotel to upload the pictures to the cloud.  This ensures if something happens to your phone, you'll still have your media.
13) Use WiFi to make phone calls
Download an easy-to-use use voice app, such as Google Voice, to make free calls back home using WiFi.  You can also use this type of app to send texts and much more.
14) Buy a wallet that is RFID proof
With an RFID-proof wallet you'll deter data thieves from accessing the information on your credit and debit cards.
15) Download a travel app
Almost all major cities have unique travel apps.  Make sure to use them to find interesting attractions and activities.
16) Check in using your phone
When traveling by air, you can usually use your phone to check in.  All you need to do is present the QR code you receive on your phone and you'll be allowed to go through security.
17) Find Airbnb lodging options
If you're traveling to an area that is lacking in hotel options, use your phone or tablet to search for Airbnb homes and condos.  You might find you can rent a home for cheaper than a hotel room.
18) Download credit card apps
For each credit card that you take with you, download its app to your smartphone; this will help you keep your finances in check.
19) Consider roaming services
If you know you're going to use your phone a lot while traveling abroad, make sure to take advantage of a roaming services provider.
20) Invest in screen protection
From in your home to around the world, a tempered glass screen protector protects your phone's screen from cracks and chips.  You can also find screen protectors that fit your other gadgets.
21) Bring an extra battery
By bringing along an extra battery for your phone and laptop, you can rest assured you'll have power when you need it most.