Jan. 28
2016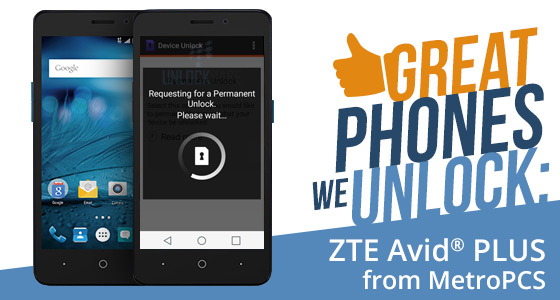 This is another new phone making its debut at CES Las Vegas this month. It's an entry level model from ZTE, a fast growing Chinese multinational telecommunications equipment and systems company headquartered in Shenzhen, Guangdong, China.
The all new ZTE Avid® PLUS is designed with comfort, convenience and the budget conscious in mind. It works quickly and efficiently enough, powered by a Qualcomm® 1.1 GHz quad-core processor matched with fast nationwide 4G LTE network. And if it's affordability you're after, the deal from MetroPCS doesn't get any better. With an original price of $119, MetroPCS, after mail-in rebate MetroPCS are offering the phone at just $29.00!
The phone comes with an on-trend 5″ LCD screen with pixel density of 196 ppi, which allows you to enjoy pictures, play games and watch videos, while the screen is protected with Dragontrail™ scratch-resistant glass.
Camera technology on the Avid PLUS is a bit basic, nothing more, and nothing less than you would expect from a budget phone. There's a 2MP front-facing camera and a 5MP rear-facing camera, with 720 pixel video recording which means you can easily capture what's going on around you at short notice. There are effects including Color Effect, Scene Mode and Anti-Flicker to help you create quality photographs, but of course at this lvel of pixellation, you can expect some pictures to be grainy.
The ZTE Avid Plus was not designed as a high-end smartphone. Internal storage starts at 8GB upgradeable with a microSD slot to 32GB. The phone is made from an all-plastic build but still manages to have a quality feel when held. Unlike a lot of the newer generation phones, the Avid PLUS has a removable backing, allowing access to the replaceable battery, the SIM card slot, and the microSD card slot, which is much easier than trying to open the SD card and SIM card slots with the aid of a supplied pin to press into a tiny slot in the side.
The phone runs on Android Lollipop 5.1 and includes a built-in battery saver with additional security features and enhanced WiFi/Bluetooth controls
The resolution and pixel count is admittedly low as compared to more high end models, but with a MetroPCS price of just $29.00, it still represents outstanding value.
Unlock your Avid PLUS from MetroPCS with UnlockBase
If you love the phone but you want to be able to use extra SIM Card from a non compatible network, UnlockBase, the leading online remote unlock site, with the largest database of phones and service providers around the globe, can unlock this phone for you quickly, easily and cost efficiently. Our new, easy to use MetroPCS Android Mobile Device Unlock App supports ZTE Avid PLUS and the app can be yours for just $24.oo. Full step by step instructions are supplied and if you get stuck and you're not sure what to do, our team are on hand 24/7 to answer your questions and sort out any possible problems. You can buy the app in seconds on the site and have your phone unlocked within just a few minutes, but don't take our word for it, before you buy check out some of our genuine testimonials from satisfied customers.
ZTE Avid Plus Specifications:
4G LTE enabled
5″ FWVGA LCD Touchscreen Display
5MP autofocus camera with LED flash + 2MP front-facing camera
8GB ROM / 1GB RAM
Expandable to 32GB with microSD card (sold separately)
To Unlock your ZTE Avid Plus from MetroPCS, please follow this Link:
https://www.unlockbase.com/phone-unlocking-service/metropcs-device-unlock-app-official-unlock/