May. 9
2016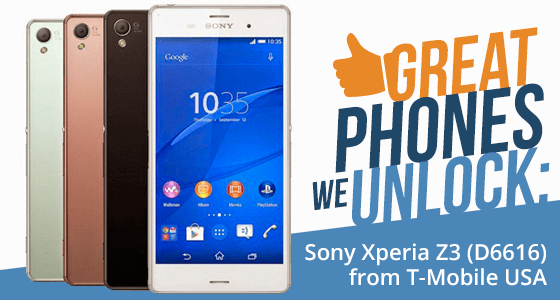 This is an oldie but goodie from Sony Xperia, and was originally released in the United States in October 2014. Yes, in cellphone terms that's an ice age ago, but the Sony Xperia Z3 remains a popular phone to unlock, and a fast seller on eBay and other auctions sites.
The Xperia Z3 hails the entry for Sony of design aesthetics such as a curved bezel. Like its predecessors, the Xperia Z3's design consists of a metal frame with a glass backing; with the metal frame being rounded, while the device itself is slightly slimmer than the earlier Z2. Equipped with a near phablet sized 5.2" FHD screen, the Sony Xperia Z3 carries slightly higher IP ratings for water and dust-proofing than the Z2. With a 1080p display and a density of 424 ppi, it also features Sony's "Triluminos" technology.
Incorporating years of Sony camera expertise, the Xperia Z3 includes Cyber-shot and Handycam technologies for bright, crisp, and super sharp photography. The rear facing camera is a mighty 20.7 Megapixels with a Sony Exmor RS image sensor, along with improvements to "SteadyShot" and "Intelligent Active" modes. It also has ISO 12800 sensitivity, enabling you to capture moments in low light.
The phone comes with a 2.5 GHz quad-core Qualcomm Snapdragon 801 system-on-chip with 3 GB of RAM, with Google Android 6.0 (Marshmallow). The Z3 includes a non-removable 3100 mAh battery with up to two days of battery life. The phone runs on a single nano sim card upgradeable to 128GB via the microSD slot.
Unlock your Sony Xperia Z3 with UnlockBase
At the time of its release in the fall of 2014, the phone was compared favorably with the Samsung S4. The phone was on the market offered by T-Mobile in black, and some of these phones are still locked with an RSU App. If this is not what you want and you are keen to get rid of it, UnlockBase can help.
With the largest database on the web for phones and service providers, UnlockBase will not be beaten on price. For just $29.90 we can unlock and free up your Sony Xperia X3 in less than 24 Hours using the official Android Official Unlock for T-Mobile USA. Before you order the app make it's important to make sure your phone is free of any viruses and is not blacklisted, or else the app will not be able to help you.
To Unlock your Sony Xperia Z3 (D6616) from T-Mobile USA please follow this Link:
https://www.unlockbase.com/phone-unlocking-service/tmobile-device-unlock-app-official-unlock/