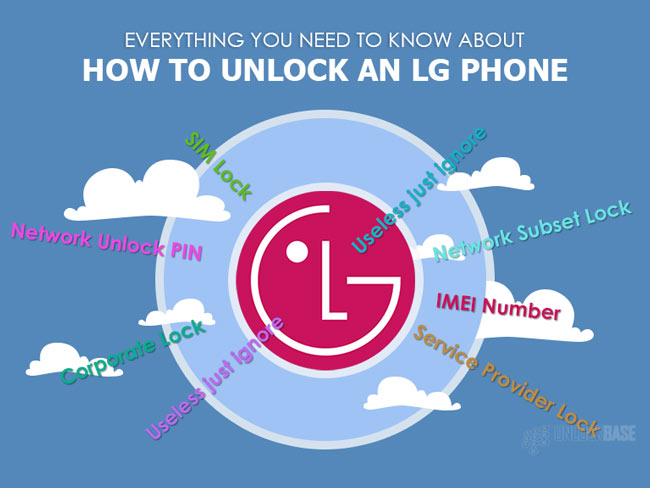 Unlocking an android phone like an LG phone doesn't really asks for a set of complicated procedures. Just like most, it follows a set of 3-4 instructions to make an LG carrier-unlocked. Although it varies per model, you only need to take note of the specific code it's asking for.
Remember: TMobile USA and MetroPCS has pre-installed the Mobile Device Unlock App on your LG phone and that means there's NO NEED FOR A CODE to unlock your phone. More information about mobile device unlock here.
Here's a list of possible codes your phone might ask you for:
IMEI_NO = IMEI (It's not a code, just ignore this)

NCK = SIM_Unlock = Network Lock = SIM Network Unlock PIN

NSCK = Network Subset Lock

SPCK = SP_Lock = Service Provider Lock

CPCK = Corporate Lock

SIMCK = SIM/USIM Lock

SPC = Useless just ignore

OTKSL = Useless just ignore
Woah! That's a lot, but most LG models only asks for 3 codes: NCK, NSCK, and SPCK. We usually send you three to five different sets of codes but only one gets your phone unlocked, so be very careful to read the screen prompt because you only have 10 chances of getting it right!
If you fail 2 or 3 times, please contact us. We have 24/7 support that can help you unlock your device or tell you what's wrong. Save your unlock attempts and contact us right away!
Generally speaking, here's how you unlock an LG (not-model specific):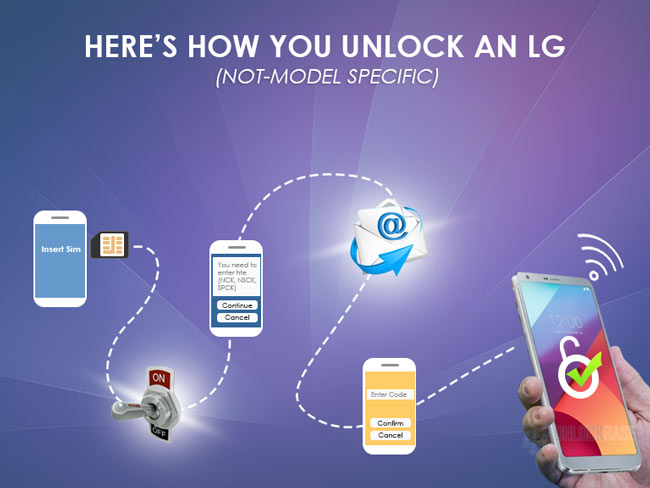 Insert a non-accepted SIM.
Turn ON device.
Screen prompt asking for a code (NCK, NSCK, SPCK).
Read email instructions before entering the code.
Enter the code being asked for.
Your LG phone is now successfully unlocked!
Ideally, your phone should prompt for the "SIM Unlock Code" screen automatically, but if it doesn't do that, here's how you get it:
If in the unlikely chance that doesn't work, you can try:
Now, you might be wondering how to type the letter on the dialer but it doesn't have to be as complicated as you think.
If for example your phone is an LG G3, find out its exact version. For example, AT&T LG G3 is version number D850, so this is what you type in the dialer:
Another example is the LG G3 from T-Mobile. Its exact version is D851, so this is what you type in the dialer:
If you don't know where to get the exact model and version number of your phone, there are two ways to find out:
Go to Settings ⇨ About.

Remove your phone's back cover and you will see the exact model number on the rear housing.
Easy as that!
Now, don't worry about having to go that route. It is not going to be complicated. Here's how you can unlock your phone from there:
Insert a non-accepted SIM card

Dial

2945#*ModelNumber#

Select "

Network Lock

" or "

Service Provider Lock

"

Enter the Unlock Code it is asking for. Remember there are several code types, pick the specific code it is asking for

Some phones ask you to enter the same code twice, otherwise just follow the screen prompt.

Click "

Done

"

Click "

Unlock

"

Your phone might reboot. If it doesn't you will see the signal bars lighting up.

Congratulations! Your device is not permanently unlocked.
Ideally, it should prompt for "Invalid Smart Chip Error" or "Phone Restricted". If you are seeing that you can just hit "Cancel" and proceed on the "SIM Unlock Code" screen just oOn the other hand, if it doesn't prompt for you to enter an unlock code, please follow the next steps.
There are exemptions to this, though, here are some LG models who have unique sim unlocking process.
LG P769 Optimus L9 – It's almost the same as others' but you don't need to insert a non-accepted SIM card to get it unlocked. Follow the above steps to start the unlock process.
LG Fathom VS750 – There's no need to remove the sim or change into a different one. Just go to

Settings

⇨

Advanced Settings

⇨

Personal

⇨

Security

⇨ Hit "

Sim Lock

" ⇨ Enter Code ⇨ Phone unlocked
LG GD570 – For this model, you'll have to keep the carrier sim card. Follow the steps below to unlock your phone.
Dial *#865625#
Hit OK on screen prompt

Type the code twice

H

it OK

Wait for the phone to reboot and load up

Your phone is now successfully unlocked!
How To Troubleshoot Common LG Unlock Errors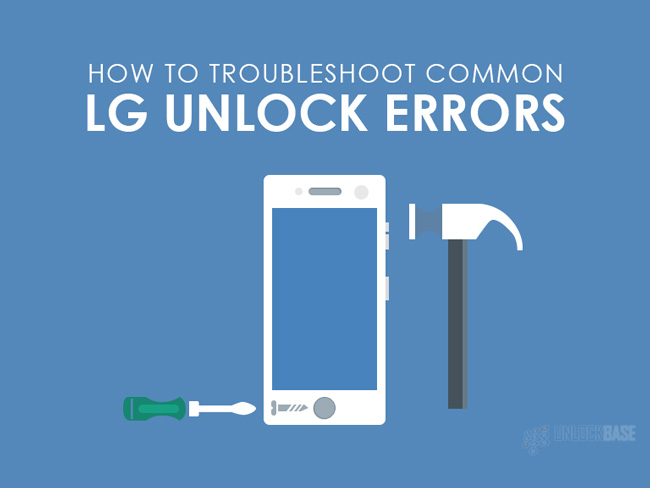 We want to save you from all the technicalities of error messages, but we will list the common error messages that won't ask you to call for customer service because the troubleshooting steps are straightforward and easy. So, here we go!
Error 1: "Enter Code" prompt does not appear
After dialing the code or inserting a non-carrier SIM you are supposed to see a prompt that would ask you to enter the code, otherwise, that's both a good news and a bad news.
Good news: Your phone was already unlocked, you just didn't know. 
Bad news: Your SIM card slot is broken or your device's IMEI is blacklisted by the original owner.
The last one you can easily rule out if you are the original owner of the phone but you can try to isolate and troubleshoot further. If you're lost, don't hesitate to contact us.
Also, it is recommended to turn off your phone, remove the battery, and wait for a short while before powering the phone back on. You can also try to remove or re-insert the SIM card while on the process.
Error 2: "Code Error" or "Sim Network Unlock Unsuccessful"
If you are getting this error, it means that the code we gave you didn't work or you entered the wrong code.
To isolate the issue let us start from the basi. If the code was wrong, you might have given us the wrong information about your phone's IMEI, model number, or locked-to carrier. In that case, we have to generate another code for a new IMEI, which discredits you of a refund.
To troubleshoot further, always make sure to follow our email instructions when entering the code. As mentioned we usually generate 3-5 unlocking codes, but you'll only use one and it depends entirely on what you are being prompted on your phone screen.
Remember, you don't have unlimited unlock attempts. So if you get it wrong at three times, save your remaining attempts and don't hesitate to contact us.
Error 3: Asking for "PUK" or "Security Pin" or "Password"
If you are prompted for a "PUK", "Security Pin", or "Password", it is asking for a user-set password or pin to operate or device. If you are the original user, you should be able to figure out this on your own.
Error 4: No service
If you are still not getting any service, it means your phone is already successfully unlocked but it isn't detecting your new carrier's network. To resolve this, you have to manually enter your new network under your phone's APN settings.
If you can make calls or texts but internet or data, you have to double check your phone's compatibility to your new carrier's network frequency.
Unlocking Your LG? We Match Competitor Pricing!
We know you've been all over the web trying to get your phone unlocked. So if you think you found a better pricing than what we offer, don't hesitate to tell us!
We guarantee you that we match competitor pricing, on top of that, you get 24/7 support for your LG unlocking concerns and queries as they arise.