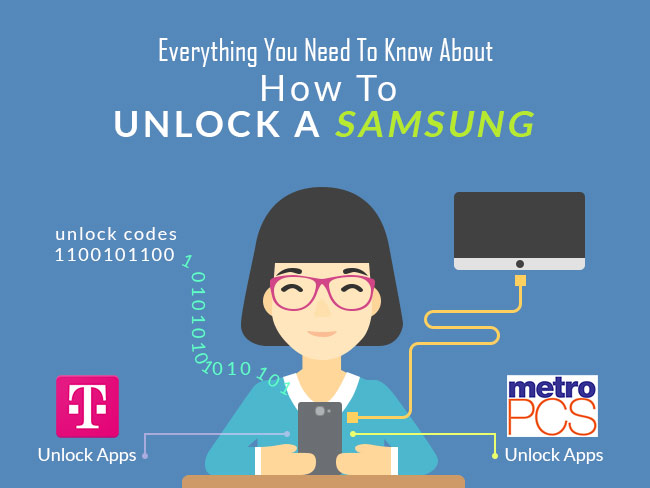 Want to unlock your Samsung phone? Seeing a lot of errors? If you want to unlock your Samsung phone from its carrier, then you're in the right place. Here at UnlockBase, we continue to innovate and create better and easier ways to get your phone unlocked in a timely manner.
Just like any Android phone, unlocking Samsung is relatively easy and should go smoothly. In fact, we have discovered 3 (three) different ways to get your phone unlocked from its carrier.
Here are your options:
➤ Get an unlock code – for those who don't want the hassle of unlocking technicalities/ not tech-savvy
➤ Cable Unlock Software – For those who want to unlock their phones sooner and faster
➤  Mobile Device Unlock App (Only applies to T-Mobile and MetroPCS phones)
3 Things To Consider Before Getting Any Unlock Service Or Buying Any Unlock Code:
Make sure your phone is NOT BLACKLISTED.
Make sure you have all the necessary information about your phone.
Make sure your phone is running on STOCK ROM.
1. How To Get An Unlock Code And How To Use It
If getting an unlock code is the way you want to go, you have to prepare 3 vital information about your phone:
IMEI Number,
Locked-to Carrier, and
IMEI status ( Not blacklisted/lost/stolen).
How to Get the Samsung IMEI number:
Dial *#06#
Go to Settings
Tap System
Go to About Device
Tap Status
You phone will display IMEI Information
We need to know your IMEI number and locked-to carrier because that's what we will use to generate an unlock code for your Samsung. Note that we don't randomly create codes through black magic and second-guessing, we are connected to several vendors and carriers to get the code specific for your phone. This is how we guarantee you that your unlock codes work.
In addition to that, your phone's IMEI status also lets us set proper expectations if we can unlock it and if you can still use your phone if we can unlock it.
Note: Blacklisted phones can still be carrier unlocked, (provided you have given accurate IMEI and carrier information) however, the possibility of using it is limited. For example, if your phone is blacklisted in the US, you can't use it in the US but you can use it with any carrier outside the US.
If you don't know your IMEI Status, you can check it here. If you otherwise know that your phone is "clean" and you have all the necessary information ready, you can proceed to the Samsung unlock page and enter all the necessary information.
We have several payment options that you can choose from and you will be receiving an email confirmation from our team about the status of your order.
The email that we will send you will not only contain one, but 3 or more codes to use. This is because there are several lock levels for many Samsung models.
The unlock codes emailed to you will look something like this:
Unfreeze: 12345678 NCK: 12345678 SCK: 12345678 SPCK: 12345678
Most Samsung phones will only ask for the NCK code, however, SCK or SPCK codes apply when 2 or more codes are needed to unlock. You will know which code to apply depending on how your phone responded or prompted after you put a non-carrier sim card.
The Unfreeze code is needed when your phone prompts "Phone Freeze" or "Return for Service" whenever you enter an unlock code. In that case, you have to enter the Unfreeze code first before the NCK code.
However, please note that the Unfreeze code does not guarantee or warranty success as they are issued free of charge as an added bonus with certain Samsung unlocking services. To help you get rid of the Phone Freeze, you can contact a local smartphone specialist or Samsung itself so you can get to the page where you can enter the unlock code you got from us.
The following are the most common scenarios for unlocking through codes:
For older Samsung models, like the Galaxy Note 4, you have to identify how many lock levels your phone has. Please follow the following instructions:
➤Insert sim from your carrier.
➤ Dial *#7465625#
➤Your phone will prompt you a slightly different colored screen that will usually look like this:
[xxx] Network lock
[xxx] Subset lock
[xxx] SP lock
(xxx = Value ON or OFF)
Network Lock ON: Enter NCK code
Subset Lock ON: Enter SCK code
SP Lock ON: Enter SPCK Code
If your phone isn't giving you any menu after dialing the code, then you can follow the usual unlock process, like that of the S7 Edge that you can see below.
Note that these steps vary per model, so do not take these steps as a general instruction for all Samsung models. Please visit our unlock Samsung page and carefully choose your phone's model.
For newer Samsung models, it's pretty straightforward, for Samsung S7 edge the process is more likely this: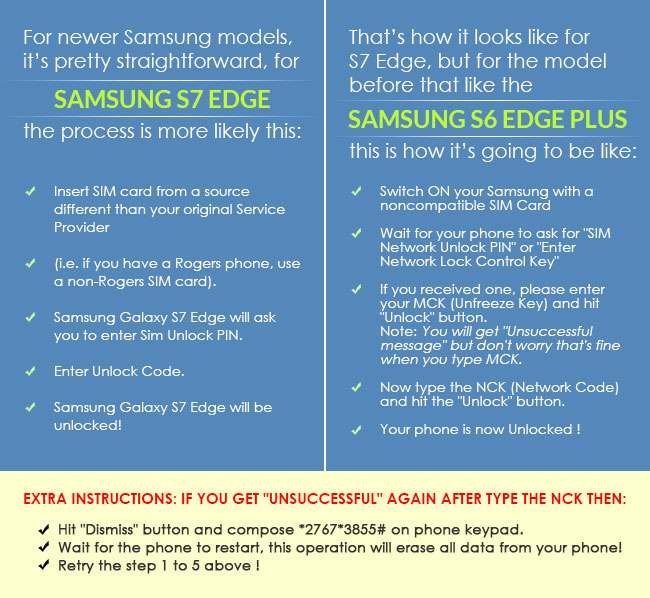 Insert SIM card from a source different than your original Service Provider (i.e. if you have a Rogers phone, use a non-Rogers SIM card).
Samsung Galaxy S7 Edge will ask you to enter SIM Unlock PIN.
Enter Unlock Code.
Samsung Galaxy S7 Edge will be unlocked!
That's how it looks like for S7 Edge, but for the model before that like the Samsung S6 Edge Plus, this is how it's going to be like:
Switch ON your Samsung with a noncompatible SIM card
Wait for your phone to ask for "SIM Network Unlock PIN" or "Enter Network Lock Control Key"
If you received one, please enter your MCK (Unfreeze Key) and hit "Unlock" button.  Note: You will get "Unsuccessful message" but don't worry that's fine when you type MCK
Now type the NCK (Network Code) and hit the "Unlock" button.
Your phone is now Unlocked !
EXTRA INSTRUCTIONS: if you get "Unsuccessful" again after type the NCK then:
6. Hit "Dismiss" button and compose *2767*3855# on phone keypad.
7. Wait for the phone to restart, this operation will erase all data from your phone!
8. Retry the step 1 to 5 above !
2. Cable Unlock: Faster Software Unlocker Exclusively from UnlockBase!
If you think you are techy enough to download, install and run a software to unlock your device, then our Cable Unlock software must be what you are looking for.
If you have Windows PC and a USB cable you can use and you want to unlock your phone faster or real time, you can order the cable unlock software directly from us!
Supported Brands: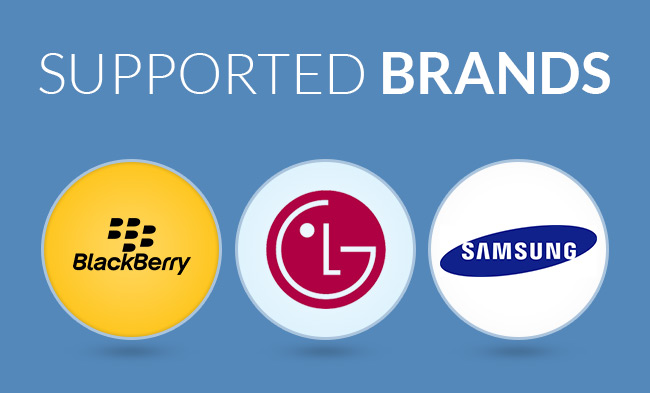 Good News: Our cable unlock software gives your phone a 100% permanent unlock so whether you upgrade or downgrade firmware or even install custom firmware like Cyanogen or Avatar. Your phone will remain unlocked for life!
You don't need to root your Samsung phone to unlock your phone, in fact, the unlock process will only ask you a few basic steps. Here's how:
Download the UnlockBase cable unlock software through the link we sent to your email
Right-click on the icon on your desktop, and select "Run as administrator"
Enter the license, hit APPLY
Wait to load details. Click on "Next Tutorial."
Connect phone through a USB cable.
Click "Next Direct Unlock"
Wait for the software to detect the phone
Wait for load bars to complete 100%
Your phone is now unlocked!
Note: If the software asks you to dial a code on your phone, please follow as per instruction. The unlock process may vary from phone to phone, but if you are stuck somewhere, you can always
contact our customer service team
to answer your questions or
visit our FAQ page
to know more.
It is also important to remember that we do not unlock CDMA phones and we only unlock GSM phones through this method. If your phone is not detecting the computer, simply unplug and replug the USB cable, make sure it's tightly connected and select "debug" on your phone's USB settings.
If in the unlikely reason that your phone will not be unlocked using this process, you can always ask for a refund and we will void your license and process a refund for you. No questions asked! Your happiness is what we guarantee and you can always try other unlock options for your phone, don't hesitate to shoot us an email or message.
3. Mobile Device Unlock App (T-Mobile and MetroPCS)
If you have a MetroPCS or T-Mobile locked phone it is now easier for you to get it unlocked! By simply using the Mobile Device Unlock App that is pre-installed on your phone, you can have your phone unlocked permanently from its carrier.
However, these two carriers have unlock requirements that you may not be qualified yet at the moment. Nonetheless, UnlockBase can help you unlock your device using the same mobile app. We can remotely register your device's IMEI as "eligible" on your carrier's database without any unlock code.
Good news: Turnaround time is only 2 days!
We have created an article specifically for the Mobile Device Unlock App including the troubleshooting steps that you may encounter when using this option for unlocking your device.
Please be sure to check your device's model number on the list of supported devices. Also, if your device is blacklisted or reported as lost or stolen, we will not be able to unlock it.
Select one of these two services below to unlock with "Mobile Device Unlock"
If you already purchase our Mobile Device Unlock App service, you can follow these easy instructions to guide you in your phone's unlock: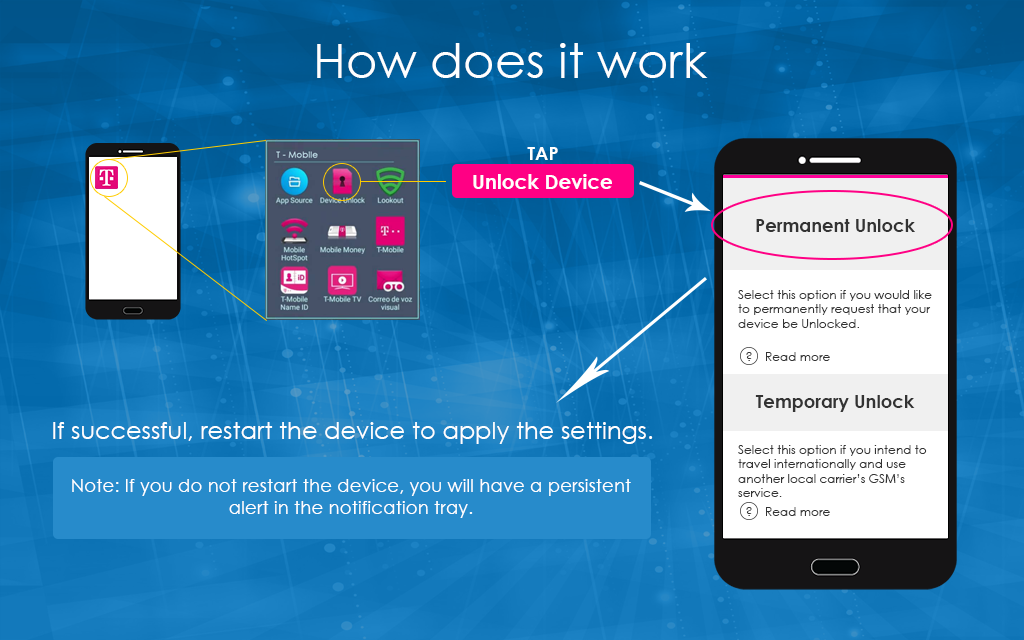 From that Application list, tap Device Unlock.
Tap Continue.
Choose the desired device unlock type: Permanent Unlock
If successful, restart the device to apply the settings.
Note: If you do not restart the device, you will have a persistent alert in the notification tray.)