Nov. 27
2017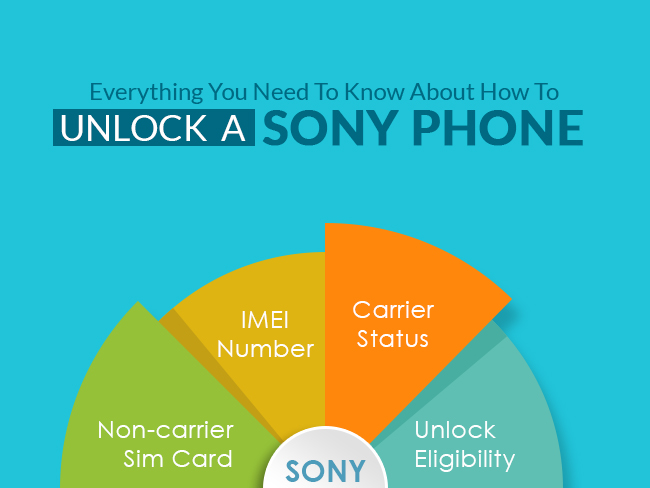 Unlocking a Sony mobile device is a unique process compared to other android or smart devices. There may be several locks applied to your Sony phone and we have to know how many lock levels apply for us to successfully unlock it permanently. Also, it is necessary for us to know your phone unlock eligibility
4 Things You Need To Get Your Sony Phone Unlocked:
Non-carrier SIM Card
IMEI number
IMEI/Carrier Status (Make sure it's not Blacklisted/ Reported Lost or Stolen)
Unlock Eligibility
It is important for us to know your phone's IMEI number because that will be our only guide to calculate or create the unlock code specifically assigned to it. Also, your phone's IMEI status lets us set proper expectations whether your phone can be unlocked or not and if you can use it after it is unlocked.
If your phone is blacklisted by your carrier, there's a slim chance we can unlock it and even if we can successfully unlock it, you will still be unable to use it in your own country even with a different carrier.
Blacklisted phones have their IMEI registered in a national database that is shared among the carriers in your country. This is the reason why Blacklisted phones can't be of use to anyone unless it's unlocked and used in a different country.
How To Unlock A Sony Phone
You can unlock your Sony phone through 2 different ways:
Your Carrier
UnlockBase
If you choose the latter which is to unlock your phone with us, you can order an unlock code for your Sony phone. All you need to do is to enter the information being asked and follow the process as is.
Your device's IMEI number and carrier, as well as your working email address,  will be needed for us to communicate.
If you already received an email confirmation about your unlock code order from us you will see the instructions for identifying it's SIM-lock state and its unlock eligibility. If you already did it as per instruction, you can now proceed to the actual unlock process.
Switch ON your Sony phone with a non-accepted SIM Card.
Sony phone will ask you to enter SIM Unlock PIN.
Enter Unlock Code (16 digit code).
Your Sony phone will be unlocked!
Note: Before ordering a code for your Sony phone, no matter what model, please make sure to check first if it is "eligible" for unlock.
Read: More about SIM Unlock Eligibility on the latter part of this article. (Jump to explanation)
If you choose to unlock with your carrier, there's a high likelihood that you will have to pay for the remaining device balance if you got your phone through a plan.
Nonetheless, unlocking your phone with them successfully works almost all the time. The process of unlocking it with them may involve technical needs or you can go straight to their nearby store if you need help.
Some carriers, like T-Mobile and MetroPCS (for the US only), lets you unlock your phone remotely through a pre-installed app called the Mobile Device Unlock App.
Note: Only Sony Xperia Z3 is supported by the Mobile Device Unlock App, pre-installed by T-Mobile USA. Please check this
article
 to know more about Mobile Device Unlock App and all its supported devices.
What Are The Instances That The Unlock Codes Fail?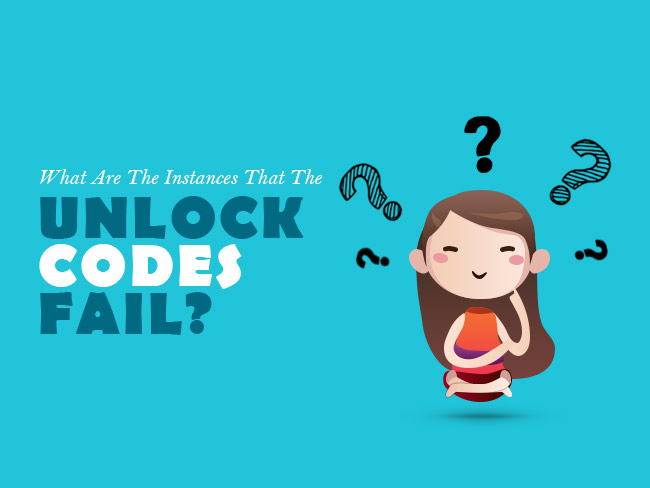 We can guarantee you that there's a zero chance our codes fail to unlock your phone. We work with several vendors and service providers that assure us that the codes we have generated are specifically for your device and for the specific IMEI you have provided us.
If in the unlikely chance the code we gave you didn't work, we always own the mistake and process a refund for you if you insist or give up and stop finding another way.
*We may have missed something along the way, so in the process, our customer service representative who's handling your concern may be able to find out why and resolve the issue.
However, if the codes we gave you didn't work, here are the possible reasons why:
You gave the wrong IMEI
Your phone is rooted or is running a custom ROM

Your phone is not eligible for unlock
If the unsuccessful unlock is caused by any of the above reasons, we are afraid we will be unable to give you a full refund. We always list the refund eligibility on our initial email interaction with you, and all disclosures, including what's mentioned above, are mentioned.
Moreover, we always advise our customers to do the unlock eligibility status check on their Sony phone before proceeding on the code order process. All the instructions are included in our email and should you feel lost or if you are afraid because it's too technical for your level, you can always contact our customer service team, with no charge.
If you want to get a heads up about your phone's sim unlock eligibility, please check the article below.
How To Check if Your Sony Phone is Eligible for Unlock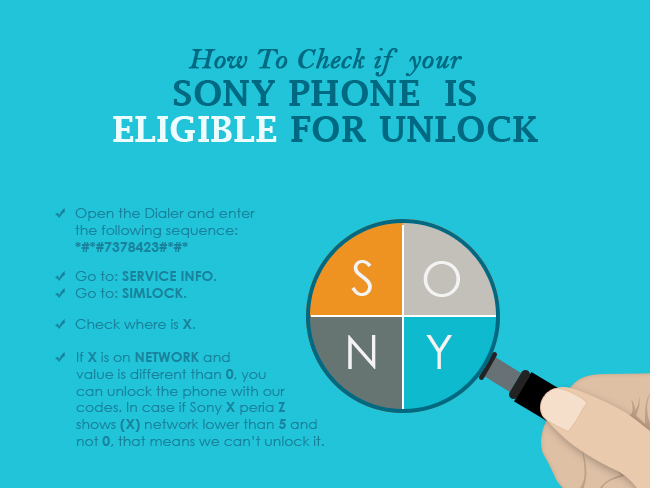 Your phone will be ineligible for unlocking when it is already hard locked to your carrier. Hard locked phones are permanently locked to a carrier and your phone will become hard locked if you enter the wrong code many times and have used up all the unlock attempts allowed by your phone.
Here's how you check your phone's SIM-lock status:
Open the Dialer and enter the following sequence:

*#*#7378423#*#*

A menu will appear.
Go to: SERVICE INFO.
Go to: SIMLOCK.
Check where is X.
If X is on NETWORK and value is different than 0, you can unlock the phone with our codes. In case if Sony Xperia Z shows (X) network lower than 5 and not 0, that means we can't unlock it.
Please check the following images for your guidance.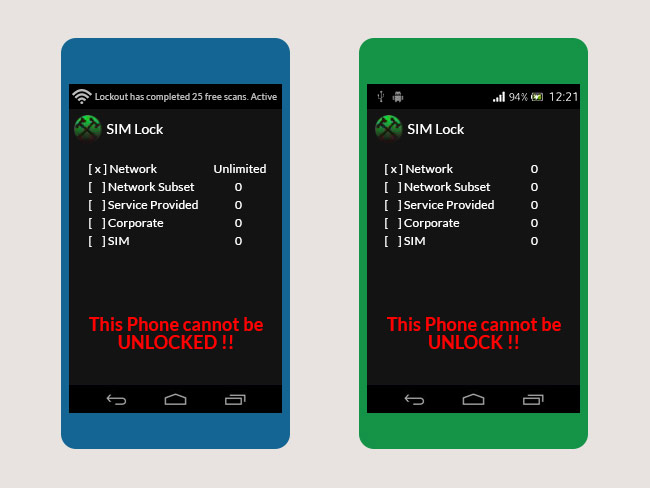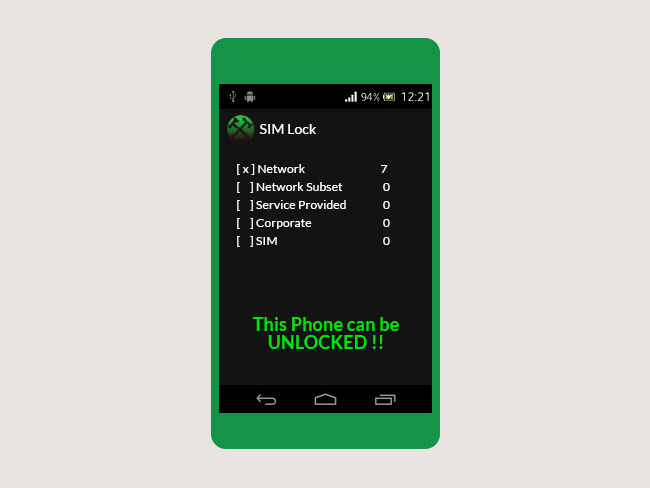 As you have seen in the images, the image where the value next to Network is 7 is the only phone that's unlockable or eligible for unlocking. It means we have 7 more unlock attempts to use.
We don't support values before 5 because we are unsure about the allowable unlock attempts. We always put a safety margin for unlocking attempts to set proper expectations.
Another image shows the value next to Network is 0, so that means there are no more available unlock attempts available for you to enter an unlock code and that the phone has already hard locked itself to its carrier.
If you are seeing a higher value than 5, then you can now proceed with the unlock process and order a SIM unlock code from us. Please choose your phone's model correctly.
Unlock Your Sony With UnlockBase!
UnlockBase has over eight thousand reviews from different third-party review sites and has unlocked over eight million phones since 2004- still counting to this date!
We can even deliver your codes *real-time or in as early as the first hour we receive your order*; quicker and faster than any of our competitors.  Not only that, we offer the lowest price guarantee if you have lower offers from any of our legit competitors.
Our 24/7 customer service team are always ready and available to answer your emails real-time and you can also contact our chat support team anytime if you have questions or other related concerns.

We assure you that all our unlock instructions are created with you in mind – meaning we make it easier, complete, and basic in every model we support, but that's not the sweetest part yet.
We provide *100% money back guarantee in the event that our codes don't work! If we can't unlock it, we'll give you your money back!
*Depends on the type of service, please check this page to know more.*
*Please read full refund eligibility disclosure statement for more details.*