The year 2017 has been a golden era for budget phones, and T-Mobile for sure did not let the opportunity go. And on the last quarter of the same year, the T-Mobile Revvl Plus was born; a huge 6-in phablet, and one of the first devices under T-Mobile's own line of smartphones.
But, is this $175-phone even worth considering?
Well, you might want to give this phone a second look because we found out that it offers high-end features you would only often find in branded flagships.
Do you want to permanently unlock your T-Mobile Revvl Plus? Here's how to do it. 
Technical Specs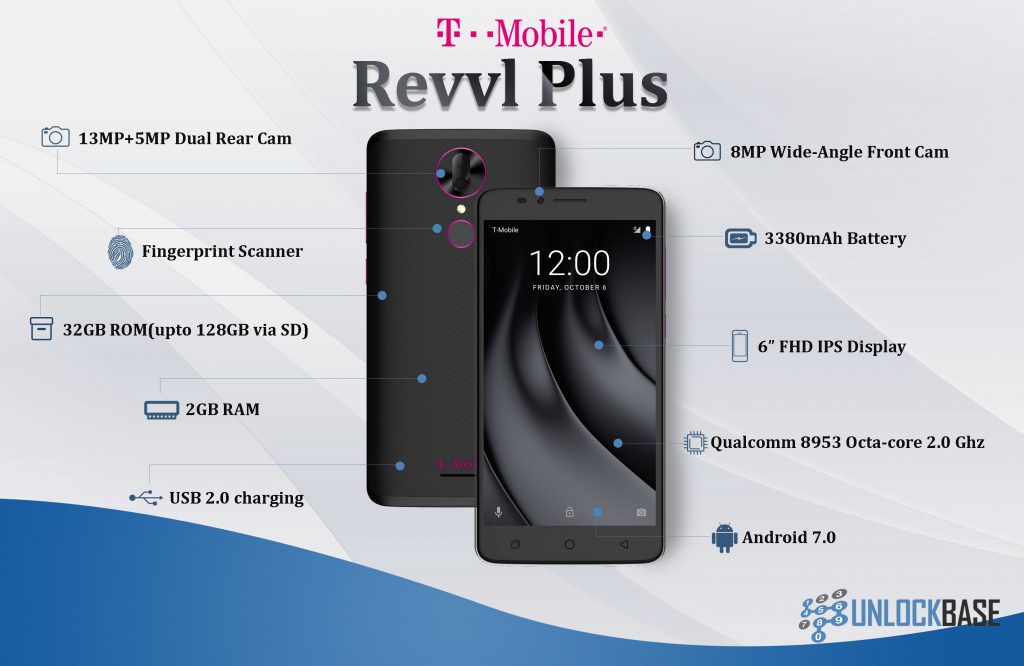 Here's an overview of what an almost $200-phone (after taxes) from T-Mobile gives you.
To make the decision-making process easier, we compared it with another branded phone under T-Mobile of the same price tag.
You're welcome.
| | | |
| --- | --- | --- |
| Specs | T-Mobile Revvl Plus | Samsung Galaxy J3 Star |
| Processor | Qualcomm 8953 Octa-core 2.0 Ghz | Exynos 7570 Quad 1.4Ghz |
| RAM | 2GB | 2GB |
| Operating System | Android 7.0 | Android 8.0 |
| Memory | 32GB (upto 128GB via SD) | 16GB (upto 256GB MicroSD) |
| Battery Size | 3380mAh | 2600mAh |
| Screen | 6" FHD IPS Display | 5"in HD Display |
| Front Camera | 8MP Wide-Angle Front Cam | 5MP Front Cam |
| Back Camera | 13MP+5MP Dual Rear Cam | 8MP Rear Cam |
| Charging | USB 2.0 charging | Micro USB charging |
| Other Features | Fingerprint Scanner | 600MHz Band Support |
| Pros | Huge Battery, Awesome Cameras, Big Screen, Fast Processor | Latest Android Operating System |
| Cons | Bad Design Quality, Not for Gaming | Small Internal Memory Capacity, Not for Gaming |
| Final Score | 3.5 | 3.3 |
It's clear that the T-Mobile Revvl Plus ticks check in almost every box, but there are a lot of things some people who had it don't like about it. Let's go through what the major deal breakers are when you get the T-Mobile Revvl Plus.
Can you use a T-Mobile Branded Phone like the Revvl Plus with another carrier?
Absolutely! This is how you do it.
Design Quality
Here comes the compromise. For the high-end features and fast processor, T-Mobile compromised how the Revvl Plus looked like on the outside. After all, aren't we all concerned about the usability of the device at the end of the day?
However, a lot of people still value looks and being flashy as much as they do about speed and quality, and yet the majority of budget phones are designed this way.
And if you are planning to get a pretty phone like the Samsung Galaxy J3 Star instead of the Revvl Plus, you might be compromising a handful of better features along the way.
Having a budget phone doesn't ultimately mean having an ugly-looking one, because if you are willing to spend a few bucks more you might just get a better-looking phone with similar specs just like the LG Stylo 4.
The phone's design is not that bad after all. It has a touch of fuschia, the same as the brand's color, and it comes with a fingerprint sensor, ergonomically located at the back.
For a $200-phone that's a plus.
Gaming, Speed, And Overall Usability
If this is not the reason why the Revvl Plus only got 2.5 Stars from T-Mobile Customer reviews, we don't know what is. A lot of people complain about the speed of the device, but since this is a budget phone, one should always manage their expectations.
The 2GB RAM on this phone makes it possible to run a heavy gaming app, but that doesn't guarantee there will be no lags or hiccups. Since this is one of the very first phones from T-Mobile, it is expected that certain system glitches or bugs may still be unsolved.
Also, the phone comes with a lot of heavy bloat apps already, so not all of that 2GB RAM is ultimately usable; only a part of it is, and that could affect the phone's overall performance.
Another deal breaker is the phone's Operating System. It still runs on Android Nougat, and that means you are losing a handful of helpful features that is only present on the latest Android System Oreo.
With Oreo, you can have multiple displays, so you can split your screen and do two things at the same time, seamlessly. Oreo also has updated auto-fill features making it easier to login without typing in so much information.
Using this phone for social media and other related tasks should go very well, and multitasking on this phone should go smoothly as long as you are not running very heavy apps in the background.
Camera, Battery Life, Other Features
You hardly ever get cameras this nice under a $200 price, but T-Mobile even got us a dual-rear camera!
This phablet also comes with a huge battery that can last you all day! The phone comes with a huge screen, but it is neither too heavy nor too light, giving it a premium feel on your hands.
Want to permanently unlock your T-Mobile phone for another carrier? Let us help you! 
Conclusion
For the price, this budget phone is really worth considering. The phone is packed with a powerful processor, a huge battery, and a good supporting RAM for a much better performance.
It may have compromised the looks, but T-Mobile made sure to make the overall eperience on this device better than most budget phones you would find in the market.