Nov. 16
2017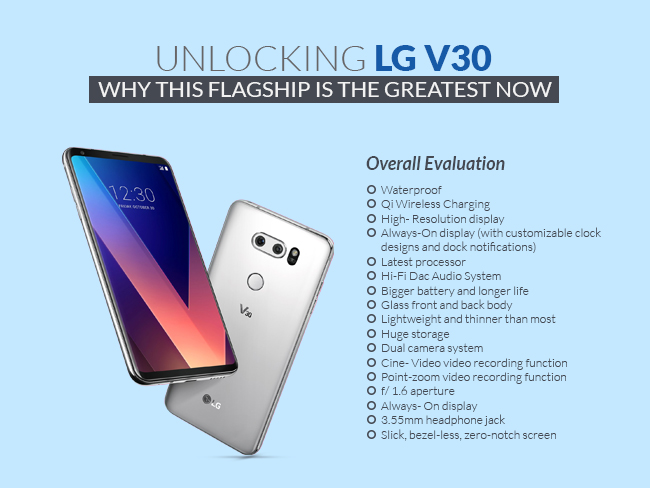 The LG V30 is nothing like its prehistoric parents. This slick phone is making noise in the tech world and here's why some guys would ditch their plans with Samsung Note 8 and forget about the iPhone X to get themselves an LG V30.
*Data not ours. Specs are from tech authority sites gsmarena.com and androidauthority.com* 
Specs
LG V30
iPhone X
Samsung Note 8
Winner
 Battery
Non-removable Li-Po 3300 mAh battery
Non-removable Li-Ion 2716 mAh battery
Non-removable Li-Ion 3300 mAh battery
LG V30 and Samsung Note 8
 Display
P-OLED capacitive touchscreen, 6.0 inches
Super AMOLED, 5.8 inches
Super AMOLED, 6.3 inches
LG V30 (No difference)
Water/Dust Resistance
IP68 certified – dust/water proof; Military durability standard-tested
IP67 certified – dust and water resistant
IP68 certified – dust/water proof
LG V30
OS
Android 7.1.2 (Nougat)
iOS 11.1
Android 7.1.1 (Nougat)
LG V30
Internal Memory
128 GB, 4 GB RAM (V30+) ;  64 GB, 4 GB RAM (V30) | micro-SD upto 256GB
64/256 GB, 3 GB RAM
64/128/256 GB, 6 GB RAM
Samsung Note 8

Camera- Primary
Dual 16 MP (f/1.6, OIS, 3-axis, laser & phase detection autofocus)

13 MP (f/1.9, no AF), LED flash

Dual 12 MP, f/1.8 & f/2.4, phase detection autofocus, OIS, 2x optical zoom, quad-LED (dual tone) flash
Dual 12 MP (26mm, f/1.7, PDAF & 52mm, f/2.4, AF), OIS, autofocus, 2x optical zoom, LED flash
Watch comparison here:

https://www.youtube.com/watch?v=T4ILAwtGv6o

(Our pick: LG V30)

Camera- Secondary
5 MP, f/2.2, 1/5″ sensor size, 1.12 µm pixel size
7 MP, f/2.2, [email protected], [email protected], face detection, HDR
8 MP, f/1.7, autofocus, 1/3.6″ sensor size, 1.22 µm pixel size, [email protected], dual video call, Auto HDR
Camera- Video
[email protected], [email protected], [email protected], 24-bit/192kHz stereo sound rec., HDR video
[email protected]/30/60fps, [email protected]/60/120/240fps
[email protected], [email protected], [email protected], HDR, dual-video rec.
Headphone Jack
Yes, 3.5mm jack
No
Yes, 3.5mm jack
LG V30 (B&O Play certified)
Sound
B&O Play certified;  32-bit/192kHz audio; 24-bit/48kHz audio recording;  Active noise cancellation with dedicated mic
Active noise cancellation with dedicated mic;  Lightning to 3.5 mm headphone jack adapter
32-bit/384kHz audio; Active noise cancellation with dedicated mic
LG V30 (Shouting at Audiophiles)

One simply can't even afford having a B&O speaker. This is awesome!

Sensors
Fingerprint (rear-mounted), accelerometer, gyro, proximity, compass, barometer, color spectrum
Face ID, accelerometer, gyro, proximity, compass, barometer
Iris scanner, fingerprint (rear-mounted), accelerometer, gyro, proximity, compass, barometer, heart rate, SpO2
LG V30 (Face ID isn't a new technology and the iris scanner isn't perfect. Fingerprint tech, still the easiest and the safest.)
Fast Charging
 Fast battery charging: 50% in 36 min (Quick Charge 3.0);Wireless charging
 Fast battery charging: 50% in 30 min; Qi Wireless charging
Fast battery charging (Quick Charge 2.0);Qi/PMA wireless charging
Obviously, LG V30
Hardware Durability
We have seen a huge surge of flagship comparisons online and in fact, LG V30 went with a drop test with the Samsung Note 8  and bet who won? LG V30.
According to the test, which you can see in Youtube, Samsung Note 8 suffered with the least screen damage, more probably because of its edge to edge screen, but you can hardly open any app and the screen starts to become unresponsive after 10 drops.
On the other hand, LG V30 may look more physically damaged with the selfie cam slightly altered, but miraculously, the screen is still responsive and you can use it BAU! What's more interesting is that, the back cover of the LG V30 suffered visibly no damage. Lovely, just lovely for every clumsy buff.  
That's right, 10 drops folks. 10 drops to a steel plate is all you need to prove the LG V30 is worth every penny you invested.
LG V30 is also water and dust resistant, ain't new thing but as LG put it, it has passed 14 different military standard durability test, which we say is proven by tech buffs on so many Youtube drop and durability tests.
(We don't want to talk about the iPhone X drop test. Thinking about throwing $1K down the bin is already making me cry, but you can watch the test here.)
Camera Quality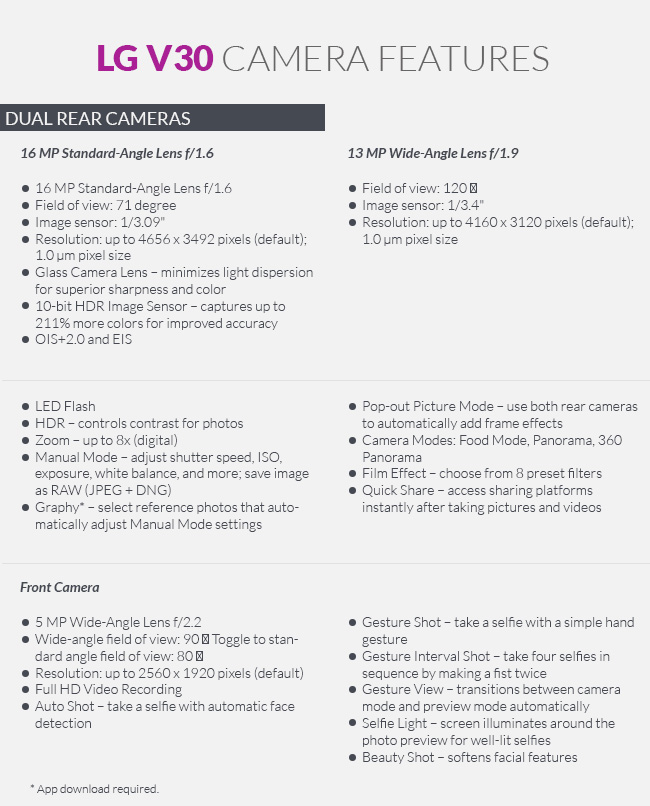 Well, honestly speaking, LG V30 isn't the best in the camera department. It's not the only phone with the DSLR- like camera you expect, but you will never have enough of its features, which LG filled to the brim.
You can record videos with the preset filter that you want to have, ain't that cool? Not only that, you can control your zoom, which practically lets you zoom in any area within the frame.
If you are a vlogger or a travel blogger, the LG V30 is a must-have for all your travels. You can pre-order it factory unlocked or you can also have it permanently sim unlocked  
LG V30
and
V30+
using our services.
Talk about smooth transition!
It also comes with a standard and wide angle lenses that lets you take the ultimate panorama and group selfies without sweating it out.
You can even edit videos on your phone! You can add sound, cut and paste video footages, and add a theme! You can add up to 50 files, like GIFs, photos, and videos to make one single awesome video.
Seriously, you can't even get a decent video out of some computer softwares, aside from the fact that they are too technical to use. The LG V30 definitely brings out our side of filmmaker- wannabe.
That said, LG V30 is outrageously underrated folks.
(But if you want to look how LG V30 camera fares with S8 and the X, here you go.)
Design Ergonomics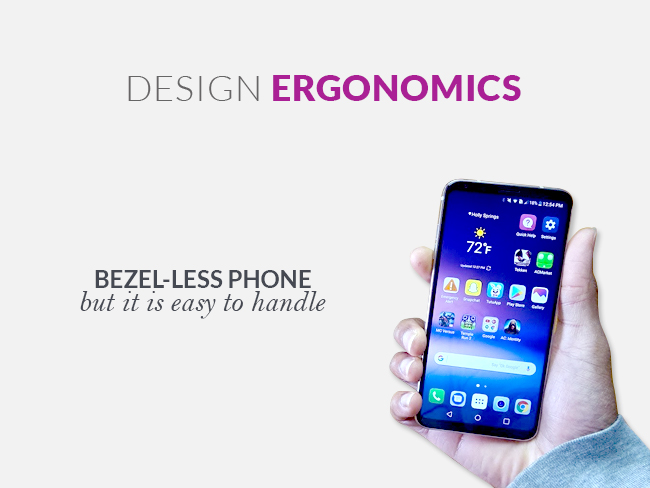 LG V30 is a big, bezel-less phone but it is easy to handle. It's not your typical size at 6.0" but you can operate it single-handed. It has a P-OLED display, not much difference with Samsung and Apple AMOLED. More importantly it says that for the sake of branding, but technically speaking, there's virtually no difference from what we can see.
LG V30 is also very convenient to use because it has its fingerprint sensor from the back, which is not awkward for any user (no matter how short your finger is).
*It's super lightweight and probably the thinnest among the most coveted flagships*
It also has a radio tuner that lets you listen to your favorite local radio whenever you run out of data to stream (lol) but it always comes handy, especially on places where even 3G doesn't exist. Yes, LG thought of you having the soundtrip of your life even when you are in the woods.
Compared to X and Note 8, V30 is the only phone to ever think about audiophiles, like they always do. Yup, they kept the B&O partnership and you can enjoy Hi-Fi at a lesser cost.
Welcome to my awesome world, baby.
Software
LG V30 is running on a Qualcomm Snapdragon 835 processor, with a 4GB RAM, and Adreno 540 GPU. You can run several programs, play games, and watch movies without ever experiencing a lag. With it's capability, it's like a laptop you can fit in your hands. You can also check out the software speed test LG V30 vis-a-vis on iPhone X here.
The V30 is running on Android Nougat and it admittedly said they are not ready to update it until early next year. That's something you might want to take note. Although the phone is performing supremely, there are still bloatwares that you might not want to uninstall.
LG loves to fill your phone with apps they never thought you'd never like, anyhow, you're free to uninstall when you want to.
Overall Evaluation
What we think is awesome about LG V30:
? Waterproof
? Qi Wireless Charging
? High- Resolution display
? Always-On display (with customizable clock designs and dock notifications)
? Latest processor
? Hi-Fi Dac Audio System
? Bigger battery and longer life
? Glass front and back body
? Lightweight and thinner than most
? Huge storage
? Dual camera system
? Cine- Video video recording function
? Point-zoom video recording function
? f/ 1.6 aperture
? Always- On display
? 3.55mm headphone jack
? Slick, bezel-less, zero-notch screen
What we think is not cool about LG V30:
Of course, nothing is perfect and you will always find a flaw in whatever device or thing you have. And although LG V30 is close to perfection, there are some things that people wished they could change with this LG flagship.
☒ Not running on latest Android Version Oreo (when they had the chance)
☒ Front selfie cam images aren't so realistic
☒ Bloatwares
☒ Non-removable battery
Some people don't like the LG software, but IMO, if you aren't bothered about how your phone looks but on how it works, you shouldn't be so concerned about that. Plus, it's highly customizable, so that shouldn't be a problem.
If you are the audiophile-type or the selfie-expert who wants awesome IG photos, this phone has built-in filters that lets you create that professional look real-time or preset. This is how LG confronts iPhone X's camera filters.
If you are going to look at what LG V30 offers, you'll see it weighs more and for a lesser price. LG isn't the best at marketing as we know it, but the LG V30 deserves a second look and IMO, a recognition as the best flagship today.
Unlocking Your LG? We Match Competitor Pricing!
If you would want to further enjoy the best out this phone, you can contact us for unlocking LG V30. We will help you make switching SIM networks possible faster.
We guarantee you that we match competitor pricing, on top of that, you get 24/7 support for your LG unlocking concerns and queries as they arise.
Do you like the LG V30? What do you think about it? Tell us on the comments section below.