Oct. 11
2018

The Samsung Galaxy J3 Star (SM-J337) is probably the least among the brand's phone releases this year, but it is definitely worth the second look. Not only does this phone look chic on the outside, but it is also in every sense worth every penny.
Samsung Galaxy J3 Star Tech Specs vs Other Budget Phones
| | | | | |
| --- | --- | --- | --- | --- |
| | Samsung Galaxy J3 Star | Motorola Moto E5 Play | LG Aristo 2 Plus | T-Mobile Revvl Plus |
| Height | 5.62 | 5.94 | 5.70 | 6.49 |
| Screen Size | 5.0HD Display | 5.2HD | 5.0HD | 6.0FHD |
| Front Camera | 5MP | 5MP Autofocus | 5MP | 8MP |
| Rear Camera | 8MP | 8MP with LED flash | 13MP Autofocus | 13MP+5MP Dual rear cameras |
| Battery Size | 2600mAh removable | 2800mAh removable | 2410mAh removable | 3380mAh removable |
| Processor | 1.4GHz Quad-core | Qualcomm Snapdragon 427 | 1.4GHz Qualcomm Snapdragon | Octa-core 2.0 GHz |
| Operating System | Android 8.0 | Android 8.0 | Android 8.0 | Android 7.0 |
| RAM | 2GB | 2GB | 2GB | 2GB |
| Internal Memory | 16GB | 16GB | 16GB | 32GB |
| Fingerprint Sensor | No | Yes | Yes | Yes |
The Samsung Galaxy J3 Star doesn't have any particular specs that make it stand out, and one of the major deal breakers we could easily detect is its lack of a fingerprint sensor.
Other phones in the same price range were able to have it, so why Samsung, why?
Samsung Galaxy J3 Star: Chic Design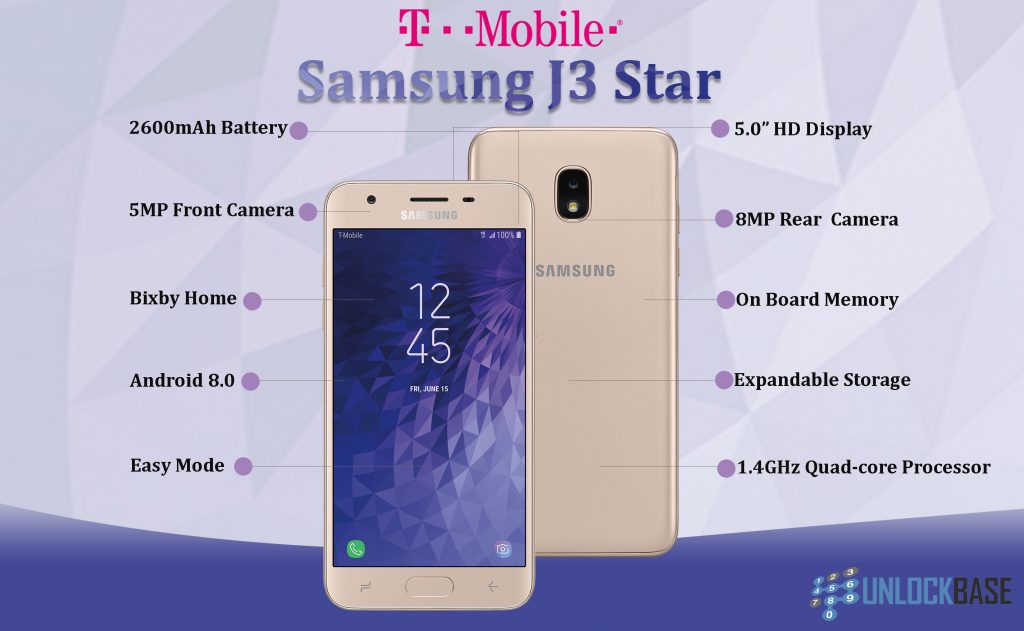 If there's one thing more noteworthy on the outside for the Samsung Galaxy J3 Star, it is its chic design. It has a pale pink color, giving us an impression that it appeals to a more feminine market. It also has curved edges, giving it a smooth feel in the hands, and it is also lightweight weighing only 5.36 ounces. (Perfect gift for mom!)
All the quick access buttons are on the side. The volume rockers are on the left side, while the power button is on the right. It still has the home button located at its usual location.
This phone supports T-Mobile's Band 71, assuring you of a better connection even when indoors.
Having Trouble With The Device Unlock App? Here's A Complete Troubleshooting Guide.
Samsung Galaxy J3 Star: So-so Versatility
One thing is for sure, the Samsung Galaxy J3 Star is not the phone for gamers. Sure, you can play games, but if you use it for heavy apps and gaming you may not totally enjoy using it.
It is because the phone only has 2GB of RAM, which we believe is still fair for the price. We also do not expect budget phones (within the same price range as this one) to have a bigger RAM capacity because budget phones aren't usually made for gamers. In a real-world experience, the phone would do great if you are doing pretty much just the basic stuff, which includes, emails, Facebook, Google, and some games.
But if you are going to multi-task and use several heavy apps at once, say Facebook and web-based gaming apps, you might experience certain lags. This phone is just not cut out for heavy gaming.
Samsung Galaxy J3 Star: Camera, UI Experience
The cameras on the J3 Star are also just on the so-so scale. Nothing spectacular or special about it, aside from the fact that we know Samsung cameras are always better, crisper, and clearer than most phones out there.
You can also play with your photos and enhance it, but you can always install other photo editing apps. The phone comes with a 16GB internal memory that is expandable upto 400GB so you can store pretty much a lot of data and pictures on this phone.
The Samsung Galaxy J3 Star has a removable battery, so whenever you run out of battery, you can always insert a spare one while you have the other charged up for next use.
Good thing, this phone has a powerful 1.4GHz dual-core processor, which helps improve its power efficiency.
Samsung Galaxy J3 Star: Going Big with Bixby
Last but not least, the J3 Star has the Bixby assistant on board. Samsung's infamous Bixby will help you with "social streaming." It is not that helpful for you if you don't like setting up or dealing with voice commands.
This is Samsung's version of iPhone's Siri. Bixby on the other hand just doesn't have a specific personality like Siri or Amazon's Alexa.
Among Bixby's most common uses are social media sharing, like snapping a selfie and sharing it on Facebook using your own voice in the process. Simply tell Bixby to "take a selfie" and "post this on Facebook," and voila, the errand is done.
Unlocking the Samsung Galaxy J3 Star
People hate bloat apps, but there is one pre-installed app from T-Mobile that you should be thankful for, and that is the Device Unlock App.
With the Device Unlock App on board, you are able to choose between a Temporary or a Permanent Unlock on your device; all can be done if you pass T-Mobile requirements for your phone.
If you want a quick, easy, and affordable way to get your phone unlocked, you can always turn to UnlockBase to do it for you. Check out our list of supported phones for the Device Unlock App- T-Mobile.