If you're having second thoughts about Samsung or the rest of the flagships, you must really take a look at LG V Series' newest release, the LG V40 ThinQ. It comes with five (5) cameras that will definitely turn your camera experience around.
No, it's not just hype; its 3 smart rear cameras will give you 3 different options in capturing a picture.
It has a huge 6.4" QHD OLED FullVision Display with a notch, and it's powered by an Octacore unit Qualcomm Snapdragon 845 processor with 64GB internal memory, built-in battery, and of course, the crowd favorite, a headphone jack.
Related: Is your device supported by the "Device Unlock" APP? Check here!
LG V40 ThinQ's Build And Design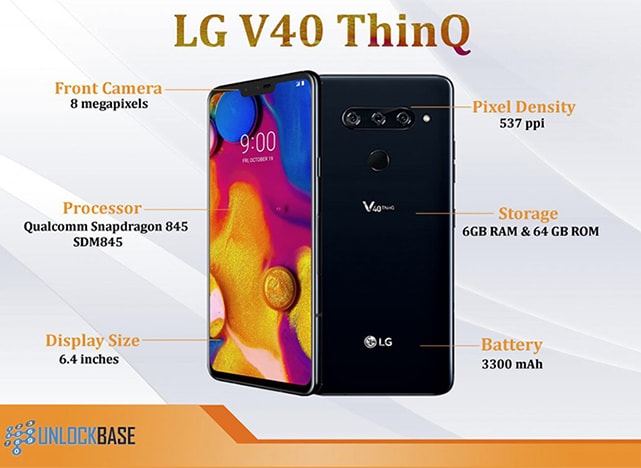 LG V40 ThinQ's look came in four different colors—Platinum Grey, Aurora black, Moroccan blue, and Carmine red.
Standing 6.4 inches tall, this smartphone is comparably lightweight, weighing only 5.96 oz (169 g) following the standard weight for LG V series.
The screen is almost bezel-less except for a notch at the top. Trying to copy the iPhone X's design may not be such a bad thing after all. As they say, imitation is the best form of flattery.
This smartphone uses Plastic OLED (P-OLED) instead of AMOLED which is the glass version of OLED. However, there are known issues of burn-ins in other models using P-OLED. We hope this will not happen in this flagship phone.
Its main feature is its 5 cameras: 2 in front and 3 at the back. We're used to seeing dual lenses for wide angle shots, but LG chose to have a third rear camera solely meant for taking zoomed in portrait shots of your subject.
There are three (3) lenses located at the back of the phone—- 45˚ Telephoto Zoom Camera in 12 megapixels, 107˚ Wide Angle Camera in 16 megapixels and 78˚ Standard Camera in 12 megapixels.
They added a feature that allows you to take photos using the rear cameras at the same time and it is quite handy if you want to have the perfect angle for your pictures.
The two remaining lenses are located at the front—-Wide in 5 megapixels and Standard in 8 megapixels. They are perfect for selfie shots.
Also, the Cine Shot feature makes photos livelier and will surely be loved by Instagram users and aspiring filmmakers. This revolution in taking pictures is happening, thanks to LG.
Not only that, it is rated with IP68 water and dust resistance, so you can take on more pictures with your adventures.
And yes, LG V40 ThinQ is keeping the headphone jack- it's not a common sight on most flagship phones nowadays, even on the iPhone Xs Max. LG is surely dominating the audiophile niche.
Related: How to use the "Device Unlock" APP from T-Mobile
LG V40 ThinQ vs iPhone XS MAX vs Huawei Mate 20
In the table are the features of the three newest released smartphones by their companies.
 
LG V40 ThinQ
iPhone XS MAX
Huawei Mate 20
Display size
6.4 inches
6.5 inches
6.5 inches
Dimension
6.25 x 2.98 x 0.3 inches (158.8 x 75.7 x 7.6 mm)
6.20 x 3.05 x 0.30 inches (157.5 x 77.4 x 7.7 mm)
6.23 x 3.04 x 0.33 inches (158.2 x 77.2 x 8.3 mm)
Resolution
1440 x3120 pixels
1242 x 2668 pixels
1080 x 2240 pixels
Pixel Density
537 ppi
458 ppi
381 ppi
Color
Black, Silver, Blue, Red
Silver, Gold, Grey
Black, Gold, Green, Blue
Weight
5.96 oz (169 g)
7.34 oz (208 g)
6.63 oz (188 g)
Processor
Qualcomm Snapdragon 845 SDM845
A12 Bionic Chipset

APL1W81

HiSilicon Kirin 980
RAM
6 GB
4GB
4 GB
Internal Storage
64 GB
64, 256, 512 GB
128GB
Battery
3300 mAh
3179 mAh
4000 mAh
Camera (front)
8 mp
7mp
24mp
The pricing difference between these expensive phones is not too big. It all goes down in each phone's specs and features.
If you love taking pictures and making videos, LG's V40 ThinQ is your bestie. The upgrades they've done in this field really blew up other smartphone manufacturers. They have greater and clearer resolutions compared to iPhone Xs Max and Huawei Mate 20.
LG V40 ThinQ also has power and processor advantage, it's a phone with a ginormous 6GB RAM and spacious 64GB Internal Memory.
In terms of outer appearances, the matte coating effect of LG V40 ThinQ is such a letdown. It looks so plain and cheap looking compared to the other two.
Moreover, if you already own V35 upgrading to V40 is not really advisable.
Yes, LG V40 ThinQ has new features that are not available to V35 but if you're not into selfies or video making, you might not enjoy the fact that this phone costs around $920 when bought outright.