Waited too long to own a new iPhone but don't want to play the cards wrong? Torn between the three newly released iPhones?
Well, your waiting is not in vain. Apple brings out its latest flagship phone, the iPhone Xr with its Liquid Retina HD screen display, a first in all iPhones.
After launching iPhone Xs and iPhone Xs Max, Apple releases iPhone Xr later in the same month. Many believe it to be the upgraded version of iPhone 8 plus, but they can't be blamed, the features are almost the same. At least, there's a visible improvement.
It stands 6.1 inches tall, with an IPS LCD display screen. It 's dual sim, has a 3 GB RAM, 3 internal storage options (64 GB, 128 GB & 256 GB), and 6 choices of colors.
There's nothing controversial or life-changing about the iPhone Xr's camera, but just like the rest of the latest iPhones, its TrueDepth feature will surely satisfy your need for taking simple yet memorable photos.
You can get it at T-mobile for $0.00 down at $20.84/mo (36x mo). You can buy it unlocked starting at $749.99.
Related: Want to unlock your iPhone and use it with another carrier? Here's how!
iPhone Xr's Build and Design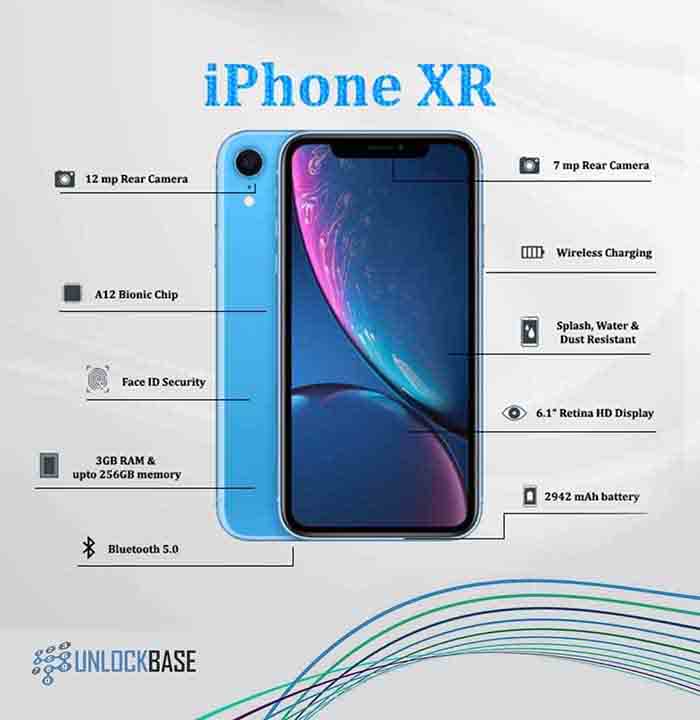 The hardware parts of iPhone Xr is made of surgical steel glass and aerospace-grade aluminum. It has earned a rating of IP67; it is splash, water, and dust resistant.
This look is completed by a fingerprint-resistant oleophobic coating in 6 color finishing choices—black, white, red, yellow, blue, and coral.
The caveat is that it is not pressure sensitive. You can't customize the sensitivity that you can use in pressing the screen of your smartphone, too bad.
iPhone Xr is supported by an A12 bionic chipset with a hexa-core processor; the latest technology Apple has to power their iPhones. It is remarkably faster than the older iPhone models.
It is supported by a 3GB RAM, which is good, but it's going to get problematic if you use a lot of heavy apps at the same time. Its new features like TrueDepth, Location assistance, etc would eat up a lot of the phone's memory capacity and this can slow down the iPhone Xr's response time and performance.
iPhone Xr surprised many iPhone users because of its switch from Super Retina to Liquid Retina HD display; which means we're back to good old IPS LCD from OLED.
We liked the fact that iPhone Xs and Xs Max have an OLED screen and it's such a let down to know that iPhone Xr's screen technology is IPS LCD. This meant not having brighter images and deep blacks that OLED can offer.
On the other hand, liquid Retina filled the screen of iPhone Xr edge-to-edge, but it still has that iconic notch at the top similar to iPhone Xs and iPhone Xs Max.
It also offered a natural, wider color variation in a 326-pixel density.
In terms of cameras, iPhone Xr has a 7MP(front) and 12MP(rear). Not bad, but nothing compared to other Android flagship phones.
The TrueDepth Camera feature gives a much better bokeh effect, depth control, and portrait lighting than the previous iPhones.
Related: Don't know which carrier your iPhone is from? Run a GSX Check!
iPhone Xr vs. iPhone Xs Max vs. iPhone 8 plus
The table below shows the notable specs between the previous releases of iPhone compared to their latest.
iPhone Xr
iPhone Xs Max
iPhone 8 plus

Display size

6.1 inches

6.5 inches

5.5 inches

Dimension

5.94 x 2.98 x 0.33 inches (150.9 x 75.7 x 8.3 mm)

6.20 x 3.05 x 0.30 inches (157.5 x 77.4 x 7.7 mm)

6.24 x 3.07 x 0.30 inches (158.4 x 78.1 x 7.5 mm)

Weight

6.84 oz (194 g)

7.34 oz (208 g)

7.13 oz (202 g)

Materials

Main body: Glass; Accents: Aluminum

Main body: Glass; Accents: Stainless steel

Main body: Glass; Accents: Aluminum

Resolution

828 x 1792 pixels

1242 x 2688 pixels

1080 x 1920 pixels

Pixel density

326 ppi

458 ppi

401 ppi

Technology

IPS LCD

OLED

IPS LCD

Camera

7mp(front), 12mp(rear)

7mp(front), 12mp(rear)

7mp(front), 12mp(rear)

RAM

3GB

4GB

3GB

Internal Storage

256 GB

512 GB

256 GB

System Chip




Apple A12 Bionic APL1W81




Apple A12 Bionic APL1W81

Apple A11

Bionic APL1W72

Biometrics

Face ID

Face ID

Fingerprints

GPU

4 core

4 core

3 core

Battery Capacity

2942 mAh

3179 mAh

2691 mAh
iPhone Xr is quoted as the descendant of iPhone 8 plus and really live up to its name. The 'it -is- iPhone -8 -plus- but- not -really' vibe is there.
A few upgrades can be seen in this smartphone from a bigger bezel-less display size, system chip, GPU,  and biometrics (from fingerprints to Face ID).
However, if you own an iPhone 8 plus, we don't think the upgrade is enough to make a switch with your current phone yet.
On the other hand, compared to iPhone Xs and Xs Max; iPhone Xr is inferior in both specs and features. Thus, it was justified by its price, since iPhone Xr is more affordable than iPhone Xs and Xs Max.
Related: Permanent sim unlock for iPhones
Conclusion:
iPhone Xr is graded lower compared to the other two newest release flagships of Apple- iPhone Xs and iPhone Xs Max.
However, if you were a fan of iPhone 8 plus but you want the look of iPhone Xs and Xs max,  iPhone Xr is the one for you.