Around the first quarter of this year, Sony offers another flagship phone to the market, the Sony Xperia XZ2.
It is your typical 2018 phone; it comes with a huge Corning Gorilla Glass 5 screen display powered by the latest processor octa-core unit Qualcomm Snapdragon 845.
To video vampires out there, this Android phone is supported by Sony's Bravia TV; giving you an experience of a movie theatre within the size of your palm.
Related: How to sim unlock your Sony Xperia phone for use with another carrier.
SONY Xperia XZ2's build and design
Xperia XZ2 released a refreshing pocket-friendly and palm-fit design with gentle curves at the back, trashing the brick-like structure of the older models of Sony.
The outer hard parts of this flagship phone are toughened by a Corning Gorilla Glass 5, the strongest glass available today. It's accentuated with an Aluminum metal that contributed to earning its rating—IP68 dust- and water- resistance.
It's 6 inches tall, with 5.7 inches of screen display.
The only caveat is that it is not coated with the anti-fingerprint coating. It should be cleaned regularly to keep its shiny look. It is still with IPS LED which is energy saving.
This is finished with four different color coatings—liquid black, liquid silver, deep green, and ash pink.
This phone has two variations, one has a single Nano sim and 4GB of RAM (H8216), and the other model has a Dual Nano sim with 6GB RAM (H8296). 
In addition, the external memory is expandable up to 400GB. It is best for storing numerous videos, movies, music videos, and other entertainment kinds of stuff.
The battery capacity of this phone is a whopping 3180mAh. The energy consumption is lesser due to its faster Snapdragon 845 processor, the latest in Qualcomm technology.
Its powerful processor makes your battery last longer than your normal usage.
Related: Want to unlock your Sony Xperia? Click here!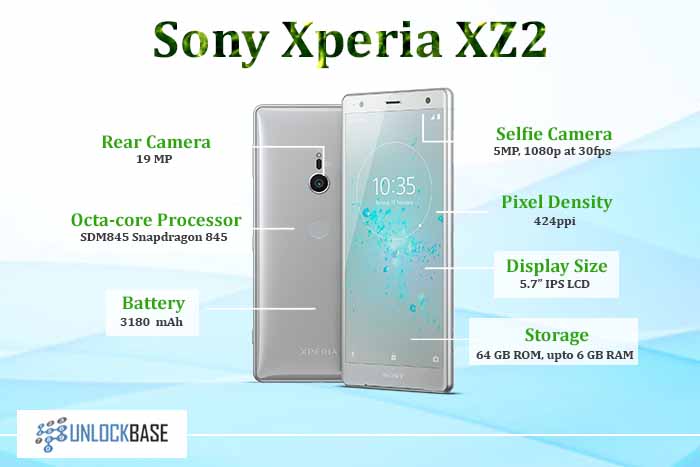 Sony Xperia XZ2 Features
And if convenience is a major concern, Sony Xperia XZ2 has wireless charging capability. Its battery is refilled using a dock, and the hassle of using coiling wires is now gone.
In this phone, Sony sticks to fingerprint biometrics, which is not a bad move, since Face ID security is still shrouded with a lot of security and usability issues.
This flagship phone carries a 19 MP rear camera with their latest technology called Motion Eye, bringing photos and video experience into HDR. It is also draped with new photo features that will really boost your creativity.
Our favorite is their 3D capturing. You can now scan a 3D photo in 360˚ and share it.
On the other side of the leaf, its 5MP front camera is such a letdown, too low for the likings of selfie addicts.
Headphone jacks are out for this model. This is replaced by Sony's LDAC technology, a wireless/Bluetooth headphone. But if you're insistent in using headphones, a USB Type- C to 3.5mm Audio Jack adapter is included in the packaging.
Sony Xperia XZ2 vs Huawei Mate 20 vs. iPhone XR
This is the specs of Sony Xperia XZ2 versus the other flagship phones of two known brands circulating the market.
| | | | |
| --- | --- | --- | --- |
| | Sony Xperia XZ2 | Huawei Mate 20 | Apple iPhone Xr |
| Display size | 5.7 inches | 6.5 inches | 6.1 inches |
| Dimension | 6.02 x 2.83 x 0.44 inches (153 x 72 x 11.1 mm) | 6.23 x 3.04 x 0.33 inches (158.2 x 77.2 x 8.3 mm) | 5.94 x 2.98 x 0.33 inches (150.9 x 75.7 x 8.3 mm) |
| Resolution | 1080 x 2160 pixels | 1080 x 2244 pixels | 828 x 1792 pixels |
| Pixel Density | 424 ppi | 381 ppi | 326 ppi |
| Camera (main) |          19 mp | 12 mp | 12 mp |
| Camera (front) | 5mp | 24mp | 7mp |
| Technology | IPS LCD | IPS LCD | IPS LCD |
| RAM | 4 GB | 4 GB | 3 GB |
| Internal Memory | 64 GB | 128 GB | 256 GB |
| External Memory | Up to 400 GB | Up to 256 GB | |
| Battery Capacity | 3180 mAh | 4000 mAh | 2942 mAh |
| System Chip | Qualcomm Snapdragon 845 SDM845 | HiSilicon Kirin 980 | Apple A12 Bionic APL1W81 |
| Processor | Octa-core, 2800 MHz, Kryo 385, 64-bit, 10 nm | Octa-core, 2600 MHz, ARM Cortex-A76 and ARM Cortex-A55, 64-bit, 7 nm | Hexa-core, 2490 MHz, 64-bit, 7 nm |
Related: Here's why you should unlock your phone with UnlockBase!
These three flagship phones offer HDR features in their camera. However, if you are into taking selfies, this might not be the best phone for you.
The output of its front camera is bad and looks cheap. Really bad, like taking a picture with a lot of mosquitos in it. Definitely not for your Instagram, Snapchat, and Twitter stories. A big thumbs down.
On the other hand, if you're engrossed in watching TV, movies, videos, and other forms of visual displays, Sony Xperia XZ2 is the better choice.
Still, choosing a phone will depend on your personal preference as a buyer.