Were you looking for a phone with a huge battery, a dual-rear facing camera, a 6-inches full HD Display with the latest Android OS?
Well, look no more! Just when you thought a budget phone will always have the "budget" features, Alcatel has come up with something that will surely give your wallets and your hearts a delight! Because of all the things that you've been wanting and looking for are now on a phone that retails at only $179 on MetroPCS. And yes, that's the Alcatel 7!
And did I tell you you can get it at $29 if you port over to MetroPCS?
So, What Makes It Different? 
The Alcatel 7 is the 8th phone released by the US-based company this year. It is their flagship phone for 2018.
What You'll Get: A huge 6in FHD screen, a gigantic 4000mAh battery, a TCL custom-built screen, 12MP+ 2MP dual rear- camera, Fast Charging, IR Blaster, and the latest Android OS.
The Alcatel 7 is a sure bang for the buck.
Special Features
The Alcatel 7's most underappreciated feature is the IR Blaster that lets you use it as an infrared remote control to your TV or your gaming consoles. The IR blaster is not a novelty as many other phone brands like Xiaomi and Samsung used to put this feature as well on many of their phone models.
But for the added convenience, it sure makes a budget phone stand out.
Aside from that, the Alcatel 7 also has a fingerprint sensor and a Face Key feature which obviously lets you add biometrics such as your fingerprint and face respectively to lock and unlock your phone.
Alcatel 7 also has an upgraded screen, custom-built by TCL, a US-based award-winning Television, and consumer electronics brand.
You Might Be Interested: How To Use The  Device Unlock App
Performance
If you are used to running heavy apps or softwares on your phone, the Alcatel 7 would come off as a 'laggy' phone to you.
But if your usage isn't on the heavy side, then a 2GB RAM should be enough to keep your phone running smoothly.
The processor isn't the best on its department but it is not that bad either. It is running on a Mediatek Helio octa core processor with speeds of up to 2.5 Ghz. It is also running on the latest Android operating system, Android 8.1.0 Oreo.
And by going with the trend, Alcatel was able to create this flagship with premium features that would otherwise be only available to high end flagships retailing 4 times its current market price.
Design
The phone screen is really big, standing 6 inches, as mentioned earlier. It's clear that this phone is really meant for video entertainment. At the top of the screen is a front 8MP wide angle camera and the LED flash.
At the bottom there are speakers and a USB Type-C port for Fast Charging. On the right hand side are the volume and power control buttons. On the left hand side you have the sim and memory card slot. And at the top is the 3.5mm headphone jack with the IR Blaster.
The back cover of the Alcatel 7 is not removable, which means there's no way to replace the battery in case it dies out.
The back also holds the fingerprint sensor and sitting on top of it is a dual camera for an image with more depth.
The phone packs a 32GB of ROM with only 25GB usable. Part of the phone's memory is being taken by their featured apps such as the CloserTV and the Camera which loads a lot of Social Media features.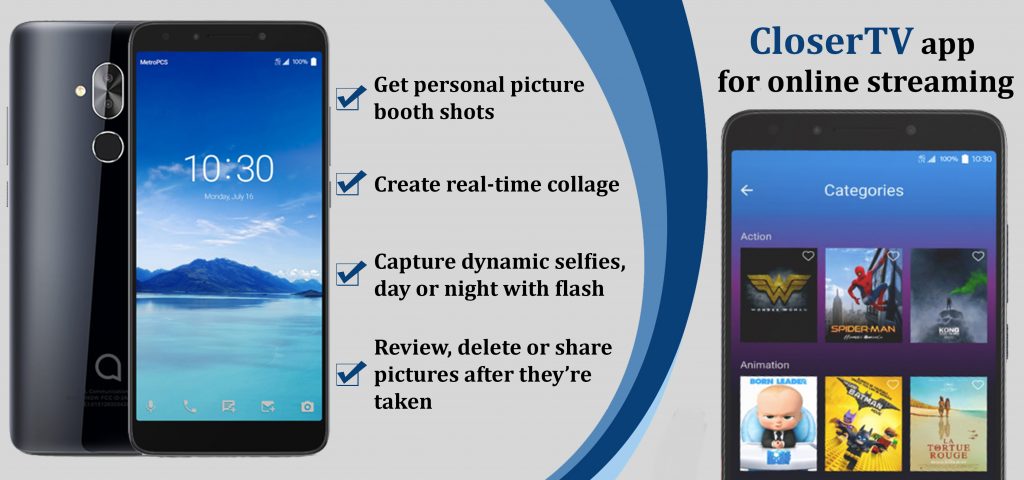 The CloserTV app is an Alcatel-exclusive app for online streaming. It is your all-in-one place for all things streaming and cable TV so you can watch your favorite series or movies easier. This is also the reason why they partnered with TCL.
You Might Be Interested: How To Troubleshoot Device Unlock App Errors- MetroPCS
Overall Impression
The Alcatel 7 has enough features to stay connected and social. The phone compares to mid-range phones when it comes to features, although, we admit it doesn't the best processors available on the market. But for the price, it really is worth it.
If you are undecided as to which phone you're going to get, especially now that MetroPCS just released 4 phones recently, we've compared the specs of each phone for you to buy.
You're absolutely welcome.
*We included the price because price determines what you'll actually get.*
| | | | | |
| --- | --- | --- | --- | --- |
| Specs | Alcatel 7 | LG Q7+ | LG Stylo 4 | iPhone SE |
| PRICE | $179 | $329 | $239 | $399 |
| After Store Rebates | $29 | $99 | $79 | $0 [FREE] |
| OS | Android Oreo | Android Oreo | Android Oreo | iOS 9.3 |
| RAM | 2GB | 4GB | 3GB | 2GB |
| ROM | 32GB | 64GB | 32GB | 16/32/64/128GB |
| Processor | Octa-core 2.5GHz | Snapdragon 450 | Octa-core 1.8GHz | Dual-core 1.4GHz |
| Battery size | 4000mAh | 3000mAh | 3300mAh | 1624mAh |
| Front Camera | 8MP | 8MP | 5MP | 1.2MP |
| Back Camera | 12MP+2MP | 16MP | 13MP | 12MP |
| Screen Size | 6in | 5.5in | 6.2in | 4in |
| Display | IPS LCD | IPS LCD | IPS LCD | IPS LCD |
| Fast Charging | Yes | Yes | Yes | No |
For the price, the Alcatel 7 is surely worth every penny.
Conclusion
Do you have an Alcatel 7? Want to share your experience? Let's start a discussion and drop us a comment!
Want to Unlock Your Alcatel 7 from MetroPCS? Get it here for as low as $6.90! FASTEST TURNAROUND TIME! The lowest offer online! Get this steal deal only from UnlockBase! Click Here >> MetroPCS Permanent Mobile Device Unlock.