It's almost a year since it's release and the Samsung Galaxy S8 Active still has people raving. The Galaxy Active Series started way back 2013 with the Samsung Galaxy S4, but since then it has continued to improve this flagship series into one of the best in its chosen niche.
And if you haven't been introduced to the Galaxy Active Series yet, let us take this opportunity to indulge you with a few valued facts about this "rugged" flagship.
You Might Be Interested: How To Unlock Your T-Mobile Phone Through Device Unlock App
The Galaxy Active Series
Let's jump to the best part, the Samsung Galaxy Active Series is made for every butterfinger. And not just them: it is also for every adrenaline-junkie and outdoor adventurer you know.
For starters, it has a shatter-resistant screen. Dare to drop it if you must.If you are looking for a high-end full-screen phone that can withstand every punishment you can think of, this is it.
Yes. This is it.
It is Mil-std-810g compliant, which means it has gone through a series of "environmental and engineering tests" according to the United States Military Equipment Standards. And for consumer electronics in particular, this includes a series of Drop tests that are 4ft high (or higher) on plywood and concrete bottom floors.
Aside from the rigorous drop tests, this handset device has also gone through extreme hot or cold temperatures, immersion to water, and extreme humidity and dusts to see if there are any negative effects or impairments on the device's condition.
Do note that having passed "military standards" doesn't mean you can bring this phone to the actual warzones or frontlines. Again, these tests are within the consumer electronics context.
The Samsung Galaxy S8 Active, in particular, has a military-grade body and metal framing that is packed with a gargantuan battery (4000mAh) that can last you more than a day on heavy usage. On top of that, it is wireless charging capable.
Lastly, the phone is built with better antennas (600MHz) for greater wireless coverage even in closed buildings and areas where signal usually becomes scarce for normal phones.
You Might Be Interested: Activate Permanent Unlock On T-Mobile Samsung Galaxy S8 Active's Device Unlock App With Unlockbase
It's the S9 Season, so why the S8 Active?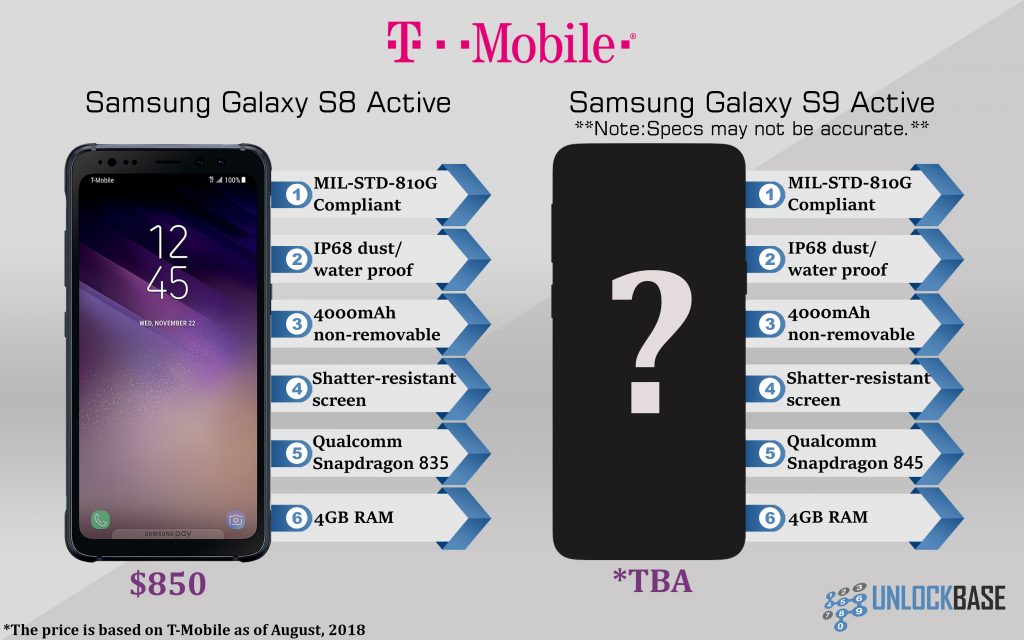 The Samsung Galaxy S9 Active is rumored to be released between September to November 2018, about the same time its predecessor was introduced last year. However, a lot of reputable tech sites think it's not likely to be released this year due to the fact that maybe Samsung may need more time to let the other flagships work its way into the market, especially with the "slow sales" the Samsung S9 is experiencing at the moment.
While we're at it, let us tell you why the Samsung S8 Active is worth the penny over Samsung S9 Active (if it does go out).
**Note: Samsung Galaxy S9 Active specs may not be accurate.**
| | | |
| --- | --- | --- |
| Special Features | Samsung Galaxy S8 Active | Samsung Galaxy S9 Active |
| MIL-STD-810G Compliant | Yes | Yes |
| IP68 dust/water proof | Yes | Yes |
| Battery Size | 4000mAh non-removable | 4000mAh non-removable |
| Shatter-resistant screen | Yes | Yes |
| Processor | Qualcomm Snapdragon 835 | Qualcomm Snapdragon 845 |
| RAM | 4GB | 4GB |
The Samsung Galaxy S8 Active and the rumored S9 Active will not have much difference on the interface, except for the latter having the latest Qualcomm 845 Processor, which helps deal with better power and system efficiency, and some most requested physical buttons that Samsung phased out ever since the S8 Active.
If you are not ready to pay a whopping price to have just a slight improvement in the internal processor and a few physical buttons, the Samsung S9 active may not be the best bang for your buck.
The Samsung Galaxy S8 Active is currently retailing at $850 without a contract with T-Mobile, and once the Samsung Galaxy S9 Active is out, there's a high chance that its price is going down to make way for the newer flagship.
We've always seen Samsung devices drop its price for the older flagships and top hefty prices on premium latest releases, so this brings no surprises to your wallets. However, since the S9 Active doesn't have any release rumors yet at the moment, you can hold your horses until you remove any of your hesitations.
But as for us, the Samsung Galaxy S8 Active stays the best unless the S9 Active gives something completely unthinkable and out-of-the-ordinary into the table. We can wait and see.
You Might Be Interested: How To Troubleshoot The Device Unlock App
Conclusion
So as for that burning question, is the T-Mobile Samsung Galaxy S8 Active really rugged? Well, that's for you to decide. The "rugged" concept is, as always,  subject to personal opinion.
But with the facts and specs we presented here, we are hoping we were able to help you find that out.
Do you already own a Samsung Galaxy S8 Active? How was it? Care to share?
Want to unlock your Samsung Galaxy S8 Active from T-Mobile? We offer PERMANENT UNLOCK using your phone's Device Unlock App.