MetroPCS has graced us with 4 different new phones for the month of August, and among them is the LG Q7+ (Q610MA). It is a mid-range phone, with a $329 price tag but only $99 after store credits when you port over to MetroPCS. Unsurprisingly, this phone is also available on T-Mobile.
The price tag is surely very light (given that it's being sold in MetroPCS) but the technical specifications and the features of this phone are on par even to that of the iPhone X. Let's see why this phone maybe your next one (even if you are previously a diehard iOS user).
Let's dig deeper, shall we?
You Might Be Interested: How to unlock the LG Q7+ with the Device Unlock App
Water-Resistant? Yes!
Have you ever heard of a budget phone with IP68 water and dust resistance? Probably not, because this is the first MetroPCS phone with IP68 level of water and dust protection released this year. And probably the only one from MetroPCS so far.
There is another mid-range phone with a similar water and dust resistance, HTC U11 Life which was released earlier this year, but it came with T-Mobile and not MetroPCS. It had IP67 water and dust resistance which means the LG Q7+ is far more superior than it was for that specific matter.
The LG Q7+ has curved edges which they say are 2.5D arc glass, which makes it easy and premium to hold at the same time looking like the iPhone X, although smaller in size.
For just a fraction of the price of the flagship high end phones, you can get the same feature and quality without spending as much. We are sure you'd want the LG Q7+ permanently sim unlocked so you can sport this on all your travels.
The Best Features? LG Q7+ Has Them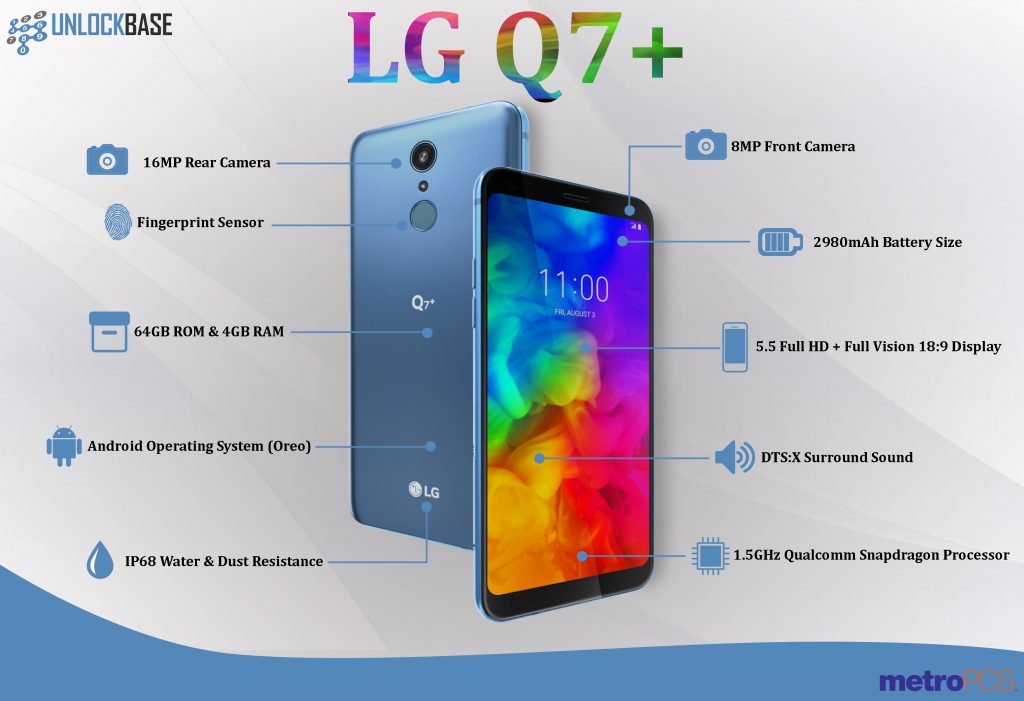 If you are thinking whether this phone has sacrificed the speed and accuracy for the price, you can consider yourself wrong.
This phone doesn't have the biggest screen, standing only at 5.5 inches despite the competitions going for 6 inches recently.
But there is a reason for that.
Not only do phones with big screens eat up too much power for screen time, they are also very difficult to use single-handedly. The convenient size of the LG Q7+ make it easier to take selfies with just one hand, type, and socialize without getting busy on both. The size is chosen for ergonomic reasons more than its effect on battery life.
Other than that, it has a Full HD + Full Vision 18:9 Display which means your screen lets you enjoy full viewing experience.
You can take photos with portrait mode with its 16MP rear camera with f/2.2 aperture. The front-facing camera is 8MP and has f/1.9 aperture. It can record video in 1080p quality.
It is important to note that this phone also has  DTS:X surround sound just like LG G7 ThinQ, the brand's flagship released May this year. The price is of course twice as much since the latter is a flagship, but the sound experience is the same.
With the DTS:X surround sound feature, you will enjoy a more immersive, richer, and louder sound experience than any phones you will find for the same price.
There is also a fingerprint sensor located at the back, and it is also a quick shortcut button to take photos, to scroll through notification bar controls, and to even take screenshots.
The phone's Q Lens also lets you use your camera for search, and provide smart suggestions. This makes online shopping an easier task. Just point your camera at something and your phone will provide you information.
You Might Be Interested: How To Troubleshoot Device Unlock App Errors- MetroPCS
Performance
The LG Q7+ packs a huge 64GB of internal memory and 4GB of RAM which makes the fingerprint sensors work faster and the overall multi- tasking experience seamless.
It runs on the latest Android (Oreo) Operating System so you are assured that all the latest security and bug updates are all in. It also has a powerful 1.5GHz Qualcomm Snapdragon processor making the overall package complete.
With all of that in, you can play games, run data-heavy apps, and do much at the same time.
The only caveat on this phone is the battery size, which is only 2980mAh. So even with a fast processor and the latest Android system the phone may not last a day if you use a lot of heavy apps.
But with a fast charging feature it is as easy to recharge and get the power you need in just a few minutes to use your phone for the rest of the day.
Overall Impression
The LG Q7+ is a mid-range phone with premium features you can only find on a flagship. With a FullVision Display and DTS:X surround sound feature, you will enjoy watching movies, playing games and listening to music with a more immersive experience.
It also has one of the best processors and operating systems available, making the total experience with the phone seamless, and without lag. You will like the phone even if you play games and do a lot of things at the same time.
Design-wise the phone is one of the best looking LG phones we've seen so far. And with an IP68 water and dust resistance level you can bring this phone to any adventure or travels and get the most out of it.
Want to Permanently Unlock Your LG Q7+ from MetroPCS?  Click here: MetroPCS Permanent Mobile Device Unlock.