How to find deleted sms on android? In today's world, instant messaging apps like WhatsApp and Messenger have taken the world by storm. However, despite their growing popularity, many users still prefer the classic text messaging for their day-to-day communication needs. It's a common occurrence for those who rely on text-based communication to accidentally delete a message. Whether it's a message from a friend or an important work message, it can be frustrating to lose that information.
Fortunately, there are ways to recover deleted messages, depending on the device and messaging app being used. It's important to act quickly and follow the appropriate steps to increase the chances of successful recovery. A few options can help you retrieve deleted texts whether you use a Google Pixel or one of the top Samsung Galaxy phones.
What options are available on how to find deleted sms on Android ?
There are multiple ways to recover deleted text messages on an Android device. If the conversation was archived, it will be located in the Archived Inbox. Samsung Galaxy phones include a Recycle bin menu that is useful for locating deleted communications.
If Google Drive backup is enabled in Messages, you may need to factory reset your Android phone and set it up from scratch in order to locate deleted texts. There are also third-party Android recovery applications if none of these tools work. Consult the sections that follow for specific instructions on how to recover deleted text messages.
How to find deleted sms on android using Google app archive
In Messages, it's simple to unintentionally archive conversation threads. It is also possible for conversations that were deliberately archived in the past to become relevant once more. Recovering archived text messages is uncomplicated regardless of the circumstances. To locate and recover archived texts, follow these steps.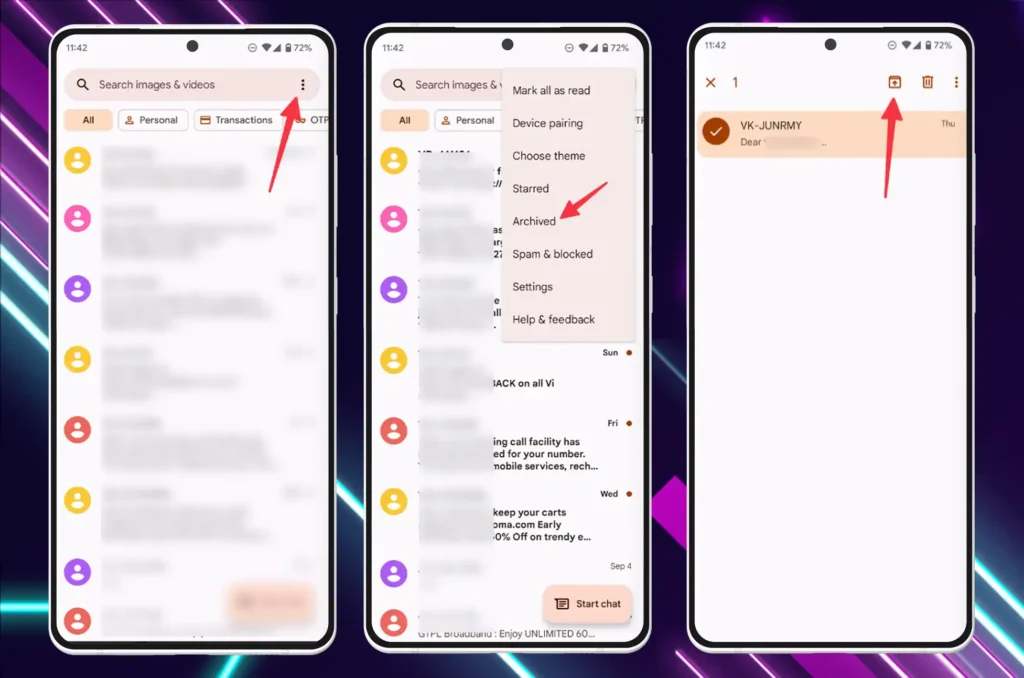 Launch the Messages app on your smartphone.
Tap the overflow icon (also known as the menu with three dots) in the upper-right quadrant.
Select Archived
Long-press the message you wish to retrieve and select the up arrow icon at the top of the screen
Google's Messages service does not offer a Recycle bin. Therefore, it is a bit more difficult to recover deleted text messages that were not sent to an archive. If you have Google Drive backup enabled, that will suffice. If not, you must rely on third-party data recovery programs to retrieve the deleted communications.
Samsung users can retrieve deleted text messages from the Messages Recycling bin
On Galaxy phones, the default One UI Messages app includes a number of useful features. The Samsung Messages app retains deleted text messages in the Recycle bin for 30 days. After this period, the Recycle bin permanently deletes the messages. Follow these steps to recover messages from the Recycle receptacle within the specified time frame.
Launch the Messages app on your Samsung device.
Tap the menu button with three dots in the upper-right corner to access the Recycle bin
Check the text messages you have deleted. Long-tap the message to retrieve it.
Select Restore at the bottom and confirm the same in your primary email account.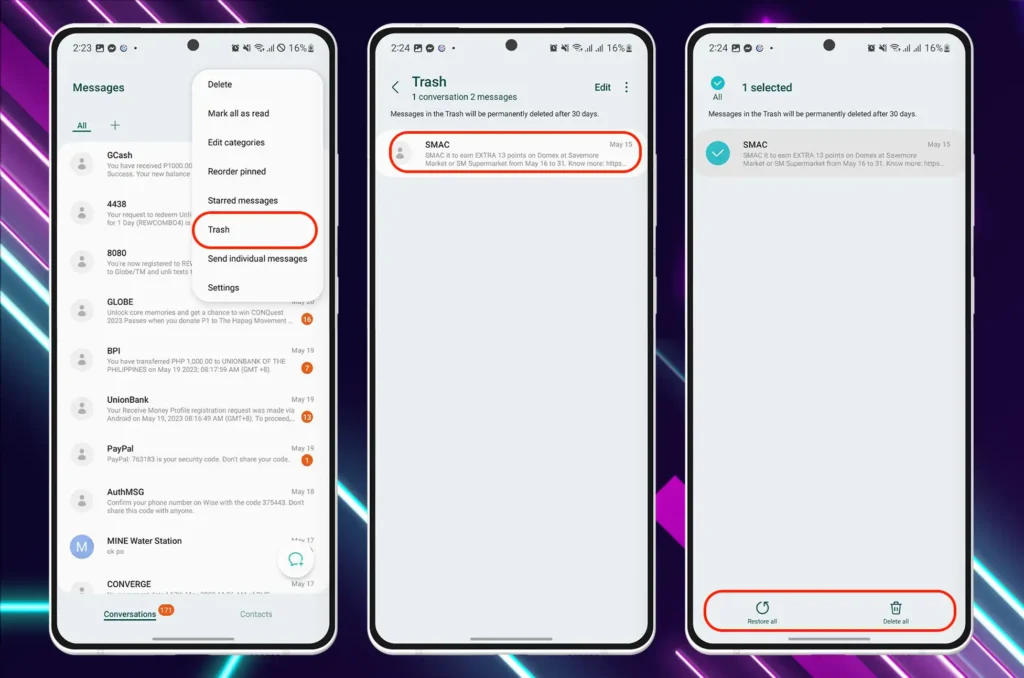 Tips for preventing the permanent loss of your text messages
It's never enjoyable to lose something permanently that you wish you hadn't. This circumstance is no stranger to text messages. Try some of these tips and tactics to prevent permanent loss of your texts.
Instead of deleting messages, archive them
The default Messages app lets you archive a chat instead of deleting it. Most of the other texting apps also have this function. If you want to hide a chat that doesn't belong from the main menu, don't delete it. Instead, archive it. The swipe gestures that come with the Messages app make it easy to save a chat topic.
Use Google Drive to back up your text messages
By enabling Google Drive backup on your Android phone, you can safeguard your text messages from permanent loss. Google Drive backs up data from installed apps, media files, SMS messages, call logs, device settings, and Google account data. You can also use other devices to get to these files.
To get to the app drawer, swipe up from the home screen.
Find the app that looks like a known gear.
Click on System.
Choose to back up
Check your account's storage space and turn on Backup by Google One from the next choice.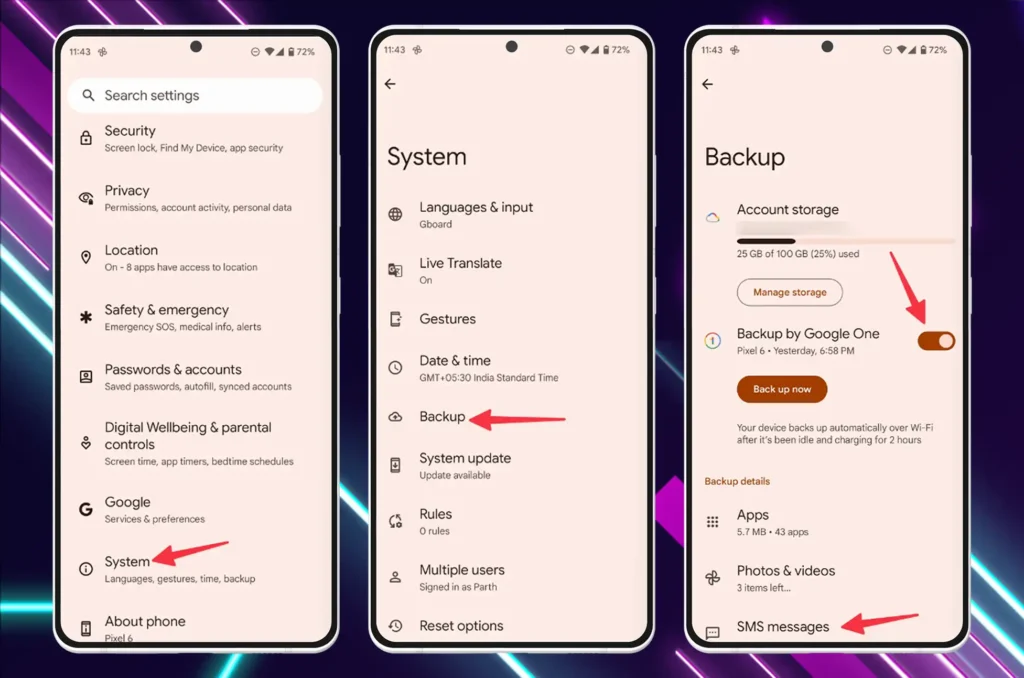 Your Google Account storage is affected by how much your Android phone backs up. If you run out of the default amount of storage space, you might want to free up some room or sign up for one of the Google One plans.
To recover deleted text messages on your Android using Google backups, you need to reset your phone to factory settings and opt to restore the Google Drive backup during the setup process.
Conclusion
It can be stressful to lose important text messages, but with the right information and tools, it is often possible to get them back. Remember that you need to act quickly, stop using your device, and look into your recovery choices. Whether you use the Android device's built-in features, backup apps, or professional data recovery software, there is a chance you can get back those lost SMS. Take a deep breath, follow the steps in this guide, and you'll have a better chance of getting those important texts back.
All products, and company names, logos, and service marks (collectively the "Trademarks") displayed are registered® and/or unregistered trademarks™ of their respective owners. The authors of this web site are not sponsored by or affiliated with any of the third-party trade mark or third-party registered trade mark owners, and make no representations about them, their owners, their products or services.