The holiday season is here and surely there will be a lot of gatherings and parties everywhere. You are ready, but what about your phone? If you are looking for the best phone to bring to every party this holiday season, try checking the Samsung Galaxy Note 9 out!
The Samsung Galaxy Note 9 is accompanied by a powerful S pen that is now connected to Bluetooth for easier control in capturing photos, doing presentations, and watching videos. It is with a 6.3 inches screen display lighted with Super AMOLED technology. It comes with 256 GB internal memory expandable up to 512 GB.
Related: Everything you need to know about how to unlock a Samsung phone.
Samsung Galaxy Note 9's Build and Design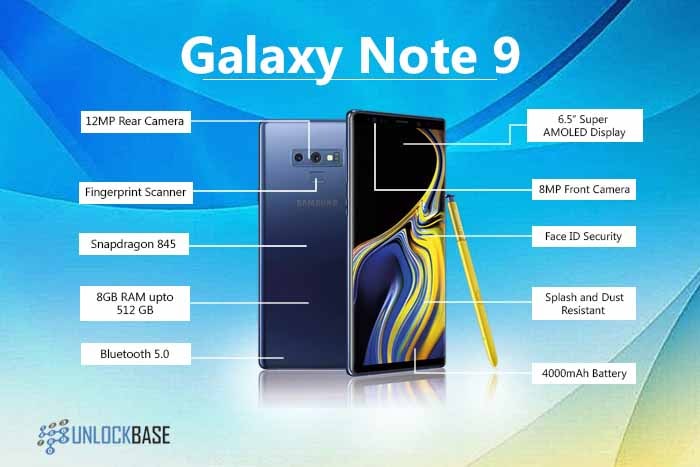 Decades back, the term phablet was born, and it is used to describe phones with a screen size between that of a regular smartphone and a tablet. It gained a negative reputation for being too big for hands to hold and for not being pocket-friendly.
Samsung, being one of the pioneering manufacturers of phablets, did not disappoint the world by releasing the Galaxy Note series, which we know are truly remarkable when it comes to design and build quality. And this year, the Samsung Galaxy Note 9 made its debut.
Just like it's predecessors, the outer parts of Galaxy Note 9 is made with glass and accented with aluminum; it has smooth curves at its edges really identical to the former Galaxy Note 8. Its outer appearance is polished with three different colors— Ocean Black, Midnight Blue, and Metallic Copper.
Its height is 6.4 inches- having an almost bezel-less Super AMOLED  screen display.
The processor of this device is the Google Android version 8.1 Oreo. It's a total bummer because Android Pie was already released before its debut, and that could have added more features and security.
The sim slots of this are in dual nano sim or it could be a hybrid (one nano sim and one micro SD card).
The S pen in Note 9 is now connected via Bluetooth, and it has added functions, too. It can control the camera, pause videos, and much more. It is located at the base of the phone together with the 3.0 mm headphone jack and a USB type- C cable port.
In the back is its dual camera; having 12 mp for the main camera is not bad but still lacking compared to humungous models of other smartphone manufacturers. Its front camera is only in 8MP, which is also a big thumbs down.
We expected the price of this device to be justified by its camera's finesse. You can get a better camera with other flagship phones for the same price.
The internal storage of this phone is in 256 GB and can be increased up to 512 GB, making it perfect for storing pictures, videos, and files for keeps from this holiday season.
Related: Want to know your Samsung phone's unlock code? Click here!
Samsung Galaxy Note 9 vs. Huawei Mate 20 vs. iPhone Xs Max
Below are the specs of Galaxy Note 9 versus the other two flagships phones from other Mobile manufacturers.
Galaxy Note 9
Huawei Mate 20
iPhone XS MAX

Display

6.3"

6.5"

6.5''

Resolution

1440 x 2960 pixels

1080 x 2244 pixels

1242 x 2688 pixels

Features

HDR video support, Scratch-resistant glass, Ambient light sensor, Proximity sensor

HDR video support, Ambient light sensor, Proximity sensor

HDR video support, Pressure-sensitive, Oleophobic coating, Scratch-resistant glass, Ambient light sensor, Proximity sensor

Camera

Main camera: 12 mp

Front: 8 mp

Main: 12 mp:

Front: 24 mp

Rear: 12 megapixels

Front: 7 megapixels

Dimensions

6.37 x 3.01 x 0.35 inches (161.9 x 76.4 x 8.8 mm)

6.23 x 3.04 x 0.33 inches (158.2 x 77.2 x 8.3 mm)

6.20 x 3.05 x 0.30 inches (157.5 x 77.4 x 7.7 mm)

Colors

Ocean Black, Midnight Blue, Metallic Blue

Black, Gold, Green, Blue

Gold, Silver, Space Grey

Weight

7.09 oz (201 g)

6.63 oz (188 g)

7.34 oz (208 g)

Materials

Main body: Glass; Accents: Aluminum

Main: Glass

Accent: Aluminum

Main body: Glass; Accents: Stainless steel

Biometrics

Iris scanner, Fingerprints, Face ID

Fingerprints

Fingerprints, Face ID

System Chip

Qualcomm Snapdragon 845 SDM845

Qualcomm Snapdragon 845 SDM845

Apple A12 Bionic APL1W81

RAM

8 GB

4 GB

4 GB

Internal Memory

256 GB, 512 GB

64 GB, 128 GB

64 GB, 128 GB, 256 GB, 512 GB

External Memory

Up to 512 GB

Up to 256 GB
This phablet rivals the iPhone Xs Max in terms of price but if you'll look into the specs and features between the two, major differences can be seen.  
Note 9 and Xs Max have main cameras both in 12 mp. However, Note 9's front camera is 8MP while the Xs Max only has 7MP. That's a slight difference in numbers but a huge difference in picture quality.
On the other hand, besides being a little bit cheaper compared to the two, Huawei's Mate 20 leave a huge gap in the camera aspects, having 24 mp in its front camera, but having only a 12MP main camera.
The only edge the Samsung Galaxy Note 9 has it its improved S-pen.
Conclusion
Overall, the Samsung Galaxy Note 9, is one of the most powerful phones out in the market today. You'll never go wrong with an 8GB RAM in any day.  Whether you use this phablet for work or for just having fun, this phablet could be the perfect gift to yourself for this year's holiday season.