iPhone e SIM: Physical SIM cards are now available in a variety of shapes and sizes to accommodate a wide range of devices. If your phone is unlocked, switching networks is as simple as removing the old SIM card and inserting the new one. However, eSIMs are gaining acceptance, making it easier for users to switch networks. The answer to your question, "What is an eSIM?" is right here. There are many questions about eSIMs that we want to answer here.
What is an iPhone e SIM?
As its name suggests, an eSIM or embedded SIM is a SIM card that is included into the device itself. You must acquire a SIM profile from your carrier to use an eSIM, which is simply an electronic and programmable version of a standard SIM card. Because you can access your carrier's network without a physical SIM card, it's also known as a virtual SIM.
In addition, there is no physical way to remove the eSIM card from the phone, as there is no port for it. It's not removable because it's built into the phone's processor. The eSIM can, however, be swapped out for a different network (provided it isn't locked). eSIMs can be reprogrammed. That means you don't have to remove your SIM card to switch networks. To use the new eSIM profile, you must first delete the old one.
There are now eSIMs available for phones that don't have the capability to accept a second SIM card. eSIMs have been adopted in some form or another by the majority of major tech companies, including Apple, Google, Samsung, and so on.
What's the difference between an iPhone e SIM and a physical SIM?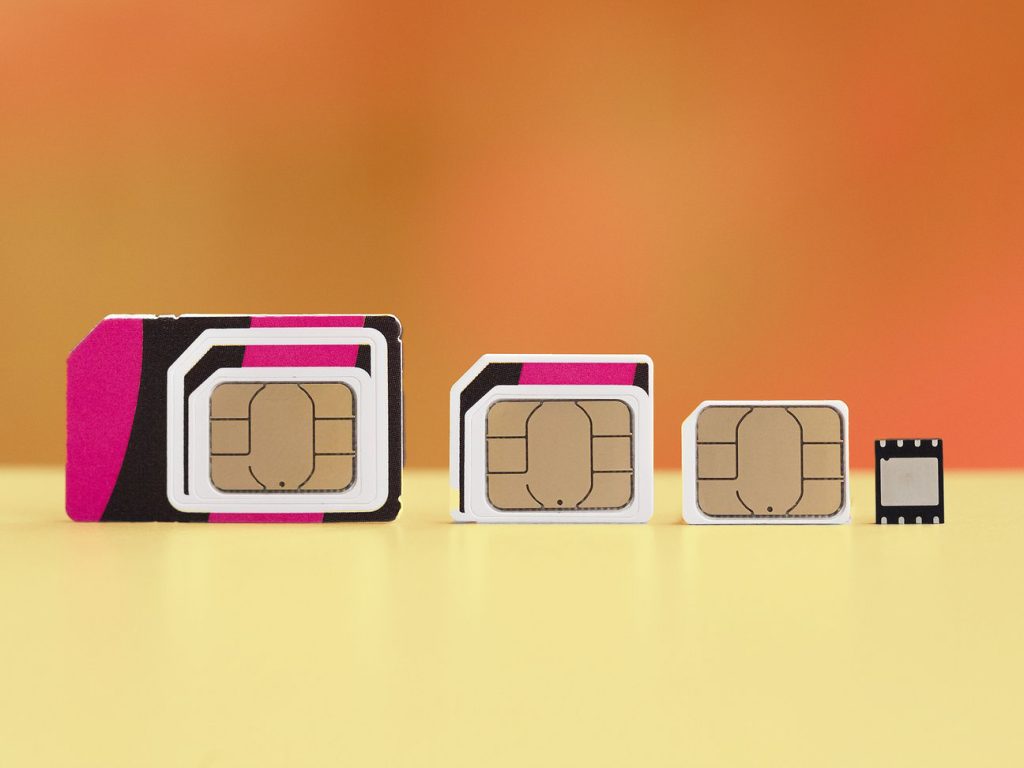 An eSIM is a SIM card that is built into a device. As an alternative to the present physical SIM card, which links phones to a mobile network, the electronic SIM is a lot more compact.
When you compare an eSIM to a real SIM card, the most significant difference is that the eSIM is permanently attached to the phone's motherboard. No need to put it in and no way to take it out. That doesn't imply you can't move phone numbers or carriers, though, because the information on the eSIM may be rewritten.
Changing or setting it up may be be easier than you think. There is no need to wait for the delivery of a new SIM card; all that is required is a simple phone call. The technology and GSM networks used by standard SIM cards are the same for eSIM cards.
Who can make use of eSIM?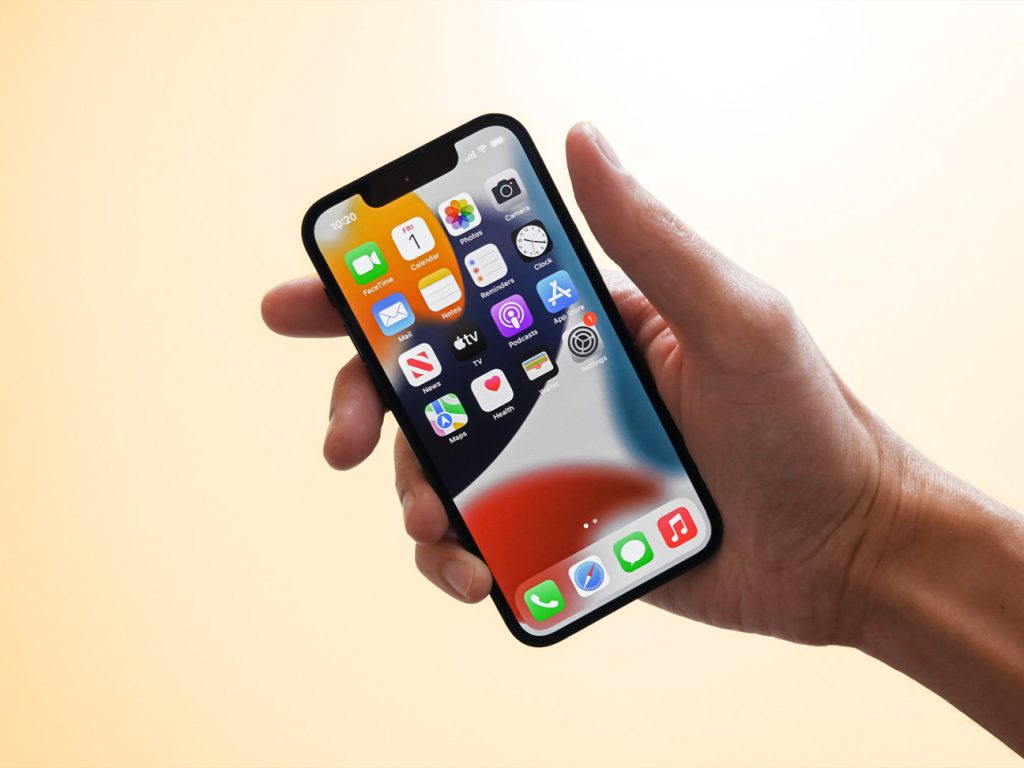 eSIM isn't available to everyone at this point in time. A specific phone model and a specific network are required in order to test it out. The iPhone 12 and iPhone 13 series, the Pixel 5, Pixel 5, Samsung Galaxy S21 Ultra, Samsung Galaxy S21+ 5G, and smaller devices like the Apple Watch utilise eSIM cards to support dual-SIM capabilities.
eSIM is expected to be the standard for all phones and tablets in the near future. Even while iSIM, a newer and even smaller technology, is only around the corner, its lower size means it could become a frequent component in Internet-of-Things devices. eSIM can be applied for by both new and existing customers of a carrier. After activating eSIM, existing subscribers will no longer be able to utilize their physical SIM card.
On the other side, dual-SIM phones are becoming more common, with one of the SIMs being an eSIM. This allows you to utilize two separate phone numbers on the same device by using a real SIM card and an eSIM.
How to set up an eSIM Card?
You don't have to go to a store or place an order for a new SIM card with an eSIM, unlike with a physical SIM. With "remote SIM provisioning," networks can send your eSIM with information about their network, so you can use it.
Each mobile provider and device has slightly different activation procedures for eSIM. As a result, in most situations, the cell operator will send you a QR code that contains the eSIM profile.
For iOS users: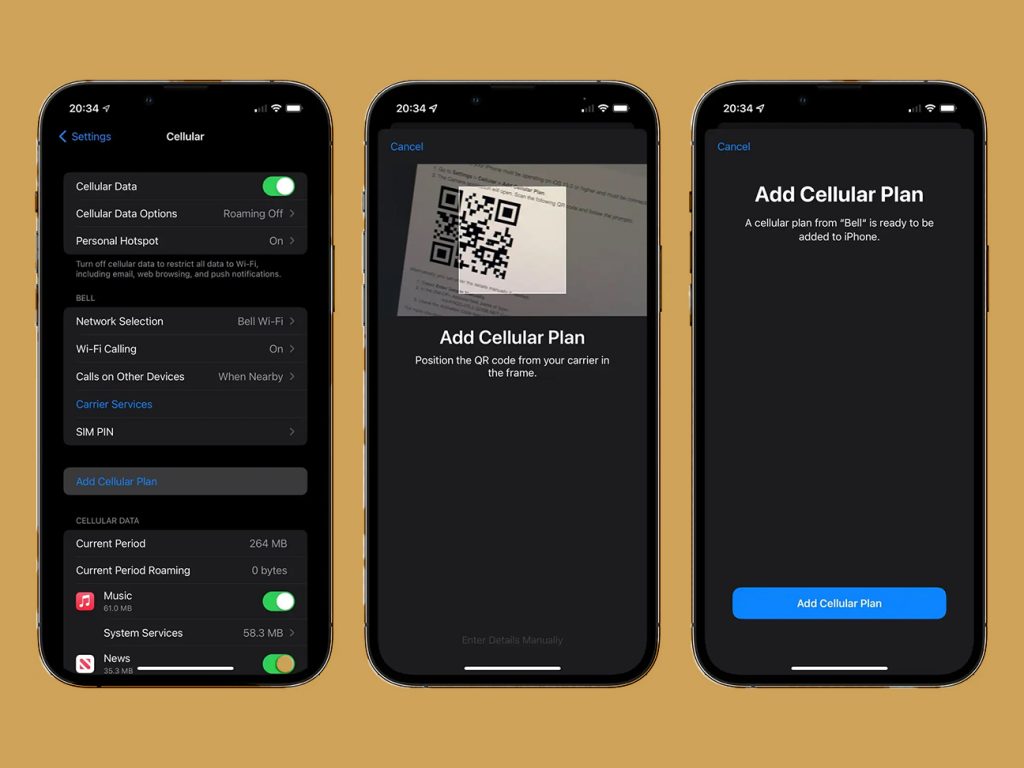 Go to Settings > Mobile Data
Select Add Cellular Plan
Use your camera to scan QR code
Your eSIM will be downloaded and activated
For Android users:
Go to Settings > Network & Internet
Choose Add Operator
Use your camera to scan QR code
Your eSIM will be downloaded and activated
In the event you purchase a Pixel on Google Fi, your eSIM information will be linked to your account automatically.
If you purchase your Apple Watch with a plan, it will come preconfigured with an eSIM; otherwise, you can enter the information in the Apple Watch app. Setting up a Samsung Galaxy Watch necessitates using a smartphone app.
For full operation, dual-SIM smartphones must support DSDS (Dual SIM, Dual Standby). As with iOS 13 and Android 10, this feature is available. DSDS allows both SIMs to connect to a network simultaneously. You'll have to select a line as your default when you first put it up.
What are the benefits of eSIM?
The main benefit of the eSIM is that it eliminates the need for separate SIM cards. You can shift and switch between different phone plans as needed if you want to do that. Those who don't want to deal with physical SIM cards every time they want to switch networks may like this feature.
To top it all off, unlike a traditional SIM card, an eSIM can't be destroyed or misplaced unless you misplace your phone altogether. If you don't reveal the QR code or any other sensitive information, such your IMSI or virtual SIM number, eSIM is safe.
Manufacturers can also make their phones slimmer by doing away with the SIM card tray. There is no need to stress about the SIM swap; simply enjoy your new, slimmer phone!
What are the downsides of an eSIM?
Switching between phones is more difficult with an eSIM because it requires more time and effort. You can't simply swap out one phone's SIM card for another's.
Also, it makes it more difficult to find and fix problems with your device. A simple test to see if you have an issue with your phone's network or with your device is to insert your SIM card into a different phone and see if it works. An eSIM wouldn't allow you to accomplish that.
New technologies take time to become mainstream, which is another factor that should be taken into consideration. It's going to get a lot better now that companies such as Apple, Samsung, and Google are getting behind eSIM adoption.
What if the eSIM doesn't work?
If you are unable to use your eSIM after activation, one possible solution is to determine whether or not your phone is still locked to its original carrier. One of the reasons why eSIM is not functioning properly is because the device is still locked to the carrier that it was originally purchased from.
Unlocking your iPhone
To make use of your iphone eSIM you must unlock your device first.
There is no need to enter an Unlock Code at any time in order to complete the iPhone Factory Unlock because this process may be done automatically. Even if you upgrade iOS or restore your device, the Factory Unlock feature on your iPhone will not be disabled because it is a permanent setting on the device.
As soon as you have gotten confirmation from us that the unlock has been applied to your iPhone, please make sure you comply with the steps that are indicated below:
Turn on your iPhone with a SIM Card that it doesn't accept. A SIM card is "non-accepted" if it is not from the network your iPhone was originally locked to. The SIM card can be from any network provider in the world, and it doesn't have to be the same SIM card you want to use in the future.
Your iPhone will be activated instantly with your new SIM Card. That indicates your iPhone is now completely unlocked.
You can now use your iPhone on any network carrier in the world!
If you are unsure which carrier your iPhone came from, please request an iPhone GSX Network Check report.
Purchasing an Unlock Code from Unlock Base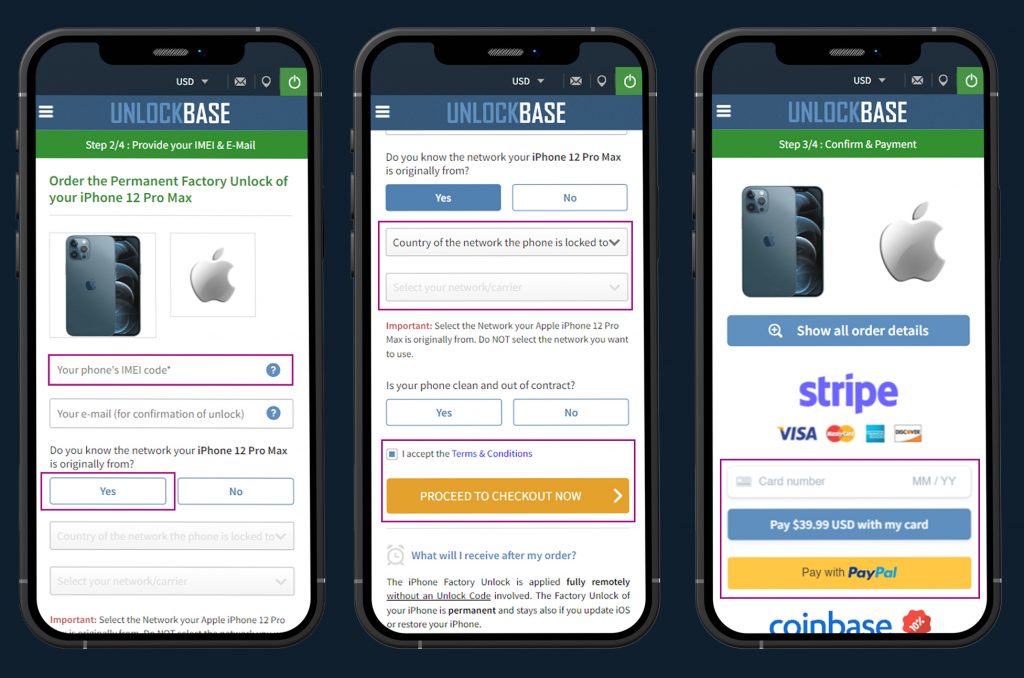 Go to: https://www.unlockbase.com/unlock-phone/iphone/iphone-13-pro-max/
Enter your phone's IMEI.
Enter your email address to get confirmation.
Select the country to which the phone is locked.
Select your network/carrier.
Confirm your payment and check your email for confirmation.
After your purchase has been processed, your IMEI will be marked as whitelisted in Apple's IMEI database. This will grant you a permanent official unlock, ensuring that your warranty will not be voided and granting you the ability to upgrade to the most recent version of iOS on an ongoing basis.
Conclusion
SIM cards have become increasingly smaller over time, making it more difficult to swap them out easily. With an eSIM, you won't have to worry about misplacing or losing your SIM card. Unfortunately, SIM extractor tools, which might be difficult to locate, are now required by the majority of phones. Activating your eSIM is as simple as dialing a number, scanning a QR code, or downloading a carrier app. With eSIMs, physical SIM cards and trays will be rendered obsolete. Removing a real SIM card has numerous advantages, including making more area for manufacturers, improving water resistance, and reducing waste. Would you use an eSIM instead? Your thoughts on eSIM technology are appreciated!
All products, and company names, logos, and service marks (collectively the "Trademarks") displayed are registered® and/or unregistered trademarks™ of their respective owners. The authors of this web site are not sponsored by or affiliated with any of the third-party trade mark or third-party registered trade mark owners, and make no representations about them, their owners, their products or services.