Apr. 22
2019

How To Sell Your Phone For The Best Price: All You Need To Know
Are you planning to sell your old phone so you can upgrade? Your carriers' trade in program sure sounds tempting, but they are not always the best price. There are many buy and sell websites that give higher offers than most carriers.
Ebay's Instant Selling, for example, almost always offers better rates than AT&T, T-Mobile, and other carriers who offer trade-in programs.
An AT&T-locked iPhone X 256 GB in excellent condition (no dents, no scratches, perfect screen) best offer is only $450 with AT&T but you can sell it on Ebay for at least $600* even without the accessories. You can sell it for more if you include the accessories that came with it.
Moreover, an UNLOCKED iPhone X in excellent condition, can be sold for at least $700 on Ebay even without the accessories. That difference adds up and can earn you a lot more money than trading your phone with your carrier.
Of course, if you want to sell your phone for the best price, you have to keep it in an immaculate physical condition and ensure it passes standards that would make it worth all the money.
Here are five ways to increase the market value of your phone:
1. Unlock it. Factor number 1 in buying and selling is knowing whether the phone is locked to a certain carrier. If it's locked, that'd hugely diminish the number of people who would be willing to buy it because it limits their options. It will start off with a lower bid price compared to phones which can be used with any carrier all over the globe.
Unlocking your phone from its carrier doesn't always involve having to 'jailbreak' or 'root' the device. If you're using an iPhone, there is an easy, fast, and SAFE way to unlock your iPhone without breaking your warranty or bricking the phone itself. For phones coming from T-Mobile or MetroPCS, you can safely unlock your phone permanently through the Device Unlock App.
Your carrier can also help you unlock your phone for a FEE provided your account meets certain standards. Otherwise, you'd probably be asked why you're unlocking it and if there's a chance you'd be switching to another carrier, which, of course, would in one way or another, harm your pocket, or worse, your credit score.
As mentioned earlier, UNLOCKED phones have more perceived value than those which aren't because it doesn't limit the users with their options for carriers.
2. Include the original packaging and accessories with the phone. Selling your phone together with the original packaging, headset, charger, and other accessories that came free with it will drastically increase the retail value.
Ebay and other buy and sell sites for used electronics offer higher for sellers who include the accessories and the original packaging (only if they are still in good condition). Buying phone accessories such as the headset and the charger also comes at a price, so if you sell your phone with it, you'll have better offers than when you don't.
However, there are buy and sell sites that don't require you to include them, like Gazelle, and won't pay you more if you did include them in the package. It's best to just keep your accessories for your own use or sell them somewhere else.
3. Start off with a higher price point. Be wary of used phone resellers who will low ball you to the core. When priced fair and just, you will never run out of genuine interested buyers. On buy-and-sell or trade-in websites where there's no fixed price point and people can haggle or bargain with you, it's best to start off with a higher price point (but still within a fair price range, of course).
When someone tries to haggle, they will try to knock down the price, but you can still negotiate to the price point you wanted. They'll think they had a good deal and you got the price you wanted. Win-win.
If you're not strapped for cash, stay firm, the right buyer will come your way.
4. Add more proof. Often times, listings don't get noticed because of the lack of photos or videos to prove its legitimacy. When you're selling a phone, uploading pictures and videos that show the condition of the device is the best way to attract potential buyers. If you're not selling your phone in trading sites, you can also try Facebook Marketplace.
Warning: you're not protected by Facebook in case you are scammed by the buyer. In the Facebook Marketplace, you're all on your own. Uploading more photos or videos that shows the phone's condition will increase the chances of having more interested buyers. It's best to sell the phone to someone who's within your area so you can personally meet and they can check the phone while you're with them. The video/photo proof will also reduce the perceived risks that prevents people from buying.
5. Try selling on other platforms. There are a lot of legitimate platforms that allow you to sell your phone or other gadgets. Aside from your carrier, you can also sell your phone on Swappa, Glyde, Gazelle, uSell, Apple (for iPhones), Best Buy, Amazon, NextWorth, and many more.
The only difference among these platforms is that, Ebay and Best Buy sends you vouchers or gift cards, and the rest asks you to go to the store, or mail your phone for a physical check- up.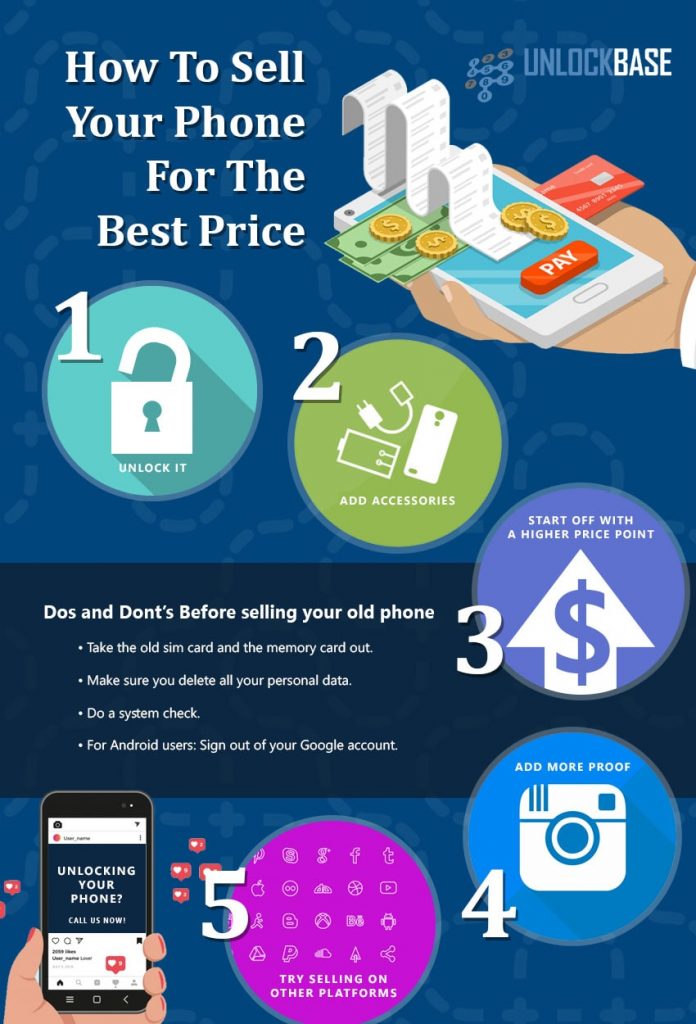 Where Should You Sell Your Phone? We compared each platform.
We tried several gadget trading/selling platforms and here are their offers for an iPhone 8 64GB, GSM, Silver, USED but in excellent condition with complete accessories (headphones, original box, and charger and cable) as of April, 2019.
| | | | | | |
| --- | --- | --- | --- | --- | --- |
| | Ebay | Gazelle | Swappa | uSell | Best Buy |
| AT&T locked | $306 | $229 | $360- $600 average price | $220-$271 | $210 trade-in value |
| Unlocked | $366 | $266 | $360- $600 average price | $230- $299 | No options for unlocked phone |
| Pros | Highest offer among other platforms | Don't ask you to send accessories with the phone | No middleman, you can deal directly with buyers. | Free prepaid shipping label | Free prepaid shipping label |
| Cons | Only pays with vouchers | Offer not competitive enough, adding accessories doesn't change the price offer | Only form of payment is PayPal | Payments are only done 1-7 biz days after item is received by buyers. | Pay via gift cards |
Although, Ebay's offer is the highest, they won't be paying you with cash. You have to reconsider whether you need an Ebay voucher or not.
Do's and Don'ts Before selling your old phone
Take the old SIM card and the memory card out.

You don't need to delete your memory card's data unless you're selling the card together with the phone. Take out your old SIM card as well, although you might not be able to use it, there are still data being saved on your old SIM card like your contacts list, messages, and call logs. You surely don't want those on another person's hand.
Make sure you delete all your personal data.

Saved password, emails, Drive or Cloud information, deleted videos and pictures, cache, IDs, etc. You're not only protecting yourself from data theft, you're also increasing your phone's market value. 

If you're using an Android, you can also backup your phone's existing data to your Google account.

If you can bring back the phone to its default, 'almost-new' functionality state, it would drastically increase its memory and power efficiency.
Do a system check.

If you're selling an old used phone that has not been used for the last 3 months or so, it's necessary for you to do a system check before you even start selling. It could have a drained battery or it might be in need for a system update.

Try using the phone for at least one day to see whether you encounter any issues while using it.
For Android users: Sign out of your Google account.

You need to sign out of your Google account, otherwise the new user will not be able to activate it since he/she needs your password.
Conclusion
There are other ways to increase the market value of your phone, but it all boils down to how you maintained the phone's aesthetic value and functionality. When you sell, be honest about your phone's true condition and don't let down the person on the receiving end.
All products, and company names, logos, and service marks (collectively the "Trademarks") displayed are registered® and/or unregistered trademarks™ of their respective owners. The authors of this web site are not sponsored by or affiliated with any of the third-party trade mark or third-party registered trade mark owners, and make no representations about them, their owners, their products or services.