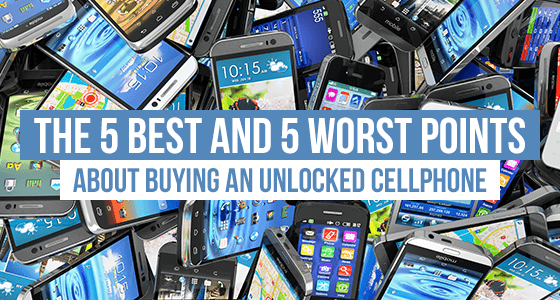 Most people who buy a cell phone simply turn up at their local cellphone service provider carrier, sit there a long time while the sales people deal with other customers and then sign up for a 24 month contract with the phone of their choice, or at least, the phone that comes closest to their choice. Unfortunately, most phones from major carriers can only be used for that specific carrier's network. But what if you decided to do things differently? What if you decided to buy an unlocked cellphone? Here we weigh both the pros and cons.
Unlocked cellphone pros
1) More networks
Manufacturers do not create cellphones to work with just one network, but cellphone carriers prefer to lock you in and tie you to a lengthy contract. With an unlocked cellphone you can access other GSM networks whenever necessary, which is perfect if you travel frequently as you can simply switch to other available network providers once you are out of your current provider's coverage zone.
2) Save money
Unlocked phones may appear to be more expensive at first due to the sometimes high upfront cost, but they definitely work out more budget-friendly in the long run. There's no long-term subscriber contract to worry about, and you can take advantage of the best SIM only deals for your cellphone with no contract and without incurring early termination fees. Prepaid SIM cards also offer cheaper call, data and messaging rates with some very attractive overseas call rates.
3) No roaming charges
Roaming charges are expensive on a contract. The roaming fee is billed on top of the monthly subscriber fee, and can add up to a significant amount. With an unlocked phone you simply buy a SIM card from the local or overseas carrier and immediately save money because you have a local phone number and pay local rates for calls and messages.
4) More flexibility
If for any reason you become unhappy with your current cellular carrier, with an unlocked phone it's as simple as buying a new SIM card from a different provider.
5) Increased Resale Value
It's easier to sell an unlocked phone; in fact it can be worth as much as 30% more than a locked one. It also attracts more buyers since they can easily use it with their existing network or change to another one. It also means the phone can be sold either locally or overseas, greatly widening your customer base.
Unlocked cellphone cons
1) Buyer beware
When you buy an unlocked cellphone you need to be sure you are getting what you pay for. It takes more due diligence than entering into a contract because you do not have your friendly, service oriented carrier to protect you if you find the phone has a fault or it is in fact a fake product, and there are more fakes out there than you could possibly imagine.
2) Higher upfront cost
You need to have cash ready to buy an unlocked cellphone, and for the latest models that can easily run to over $1000 or more. Shop wisely and be sure you are getting what you pay for.
3) Bandwidth issues
Wouldn't you know it, networks in the US use different data frequency bands than those in other parts of the world, so if you spot a bargain buy in the States and think it will do the job, you may need to think again if you are based in Europe or elsewhere. If you are based in the US and want 4g, look for phones offering these bandwidths: LTE 700, LTE 800, LTE 1700, LTE 1900, and LTE 2100. Don't get stuck with a phone that doesn't work on your local service provider's network.
4) Is the cellphone really unlocked?
Unfortunately there are several cowboy dealers out there who will sell you an 'unlocked' cellphone that is not properly unlocked, and you could even find that you yourself are locked out of the phone once the service provider discovers the phone is no longer under contract. Ideally, you should examine a cellphone in person before handing over any money.
5) Generic software
Generic software does not support data features such as mms – picture messaging, web browsing, and sending/receiving emails. So as to use data services you will first need to obtain the correct settings from your service provider (e.g. AT&T, EE, Vodafone) and set up the phone manually.
With a little care and attention to detail though, you will find the advantages and cost savings of an unlocked cellphone outweigh the initial start-up costs and need for extra vigilance. If you are not sure whether your cellphone is properly unlocked, check with a reliable and trustworthy online unlock service such as UnlockBase.