Sep. 27
2016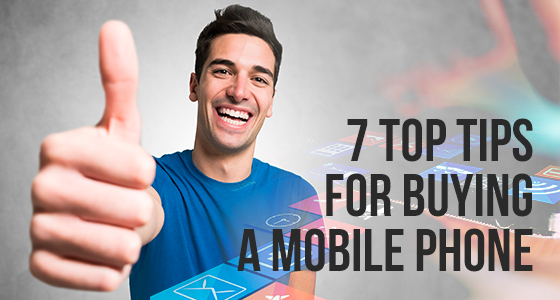 1. Choosing the right phone for you
Remember the good old days when a handset just sat in your bedroom or living room and if you needed to make a call in town you made it from a phone box? Those days are long gone. While some phone-boxes do still exist, the global population has switched to a portable handset, and with each new year advances in technology make the choice ever more bewildering. The number of pay phones in the States have declined 50% since 2007, and the younger generation wouldn't even know how to use one.
So if you are thinking of buying a phone, be it your first or your 31st, it pays to know what type of phone you want before putting down your money.
At the top of today's handset food chain is the smartphone. These are the devices which have the most power, the fastest processors and Wi-Fi; high image resolution and ample memory capacity as well as the most pixel-rich screens. Their operating systems are designed by the big players; market leaders such as Apple Ios, Google Android, and a relatively late entrant to hand held devices, Microsoft Windows 10 Mobile, not forgetting BlackBerry 10. They support a host of downloadable applications through virtual storefronts, designed to work with their associated software platforms.
Messaging or feature phones
Feature phones offer many of the same capabilities as smartphones but instead of popular mobile operating systems, they run proprietary software crafted by their manufacturers, such as Samsung, LG or Kyocera. These phones are usually good for text messaging and email, but there is no data plan required. Many feature phones have full QWERTY physical keyboards. With a raft of cheap, available Android and Windows phones such handsets are becoming rarer.
Basic phones
For those who just want a phone to make phone calls and send text messages, there are still plenty of basic handsets, easy to use, easy to understand with simple keypads. Like many phones of the early noughties, these still come in clamshell designs that flip open, or open plan with a small screen and the keypad directly underneath. Today these can be comfortably put in a top pocket as they are significantly smaller than feature phones and smartphones.
2. Invest as much as you can afford
Whether you choose to sign up for a Contract or go Sim Free, you should seriously consider buying the best device you can afford. This will give your investment a certain amount of future-proofing. Choose the best possible camera quality and processor you can find so that you can take great pictures and not get frustrated each day with a processor which is too slow for your needs. Also, consider a phone with a high capacity battery so that it does not hold less and less charge as time goes by. High-end handsets such as the iPhone 6S, LG V10, or Samsung Galaxy S6 Edge+ also hold their resale value over time, so if you do decide to sell it or upgrade, the phone should be an easy sell. Whichever phone you opt for, if you're happy with the way it works, but not the cellphone provider operating, UnlockBase can help. We unlock more cellphones from more cellphone providers from around the world than any other remote unlock service on the web. We can unlock your phone usually within minutes, quickly, safely and cost effectively.
3. Decide on the features you need
Pay for features you do need and not for what you don't want. Obviously high end smartphones such as the Samsung Galaxy S6 Edge+, include just about everything, but if you are not looking for something so app and feature rich, look for a more mid-priced model such as the Microsoft Lumia 640 LTE.
4. Find the right design for you
Once you buy a smartphone you're going to be handling it a lot – a heck of a lot. research shows we hold our smartphones every 6 seconds in the evenings, so you need a phone you like the look of and like the feel of. Since you're likely to gaze at it at least 110 times a day, you need to make sure that your phone reflects your style, whether it's a sleek metal handset, a flip phone or a rubber-coated handset. Of course you can also hide your phone with a huge variety of specially designed smartphones cases.
5. Pick your screen size
There are trends in screen sizes, and right now, the big 5.5 inch screens are the most popular because they afford easy viewing for gaming and a raft of new digital streaming services such as Netflix and Amazon Video but you can still find a wide variety of display sizes.
Small Screen (Less Than 4.5 Inches)
Not always do you need a small screen. If you need a phone for carrying in your pocket and sending regular messages, you should choose a compact design.
Medium Screen (4.5 to 5.4 Inches)
This screen size is still extremely popular and such phones as the iPhone 6 (4.7 inches), HTC One M8 (5 inches) and Galaxy S6 (5.1 inches) fall into this screen size category. They are ideal for playing games and can also be used for streaming videos.
Large Screen/Phablet (5.5 Inches or More)
The Phablet has evolved and has taken the smartphone world by storm. Larger displays screens which can be 5.5 inches or more, include the 5.5-inch iPhone 6 Plus and LG G4, and the 5.7-inch Samsung Galaxy Note 4, The phablet is so called because they are tablet sized but completely portable. Often used as two-handed devices, many surfers prefer larger displays for watching videos, reading eBooks and even running two apps side by side, as with the Galaxy line.
6. Size and Weight
Smartphone manufacturers are constantly striving to make cellphones lighter while also making them larger, because they know that users do not want to walk around with a lead weight in their pocket. The weight of a smartphone is dictated by its screen size. The 4.6-ounce iPhone 6, for example, has a 4.7-inch display and is one of the thinnest and lightest handsets on the market. Then again, the big-screen phablets such as the Nexus 6, has a 6-inch display and weighs 6.5 ounces, which of course is nearly half a pound! Once you get above 6 ounces, you'll really notice the weight of a phone in your pocket. If you don't want your phone weiginh you down, opt for a handset under 5 ounces.
7. Display Quality
Before you sign on the dotted line or hand over your credit card, look at the quality of the phone's resolution. Quality of resolution is often the difference between cheap Chinese imports and the high-end brands. Ask about HD quality and, like buying a new TV, look out for a smartphone's resolution, brightness, color quality and viewing angles. You'll be gazing at it far more than you'll be gazing into your partner's eyes, so make sure it is as good as spec as you can get.
All products, and company names, logos, and service marks (collectively the "Trademarks") displayed are registered® and/or unregistered trademarks™ of their respective owners. The authors of this web site are not sponsored by or affiliated with any of the third-party trade mark or third-party registered trade mark owners, and make no representations about them, their owners, their products or services.