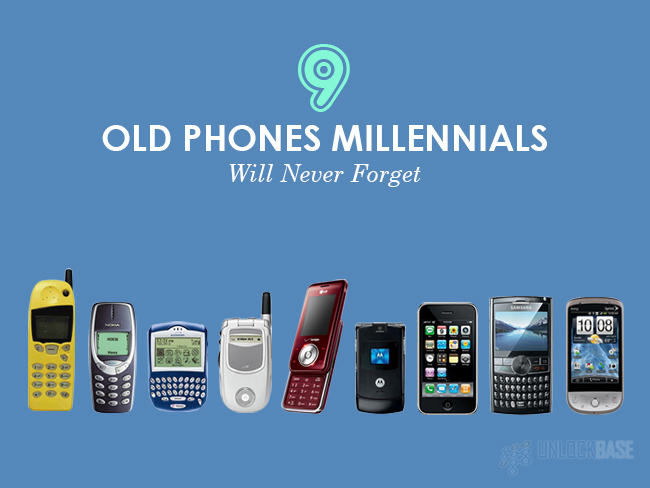 If you are a #Millennial you have certainly witnessed the mobile evolution right before your eyes. Childhood days were the start of a booming mobile technology and we've seen how the Teletubbies antenna was used by Nokia to help our parents' phones get a signal to send a text message.
You've also probably knocked some of your toes  with the same Nokia phone when you dropped it on the floor. It's hilarious these phones are so heavy that they dent the floor instead of breaking or getting scratches.
It's also funny to think that despite how Motorola, Nokia, Samsung, and Sony changed their shapes, colors, and technology, Apple stayed the same and just changed sizes! There were other minor changes of course, but nothing drastic really changed for Apple on the outside.
So much about that, let's go through the 9 most epic mobile phones of your childhood you wished still looked cool ten years later.
1. Nokia 5110 (1998)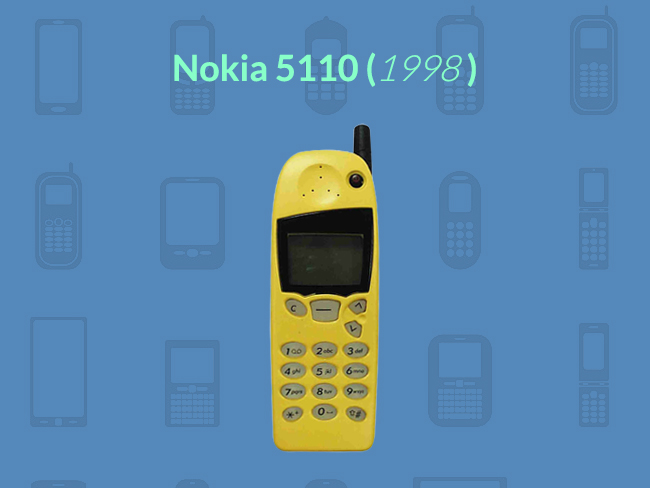 We all know Nokia 5110 was one of the sturdiest phones ever created. You could throw it to someone's face and get them injured. That's how big, chunky, and sturdy they are! Nonetheless, we all love the colors which, as mentioned earlier, made them really looked like they are the Teletubbies.
Not to mention the love-hate relationship we had with the antenna.
This phone will always be part of every #millennials childhood because of its playful colors and replaceable casing. I'm sure you've had at least two Nokia 5110 casing on its entire lifetime. Changing those casings were like dressing up a doll!
And oh, the nostalgic monophonic Nokia Tune! And oh, the nostalgic monophonic Nokia Tune!


Buying yourself a phone on that era probably cost a fortune, because just like now, mobile phones continue to be a sign of social status and sophistication. Oh what fun would it be to unlock your Nokia 5110 now and use it for a show?
It's going to be a #NokiaNostalgia !
2. Nokia 3310 (2000)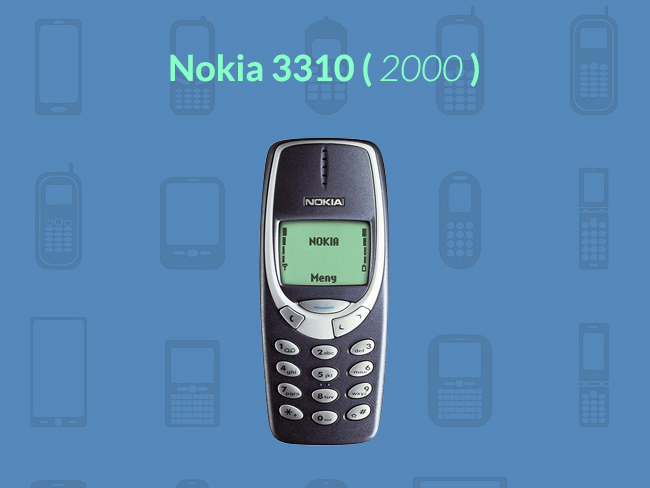 Every single millennial kid out there would agree Nokia is part of their childhood. In fact, we can say that Nokia once ruled the mobile world because at a particular point, they were able to sell over 126 million units worldwide!
We're talking about a time when only the first world countries had convenient access to the internet and when mobile phones were only called Nokia – the golden millennia 2000. Of course, there were other phone manufacturers, but Nokia trumped them all worldwide.
Motorola, Blackberry, and HTC already existed at this time. Technically speaking, Motorola started the mobile phone technology but at that time, it was Nokia who was killing it (even in third-world countries).
Snake was one of the most popular (if not the only) mobile phone game at the time. I can only imagine the frustration of a game over when your Snake ate its own self!
It was also this time that the phones had customizable names and welcome messages (which you probably changed every time you get a new inspiring quote from your teacher).
Nokia also made it more fun when they allowed users to edit the ringtone and make it sound like your favorite love song – Right here waiting, Two Less Lonely People, etc. Agh, there were so many things you can do if you loved music and if you loved playing around.
And of course, we would miss the time when we never actually run out of battery even for 2 days! I'd gladly unlock my Nokia 3310 any time of the day, only if it is still a cool option as a backup phone when I'm travelling!
3.  Blackberry 6200 (2003)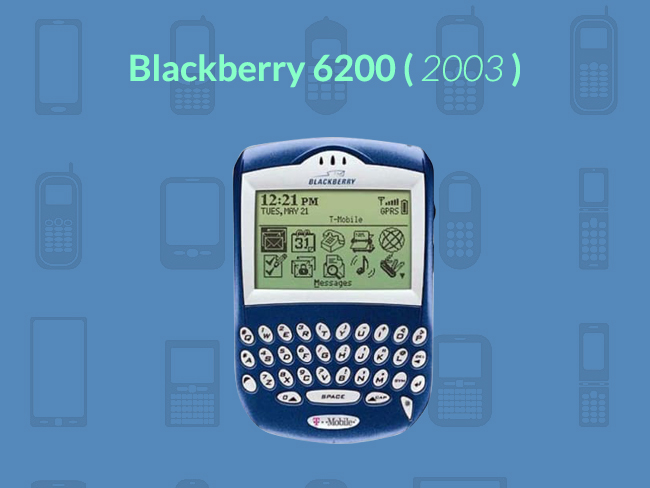 If you didn't knew, Blackberry had been rocking the mobile industry ever since it started. And since then, they didn't appeal to the wider audience but to those who are in the business niche.
It's a rather small niche but they were successful in ruling it. Just like the saying, "it doesn't matter if your the best, it matters if you're the first," (I'm sure I heard that somewhere).
Speaking of being first, it is also the first to have an email-centric approach, so yeah, you're Mom and Dad probably spent a fortune to have the convenience of a Blackberry.
It's funny because Blackberry made the impossible possible, quite literally, in putting a full QWERTY keyboard, which you only see on your lengthy computer keyboard at home.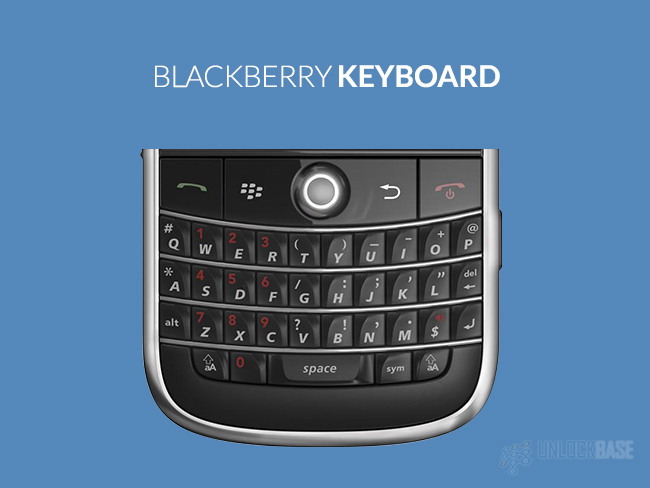 Nonetheless, this made Blackberry stand out from the crowd of mobile phones which are fighting for a generic market.
4. Motorola i730 (2004)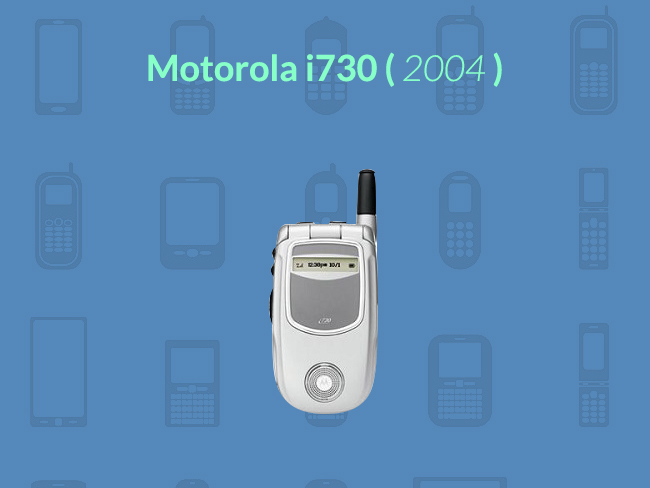 2004 was the year of the flip phones. You surely can't miss the glossy looking Motorola i730 flip phone. It has the push-to-talk feature that lets you play with friends as if they were walkie-talkies from the future! (Did you even knew about that back then?)
This phone was also the real thing because it had a true GPS functionality. You can't get lost with this while travelling can you?
This feature makes this phone the ultimate travel companion since Qualcomm said they developed and tested the GPS assisted tech to locate the user within feet from their actual location (mindblown).
Qualcomm really made stalking easier for the government or any other entity for that matter. Just great.
Anyways, getting stalked can be done in just a matter of seconds nowadays. You can't deny the fact that you've stalked at least one person's social media account (aight?).
After all, isn't that what it's made for?
5. LG Chocolate (2006)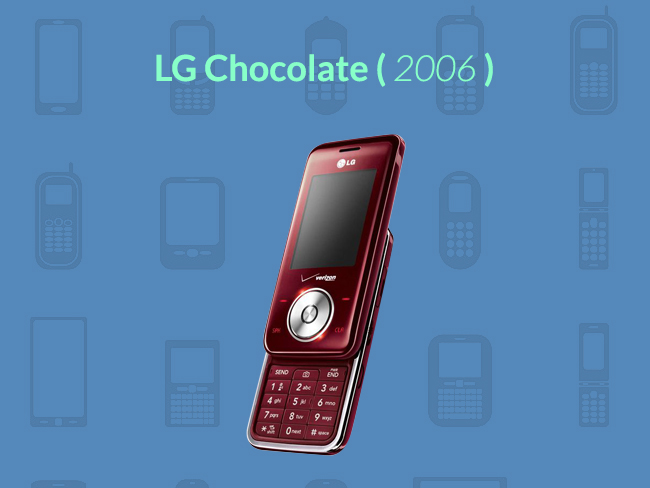 This phone will literally make you want to lick it to bits. LG Chocolate really looked like a chocolate bar with a keypad and a screen. How did you manage to not bite it when you're craving for a chocolate?
I've mentioned chocolate three times in a single paragraph, but it just doesn't stop there. (I swear I'm going to try my best to help you curb the craving)
The LG Choc***** came in different flavors, err, colors. In the US there are four different colors which are: (1) Light Green for Mint Choc, (2) White for  White Choc, (3) Pink for Strawberry Choc, and (4) Red for Cherry Choc.
Hmm, yummy.
6. Motorola RAZR v3 (2006)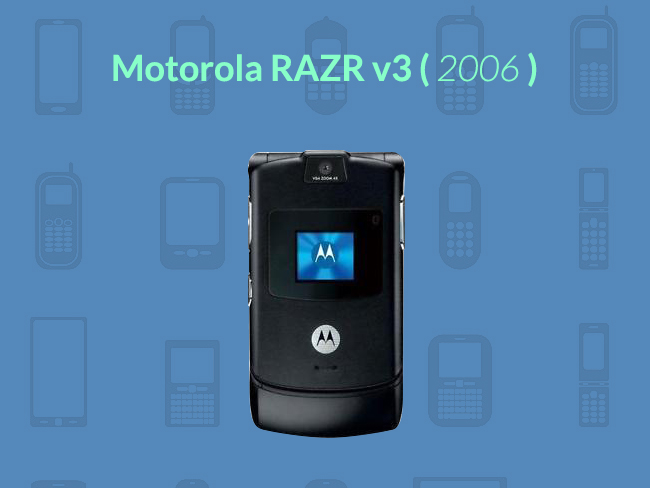 Motorola RAZR v3 is one of the phones which are truly to die for during 2006. I can guarantee you that's without exaggeration because this particular Motorola is looking so lovely and sleek- it totally slayed all the other flip phones during its time.
It was an excellent trendsetter and it came in so many colors and designs, that you'd sulk in a Motorola store for days because of confusion. (I'd totally ship one right now)
This flip phone was thin and lightweight, however, this meant this phone is going to break once you drop it. This started the era of classy phone cases to keep the phone from scratching or at least give an extra layer of protection.
This year was truly fun and amusing for mobile phones because you can get neon-colored leather covers and pastel colored cases. Remember how it looked so cool to flip open your phone when someone calls?
However, this was also the era when phones became so fragile and break so easily. On the lighter note, this year became the best year for Apple and it changed the mobile history since then.
7. iPhone 3G (2007)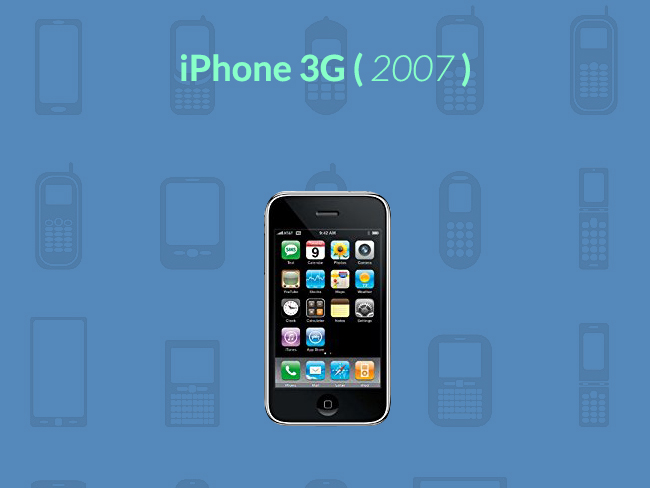 There's a saying that if iPhone divided the history of mobile; Before iPhone and After iPhone.
Being a teenager during the time iPhone was born gave every millennial the capability to tell the history of iPhone since 3G up to iPhone X, simply because you were there and you experienced every single change firsthand. And mind you every millennial knows the accurate reason why it's called an iPhone.
So why? It's not my Phone, it's not your phone either. It's iPhone. Duhh.
Ever since the iPhone 3G, companies like Samsung, Motorola, HTC, Blackberry, had to up their game as well. First of all, the design of the iPhone looked like it came from 50 years after compared to all the other phones which existed at that time.
Although, the price of an iPhone is arguably more expensive compared to other phones, it made Apple a symbol of sophistication and even wealth! And still, over a decade later not everyone can afford a flagship iPhone.
Steve Jobs really did a good job at making our teenage years extra cool because of the iPhone, the iPod, and the iPad.
8. Samsung BlackJack II (2007)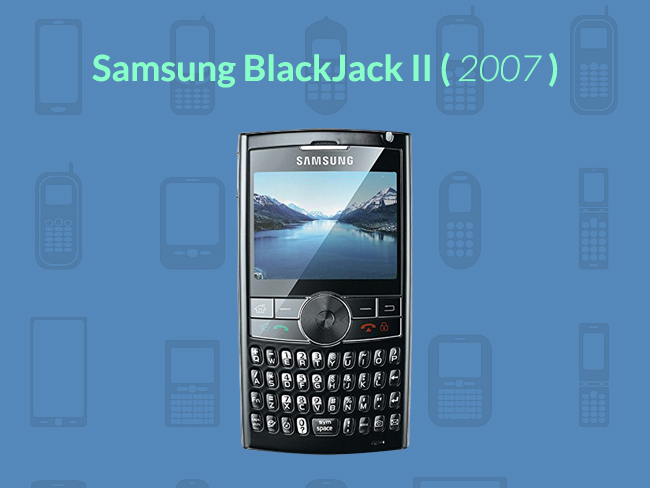 2007 was really a bad year for Samsung, especially for the Samsung BlackJack II. This was supposed to be an awesome year of cellphone designs but here comes Apple raking all the attention.
Samsung tried to make this a good comeback with the BlackJack II. It had everything a teenager would be looking for a phone;  a GPS, a huge battery, bigger screen, bigger memory and an SD card slot, a high- resolution camera, a full QWERTY keyboard, a music player, and BLUETOOTH. (Who doesn't love bluetooth on 2007?)
It also had this sophisticated Blackberry look with a spinning jog wheel which was a huge plus at that time. Remember when you hated the 4-sided Ok and navigation button because it sounded on every click?
IMO, this phone would've been a huge hit had the iPhone 3G released a year later, but I guess Samsung's timing wasn't that good. Nonetheless, it continues to be iPhone's closest competitor.
9. HTC Hero (2009)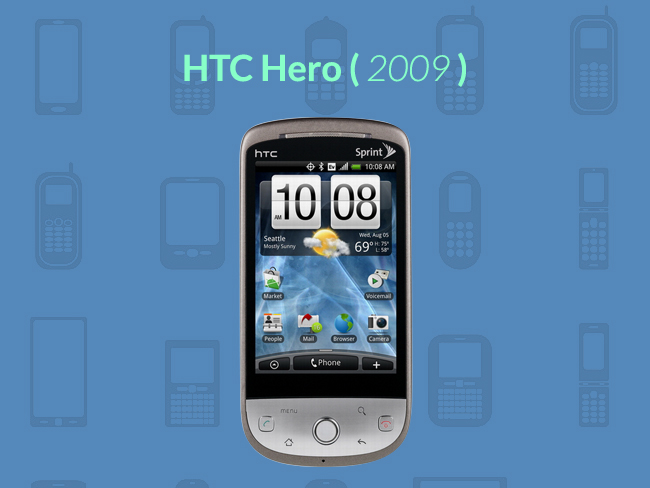 This is HTC's third shot at making phones, and well, HTC Hero didn't disappoint. This phone is so peculiar because you don't normally see a phone with a chin (curved bottom). It adds a lot of novelty and it's obviously making people curious.
It was a good fit for an average hand and who wouldn't like how convenient it was to your fingers to press those buttons at the lower part of the phone? We were used to always adjust our hand and fingers to the phone, but this time HTC figured out how the phone can also adjust to how our fingers and hands are made.
It also had an awesome trackball to avoid the disappointment of Android fans.
It had the back, home, and search buttons conveniently at the curved edge for your chubby hands to easily access. For the industrial design alone, HTC already won the hearts of all Android fans.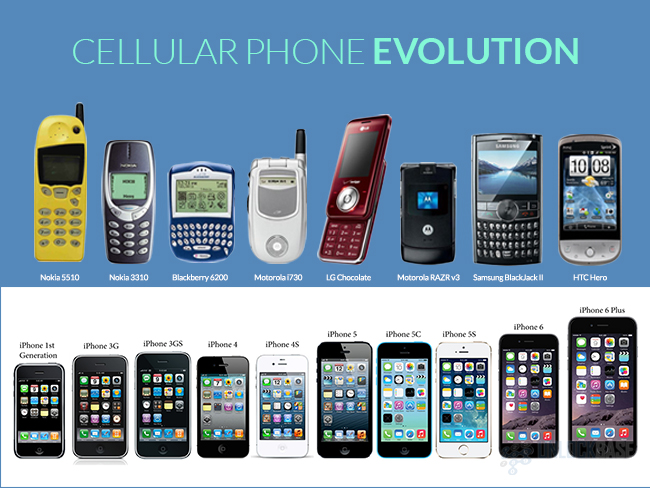 There you have it folks. If you have that #Millennial vibe in you why don't you sport your old phones and have fun with it? For sure, it's going to create a lot of fun and nostalgic conversations among your friends. It is also cool to show off your childhood gadgets once in a while, so why don't you give this a go?
By the way, if you plan on making your phones fully operational with a different network, you can have it SIM unlocked. It's super affordable and convenient, and of course, it's going to bring new exciting memories.
Have fun will yah?
All products, and company names, logos, and service marks (collectively the "Trademarks") displayed are registered® and/or unregistered trademarks™ of their respective owners. The authors of this web site are not sponsored by or affiliated with any of the third-party trade mark or third-party registered trade mark owners, and make no representations about them, their owners, their products or services.