Sep. 20
2017
The Magic Slot
If there's anything more interesting with LG G5, it's the Magic Slot. The magic slot contains the battery, sim card and the microSD card slots giving easier access to the user's most important convertible accessories.
The Magic Slot is the removable bottom of the phone that allows the users to replace the battery with one easy click of the button at the lower right-hand side of the phone. It's also the same slot used for switching between G5's modular accessories.
Despite the fact that most manufacturers are now moving towards non-removable back covers and batteries, LG G5 matched it with a full blast metallic casing but of removable battery. Quite the genius.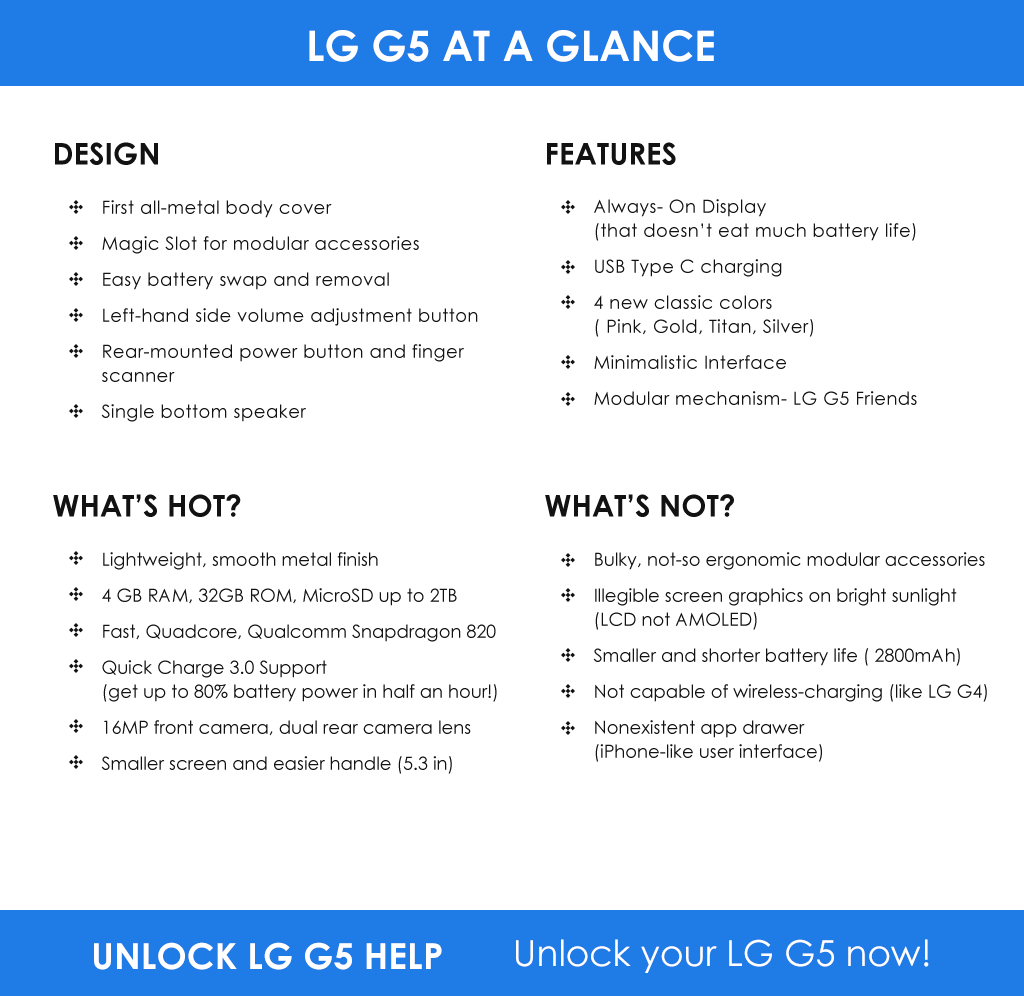 Physical Changes
If you are an avid LG user, the LG G5 is probably going to feel strange for you. Gone are the volume keys at the back that your finger worked so hard to get used to, because the volume buttons are now on the left-hand side, conforming to the physical design of other smartphones.
Aside from that, LG also has a new fingerprint scanner to power it on. Unlike its predecessors in the G series, this power button is flat mounted on the rear side, so it may take a little getting used to. Overall, according to customer reviews, the power button isn't really as distracting as they thought.
User Interface Makeover
LG did a good job at making the home screen really clean and minimalistic, however, they'd gone extremely far to eliminate the app drawer that really confuses LG and even long-time Android users.
With the app drawer gone, the phone's interface looks more like that of an iPhone more than an Android. People think that LG is probably risking its features to make it appeal to iPhone users who are tempted to switch to or try Android for economical reasons.
Battery Life And Charging
It's good that LG G5 now has a USB Type C port for charging that conforms to the standard of other Android and smart devices worldwide. This is good news compared to other LG flagship devices which only works with LG provisioned chargers.
As per customer reviews, there's not much improvement on LG G5's battery life and SOT, however, compared to its predecessors, this model stands better chances of competing with other brands' flagship devices like Samsung S7 who has more than 9 hours of battery life.
Also, the easy battery switch makes it easier for users to seamlessly use their phones when traveling, gaming or surfing minus the usual hassle of charging while being on their phones. An extra battery is added upon purchase.
Since LG G5 has Quick charge 3.0 Support, users can now have at least 80% battery in just 30 minutes of charging which is equally competitive to other new smartphone models.
Metal Case
The metal casing is the first of all the LG family's G Series to ultimately resolve overheating issues from the preceding model.
LG G5's metallic cover isn't technically metal on your fingertips. It has gone through multistage processes that keep your hands from stinking rust.
In addition, the metal casing ironically has a smoother finish compared to LG G4 which is somehow rough to the hands. Despite being all-metal, LG G5 is lightweight and is ergonomically made for mobile user experience.
Modular Mechanism
The LG G5 features a modular mechanism that allows other accessories (LG calls them *Friends), to improve the phone's features like its camera, audio, and battery. Although LG G5 isn't the only modular phone available in the market, it offers a wide array of modular accessories that's exciting to use for LG fans.
The LG G5 has 14 different Friends but not all of them are available to the US, EU, and other countries. If you are interested with an LG G5 Friend (accessory), be sure to check its availability in your country first.
LG G5 Friends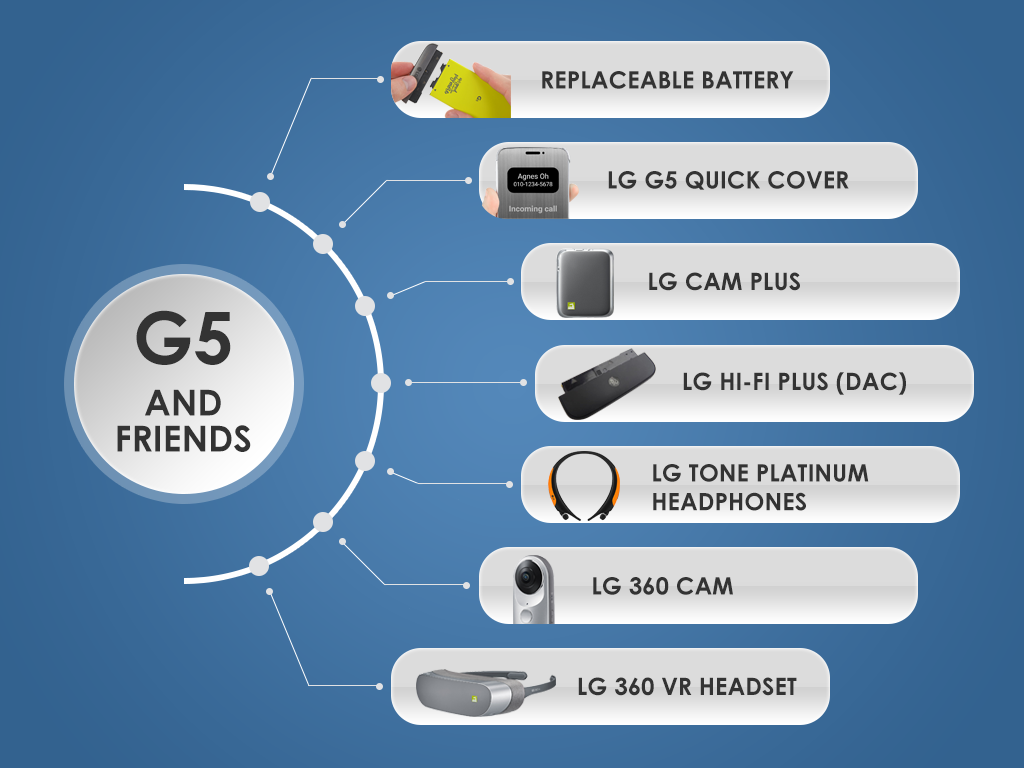 + Replaceable Battery
The replaceable battery is considered one critical advantage of the LG G5 compared to other flagship devices from brands like Samsung, iPhone, Xiaomi, etc. LG G5 comes with a spare battery upon purchase.
+ LG G5 Quick Cover
The Quick Cover flip case is the answer to G5's scratch-prone screen and it allows users to pass users' touches to the screen even when it is closed. However, this G5 Friend doesn't look so friendly to most customers, because it isn't magnetic and won't stay closed which unfortunately defeats the purpose. .
+ LG Cam Plus
LG G5's camera is already awesome but LG can't help but add another Friend to make it even better. LG Cam Plus is created to help users with the camera controls like video, shutter, and zoom controls, but that's not the best part about it. This Friend can add more battery life by replenishing the power consumption of your cam app.
Although the LG Cam Plus is made for the said purposes, it is a total epic fail for most customers. Starting at $70, the LG Cam Plus, somehow causes the camera to "stop responding" or lag when zooming and it spins freely either way so it doesn't give any reassurance that you have reached the max zoom in or out capability.
Again, beware of buying LG Cam Plus online because it's not universally compatible with all LG G5 phones and it might depend also on your carrier.
+LG Hi-Fi Plus (DAC)
If you are the audiophile-type then this is a thing you wouldn't want to miss. This Friend offers crisp and clear music that every audiophile would want to hear. It also comes along with a USB Type C cable that you can easily connect to a computer and it works just as fabulous. However, this isn't available in the US and isn't compatible with the US LG G5 models either, so don't bother getting one from Europe or wherever online.
+LG Tone Platinum Headphones
This new addition to the LG Tone line is a G5 Friend, and this Bluetooth headphone is great for everyone, except of course to audiophiles. The design is ergonomic and comfortable to wear on the neck.
It's quite fashionable and it's undoubtedly a level up compared to its predecessors.
+LG 360 Cam
So, aside from the LG Cam Plus, LG G5 got its camera game up a notch with yet another Friend, the LG 360 Cam.  It doesn't have an internal memory but you can stick in an SDXC card of up to 1TB.
This can only be controlled using a smartphone through Bluetooth connection, however, the process of connecting to the cell phone app can be confusing at times. On a lighter note, this model is not as expensive as with other 360 cameras available in the market but it almost has the same video and picture quality.
+LG 360 VR Headset
As the name suggests, the 360 VR is a Virtual Reality headset and it works only with LG G5, a not so clever marketing strategy. Nonetheless, it's lightweight compared to that of Samsung's.
You can connect it to LG G5 phone via USB type C cable and it only works after downloading all the necessary apps like Friends Manager, 360 VR Manager, and vrChannel.  This VR attempt didn't get LG the praises it was looking for but it's way more expensive than other VRs.
Unfortunately, the experience doesn't justify the price of the LG 360 VR headset.
Want to Unlock your LG G5?
No need to go elsewhere, we're the go-to-guy for all unlocking services! And guess what? We now unlock LG G5!  We have 24/7 support to help make the process as seamless as possible.
You don't need to sweat it out. Here are the first few steps to get your phone unlocked:
First, check if your phone is already unlocked. Try another sim card apart from your carrier or service provider. Changing sim cards WILL NOT void your warranty.
If it is already unlocked, your phone will detect the sim card and you will have signal bars on the upper right-hand corner.
If it is otherwise locked with your current service provider, as soon as it powers on, you will be prompted with a message saying "Sim network unlock PIN Unlock Attempt 1 of 10" and it will ask you to input the Unlock code.
Tap "Dismiss".
Go to "Setting", click "Status".
Take note of your IMEI number.
Our team is available 24/7 to help you proceed with the unlocking process.
Whether you are travelling or just switching to another service provider, we provide all of your unlocking needs. Want to know more? Talk to us!
Be free to roam around the globe and sport your LG G5!  (minus the roaming fee of course!)
All products, and company names, logos, and service marks (collectively the "Trademarks") displayed are registered® and/or unregistered trademarks™ of their respective owners. The authors of this web site are not sponsored by or affiliated with any of the third-party trade mark or third-party registered trade mark owners, and make no representations about them, their owners, their products or services.