Oct. 2
2014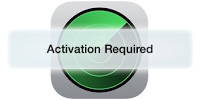 Apple iCloud Activation Lock Removal Service – Introduction
"iCloud Activation Lock" or "Find my iPhone Activation Lock" is a  new feature – introduced with iOs 7 – of Find My iPhone called Activation Lock that is designed to prevent anyone else from using your iPhone, iPad, or iPod touch if it's ever lost or stolen. Activation Lock is enabled automatically when you turn on Find My iPhone on a device using iOS 7 or later. With Activation Lock ON, your Apple ID and password will be required before anyone can:
Turn off Find My iPhone on your device,
Erase your device,
Reactivate and use your device.
For more details about Activation Lock we suggest you check this link.
So before you purchase an iPhone, iPad or iPod Touch from somebody else, make sure that Find My iPhone Activation Lock is turned off and the device is ready for you to use. To check if this lock is activated, Apple release the 1st October a free service that you can access using this link: https://www.icloud.com/activationlock/
However, we have a solution to ByPass Activation lock that work ONLY with Clean IMEI witch mean all the Apple products are supported as long as they have not been reported lost or stolen (We do not offer solutions for those type of phones). But as long as the device is clean and has not been reported anywhere, all the models are supported so it could be any iPad, iPod or iPhone starting from the oldest, up to the latest ones available.
Apple iCloud Activation Lock Removal Service – How to Check if CLEAN ?
Our iCloud Activation Lock ByPass service is only for Clean IMEI, the iPhone must not be reported as stolen or lost. If this is the case don't even ask, it's not possible with our server. So you may wonder for who is this service ? Well if you simply lost your password and don't find any way to recover it, or if you bought this iPhone Clean to a seller who do not remove the lock, and have no way to approach the seller…
Here are some pictures that illustrate witch Apple Device are "Clean" or "Blacklisted":
Before buy an iPhone we also recommend to always run Blacklist Check using our CheckMend service, and check the Activation Lock on Apple Website. If it's Clean, then you can order from us the Activation Lock Removal using one of these two services:
Apple iCloud Activation Lock Removal [Clean IMEI Only] (10<>15 days) – Tool ID: 675
WARNING: Also please note that Find My iPhone Activation Lock removal do not Unlock the Phone (so he can accept any SIM Card from any carrier worldwide), this service is only to ByPass Activation Lock so you can use the phone with the Original SIM Card (or all if the phone is Unlocked).
You can check pricing in our Wholesale Unlock Pricing page.