Do you want to use your mobile phone abroad or do you want to unlock your mobile device for use on other carriers? If you bought your mobile device from T-Mobile or if you are currently using a T-Mobile-enabled phone, we've prepared a complete guide to SIM unlock your phone on a legal and easy way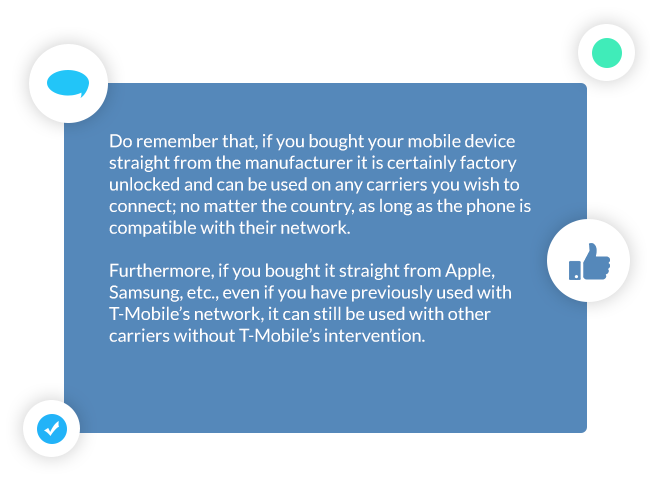 Most of the mobile carriers nowadays have pre-installed programs or softwares that prohibits mobile devices to be used on another carrier. So, if you plan to switch carriers using the same mobile device you need to get a SIM Unlock code.
And just like most carriers, T-Mobile also programmed their mobile phones this way. Let's explore how you can unlock your mobile device through the guidelines we will discuss below.
Network Compatibility
Make sure the mobile phone you wish to use with another carrier is compatible with their network. Take note that even if you find your phone model on their website, phones/mobile devices purchased from T-Mobile has specific version numbers- that means some of your phone's functionality/features may or may not work fully on the network you want to switch to.
Verizon and Sprint uses CDMA technology, while AT&T and T-Mobile use GSM technology for their networks. You can't use a GSM phone on a CDMA network, and likewise, a CDMA phone can't be use on a GSM network.
Do not confuse yourself on a CDMA phone with a sim card slot. Some CDMA phones have sim slots to be simultaneously used on the 4G LTE towers of carriers like Sprint or Verizon, but it doesn't necessarily mean this phone can work on a carrier with a GSM network that uses sim cards to work.
SIM Unlock Legality
Unlocking a mobile device is fully legalized in the US. If you are using a T-Mobile phone, they will even allow you to have your phone temporarily unlocked (for travel, etc) depending on your eligibility.
Like T-Mobile, almost all carriers around the world (except those from European countries) tie up your phone's unlock eligibility on a specific number of months that you have used up their service. It's usually 90 days (3 months) after activation that they allow you to unlock your phone through them if you are still in a contract (postpaid).
Some service providers, however, do not allow you to unlock your phone without paying your phone's remaining device balance- if you are still in a contract. Being in a contract means they have subsidized your phone for X number of months, and this ultimately means that if you haven't finished your contract, you will pay for the device balance equivalent to the subsidized amount on the remaining number of months left before your contract ends.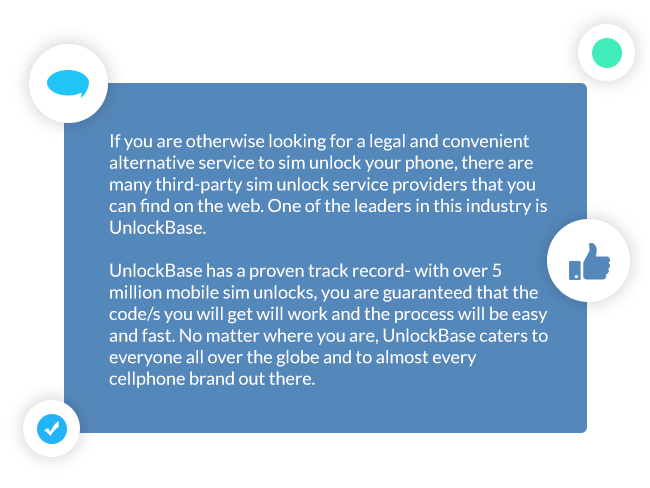 T-Mobile also has a specific set of policies regarding device unlock which we will cover in the next section.
Unlocking With T-Mobile Customer Service: What to Expect
Ok, now this is probably the first tick box you have in mind and bet you already tried calling customer service, but have pleaded to no avail. Before you raise your eyebrows, let's first go through the T-Mobile unlock requirements and policies for those who haven't tried their luck with cx svc.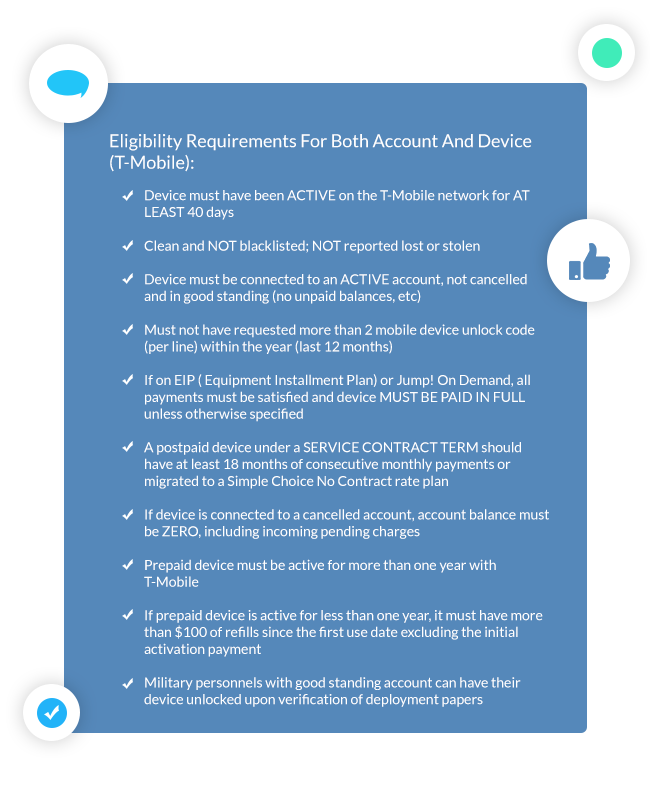 That's quite a long list, but what we must take note is that T-Mobile does ask for the device to be paid in full for EIP or postpaid accounts. That's one route you can go, but good news, you have another option! And that is to use a third party unlock service provider.
Here at UnlockBase, we help you get your unlock code quick and at an affordable rate. To make it clear once and for all, WE DON'T REQUIRE YOU TO QUALIFY ON ANY T-MOBILE UNLOCK POLICY. We have a different set of unlock eligibility requirements and we will discuss that on the latter part of this article.
Going back, T-Mobile used to provide SIM unlock codes, but to avoid errors and to make things easier, they have created the Mobile Device Unlock App and pre-installed it on your phone. Let's go through the Mobile Device Unlock App on the next section.
How To Use The Mobile Device Unlock App
With the Mobile Device Unlock App, you will no longer need to go to a physical store or contact customer service as the app lets you unlock your phone with just one tap. If you think your account is eligible and qualified on all the T-Mobile Unlock requirements, you will be able to request for unlock conveniently.
There's no need to enter any code, just tap and request for unlock. Easy as that.
The only caveat is this app is ONLY available ON ANDROID devices.
You have two unlock options, Temporary or Permanent. If you are travelling or just want to temporarily use a non- T-Mobile SIM card on your phone, you can opt for the Temporary Unlock.
If your temporary unlock request expires, you will receive an expiration message. If you change your mind and want to unlock your mobile permanently, you have to wait for your Temporary Unlock to expire.
If you want to Permanently unlock your phone, you can tap on the Permanent Unlock option. If successful, the app will automatically uninstall on your mobile and you only need to restart the phone to get rid of the pop-up notification.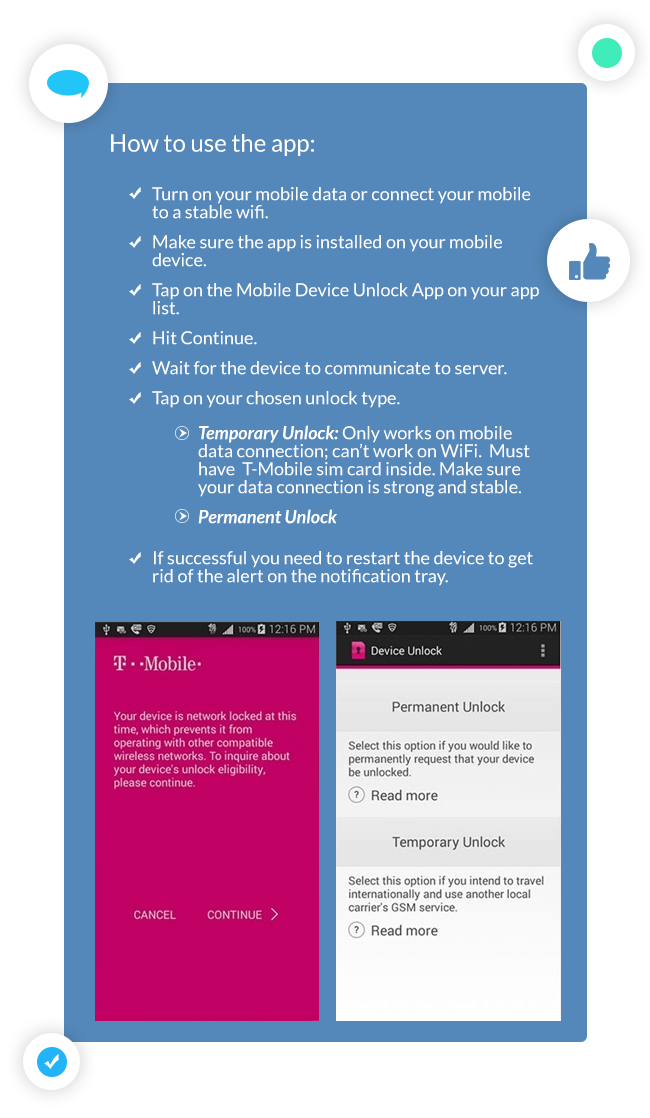 Unlocking Through UnlockBase: What You Need To Know
As mentioned earlier, at UnlockBase, we don't require you to qualify for any specific unlock eligibility requirement according to the T-Mobile policies. We do have our own set of Unlock Eligibility requirements that are prerequisites prior to finalizing your unlock order.
These prerequisites make sure that the unlock process will be smooth, easy, and fast.
We only want to eliminate any factors that may complicate the unlock process or that may cause the unlock to fail. If you qualify to all our unlock eligibility requirements, you are assured of a refund in case the unlikely event happens and the unlock failed.
For Android devices which support the Mobile Device Unlock App, we can remotely enter your IMEI on the T-Mobile server and get your phone unlocked within 3-5 business days.
If you are using an iOS (iPhone) device from T-Mobile, there's also no need to enter an unlock code. However, unlocking an iPhone is a completely different process. Go here to see how it's done.
We already have discussed how we unlock your device through the Mobile Device Unlock App on a previous blog post. It includes the supported devices, the troubleshooting steps, and all the how-tos on unlocking your phone.
The Unlock Eligibility requirements vary per phone model (we will give you a copy of this via email before confirming your order), but to give you an idea, here's a few of the general requirements we ask before we proceed.
✔  Make sure your mobile device is CLEAN, NOT REPORTED LOST OR STOLEN
✔  Make sure to try first a Permanent Unlock on your phone before confirming your order, please follow the steps listed earlier. Confirm your order only when your error is like this:  "Unlock Failed: This mobile wireless device is not eligible for unlocking. For Device Unlock eligibility details, please go online or contact Customer Care."
✔  We can't process an unlock unless you fix all other errors on your mobile.
✔  Make sure your phone is connected to the server before continuing. If you are getting an error that says "Server not responding, try again later",  it means your phone is not communicating to the server. Either you have weak mobile data signal or your WiFi connection is not strong and steady.
✔  Make sure your phone is running on its original software and not on a Custom OS. Rooted devices, or a mobile device that is running on a Custom OS, will not be recognized by the server and will not be unlocked.
If you are ready to unlock your phone, take note of your mobile's IMEI (International Mobile Equipment Identity). This serves as your mobile's unique serial number and this is the only thing we will need to get your T-Mobile device successfully unlocked.

To get your IMEI, simply dial *#06# on your dial pad.
Go here, to start your order.

Once we receive your order, we will be sending you a form through an email that enlists all the unlock eligibility requirements. Again, it varies per phone model, so make sure to follow and tick all the corresponding boxes.
Sending the form back to us means that you agree to the terms and conditions stated therein. Furthermore, sending the form back to us means that you are confirming your order.
Once received,  we will also send you back the unlock instructions and possible troubleshooting steps. Your IMEI will now be in queue, and since we have a thousand unlock orders per day, we hope you will comply with the 3-5 business days delivery or as the stated turnaround time on your order confirmation email.
Since this is a digital service, we will not be able to refund you when you change your mind during the waiting period. All orders are considered final as we are sending them to our suppliers as well.
Should the unlikely happen that your device was not successfully unlocked, and provided that the circumstances are outside the Eligibility requirements we have agreed upon, we will refund you 100% of the money that you paid for the service.
We will try our best to provide you support and answer your questions immediately during the unlock process. Our tech and customer service team are ready to help you 24/7. If you find yourself lost or confused during the unlock process, don't hesitate to shoot us an email.
Takeaway
Unlocking a T-Mobile Android device is pretty easy and straightforward. Through the use of the Mobile Device Unlock App you can now unlock your phone with just one tap. Easy, fast, and convenient – UnlockBase can help you with all your mobile unlock needs.
Do you think we missed something? Please tell us on the comments section down below.
Embed This Image On Your Site (copy code below):