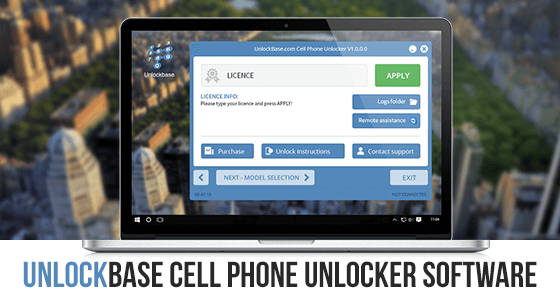 After more than 10 years in the Remote Unlocking industry, this summer UnlockBase has finally launched its own unlocker software! This new software will be supported and updated on a regular basis to cater to the latest and most difficult to unlock cell phones and to ensure that all our dealers stay in complete control of future unlocking needs. With evolving security protection it becomes ever more challenging to unlock cell phones but with UnlockBase, you're guaranteed a top notch team of Hacker and Reverse Engineers to support your unlocking needs.
At the moment this software support is only for Samsung
However no less than 276 models are ready for Direct Unlock (see full list below).
Starting July 1 2015, we began offering our first "World First" with the Samsung Galaxy S6 and S6 Edge Unlocking support. Since then we have added many older Samsung versions, totaling more than 200+ supported models without Rooting (Direct Unlock). You can access the history of all updates (ChangeLOG) on this page: https://www.unlockbase.com/cable-unlock/change-log-software-download/
You can also access the Official FAQ for the Software here:
https://www.unlockbase.com/cable-unlock/unlockbase-software-faq/
Finally, if you have one phone to unlock and need to order just one License, use this Link:
https://www.unlockbase.com/cable-unlock/
Our wholesalers can order licenses at preferred rates
directly in the section "Cable Unlock" in their UnlockBase account.
Here is the current up to date list of supported models:
AT&T Galaxy S4: SGH-I337, SGH-I337M
AT&T Galaxy Express: SGH-I437
AT&T Galaxy Tab 2 10.1: SGH-I497
AT&T Galaxy S3: SGH-I747, SGH-I747M
AT&T Galaxy S2 Skyrocket: SGH-I757, SGH-I757M
AT&T Galaxy S3 Mini: SM-G730A, SM-G730W8
AT&T Galaxy Tab 3: SM-T217A
AT&T Galaxy S4 Active: SGH-I537
Samsung Galaxy Grand Quattro: Galaxy Win I8550, GT-I8552
Samsung Galaxy Core Advance: GT-I8580
Samsung Galaxy Express: GT-I8730
Samsung Galaxy S4 Mini: GT-I9190
Samsung Galaxy S4 Mini Duos: GT-I9192
Samsung Galaxy S4 Mini: GT-I9195, GT-I9195L, GT-I9195T, GT-I9195H, GT-I9197
Samsung Galaxy Mega: GT-I9200, GT-I9205
Samsung Galaxy S3: GT-I9300I, GT-I9301I, GT-I9301Q, GT-I9305, GT-I9305N, GT-I9305T
Samsung Galaxy S3 Neo: GT-I9301I
Samsung Galaxy S4 Active: GT-I9295
Samsung Galaxy S4: GT-I9500, GT-I9505, GT-I9508C
Samsung Galaxy S4 Duos: GT-I9508, GT-I9508V
Samsung Galaxy Note 2: GT-N7105, GT-N7105T
Samsung Galaxy Note 10.1: GT-N8000
Samsung Galaxy Core Plus: SM-G350, SM-G350M, SM-G350L
Samsung Galaxy Trend 3: SM-G3500, SM-G3502, SM-G3502T, SM-G3502C, SM-G3502I, SM-G3502L, SM-G3508J
Samsung Galaxy Ace 4: SM-G357M, SM-G357F, SM-G357FZ
Samsung Galaxy Core Lite 4G: SM-G3586V, SM-G3588V
Samsung Galaxy Core Prime: SM-G360F, SM-G360M, SM-G360G,SM-G360GY, SM-G360AZ, SM-G360P, SM-G360BT, SM-G360FY, SM-G3606, SM-G3608, SM-G3609
Samsung Galaxy Express 2: SM-G3815
Samsung Galaxy Avant: SM-G386T1, SM-G386W
Samsung Galaxy Grand Prime: SM-G530BT, SM-G530F, SM-G530H, SM-G530M, SM-G530Y
Samsung Galaxy Grand Prime Duos: SM-G5306W, SM-G5308W, SM-G5309W
Samsung Galaxy Grand 2: SM-G710, SM-G710K, SM-G710L, SM-G7105, SM-G7105L, SM-G7105H
Samsung Galaxy Grand 2 Duos: SM-G7102, SM-G7102T, SM-G7106, SM-G7108, SM-G7508
Samsung Galaxy Mega 2: SM-G750A
Samsung Galaxy S5 Mini: SM-G800, SM-G800F, SM-G800M, SM-G800I, SM-G800H, SM-G800HQ
Samsung Galaxy Alpha: SM-G850A, SM-G850W, SM-G8508S, SM-G850F: SM-G850K, SM-G850L, SM-G850S,
Samsung Galaxy S5 Active: SM-G870, SM-G870A, SM-G870W
Samsung Galaxy S5: SM-G900, SM-G900A, SM-G900F, SM-G900I, SM-G900K, SM-G900H, SM-G900P, SM-G900L, SM-G900T, SM-G900T1, SM-G900M, SM-G900MD, SM-G900AZ, SM-G900FD, SM-G900W8, SM-G901, SM-G901F, SM-G9006V, SM-G9008V , SC-04F
Samsung Galaxy S6: SM-G920A: SM-G920F, SM-G920FQ, SM-G920I, SM-G920K, SM-G920L, SM-G920S, SM-G920T1, SM-G920W8, SM-G920T
Samsung Galaxy S6 Edge, SM-G925A, SM-G925F, SM-G925FQ, SM-G925I, SM-G925K, SM-G925L, SM-G925T , SM-G925S: SM-G925W8
Samsung Galaxy Note 3 Neo: SM-N7505
Samsung Galaxy Note 3 Neo Duos: SM-N7502, SM-N7506
Samsung Galaxy Note 3: SM-N900A, SM-N900K, SM-N900L, SM-N900T, SM-N900W8, SM-N900S, SM-N900, SM-N9000Q, SM-N9005, SM-N9008, SM-N9008S, SM-N9008V
Samsung Galaxy Note 3 Duos: SM-N9002, SM-N9006, SM-N9009
Samsung Galaxy Note 4: SM-N9100, SM-N9106W, SM-N9108V, SM-N9109W
Samsung Galaxy Note Edge: SM-N910F, SM-N910G, SM-N910P, SM-N910R4, SM-N910T, SM-N910V, SM-N910W8, SM-N915A, SM-N915T,
Samsung Galaxy Note 10.1: SM-P605, SM-P605L, SM-P605M, SM-P607T
Samsung Galaxy Note Pro 12.2: SM-P905, SM-P905M, SM-N9109W, SM-P907A
Samsung Galaxy Tab 3 7.0: SM-T217T
Samsung Galaxy Tab Pro 8.4: SM-T320, SM-T321, SM-T325,
Samsung Galaxy Tab 4 8.0: SM-T330, SM-T331, SM-T332, SM-T335, SM-T335K, SM-T335L, SM-T337, SM-T337A
Samsung Galaxy Tab Active: SM-T360, SM-T365
Samsung Galaxy Tab 4 10.1: SM-T535, SM-T537A
Sprint Galaxy S4 mini: SPH-L520
Sprint Galaxy Mega: SPH-L600
Sprint Galaxy S4: SPH-L720
T-Mobile Galaxy S2: SGH-T989
T-Mobile Galaxy S4: SGH-M919, SGH-M919N
T-Mobile Galaxy Note 10.1: SM-P607T