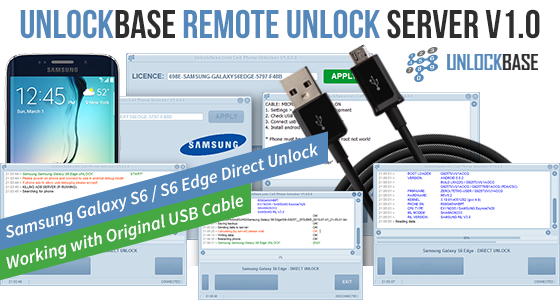 Today, UnlockBase is proud to officially present the first Direct Remote Unlock solution working with Original USB Cable to Unlock any Samsung Galaxy S6 and S6 Edge. Absolutely all versions, networks, and country are supported, including the Samsung Galaxy S6 / S6 Edge with the "Android Device Unlock App". If your phone is asking for "SIM Network Unlock PIN" the software will read the Unlocking Code, if the phone has a Device Unlock App, then it will perform a Direct Unlock. Turnaround time is instant, 24/7! No need to wait to receive your code!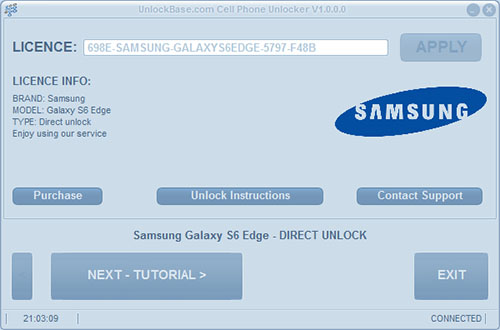 Below is the exact list of Supported models / variants:
Samsung Galaxy S6 (SM-G920A, SM-G920F, SM-G920FQ, SM-G920I, SM-G920K, SM-G920L, SM-G920S, SM-G920T, SM-G920T1, SM-G920W8) and  Samsung Galaxy S6 EDGE (SM-G925A, SM-G925F, SM-G925FD, SM-G925FQ, SM-G925I, SM-G925K, SM-G925L, SM-G925S, SM-G925T).
Technical Requirements : 
– Computer running Windows 7 or 8,
– Micro USB Cable (Compatible or Original),
– UnlockBase Cell Phone Unlocker v1.0 for Windows,
– Samsung USB Driver for Windows.
UnlockBase Cell Phone Unlocker Software Tutorial:
1 – Make sure you install the Samsung Galaxy S6 USB drivers on your PC, if you haven't already.
2 – Enable Developer Options by following these guidelines:
a) Step 1: Go to Settings> About device.
b) Step 2: Tap Build number 7 times.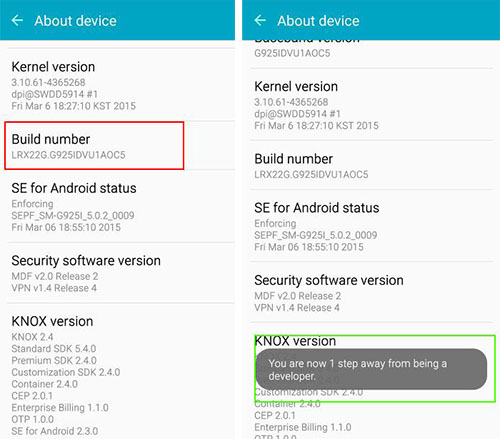 After tapping build number two or more times, the notifications will be shown on the screen telling you the progress:
"You are now X steps away from being a developer"
After tapping the build number 7 times, you will be notified you are a developer.
Now, Galaxy S6 developer options will be available in the Settings menu.
3 – Enable USB Debugging, by opening Settings > Developers Option > USB Debugging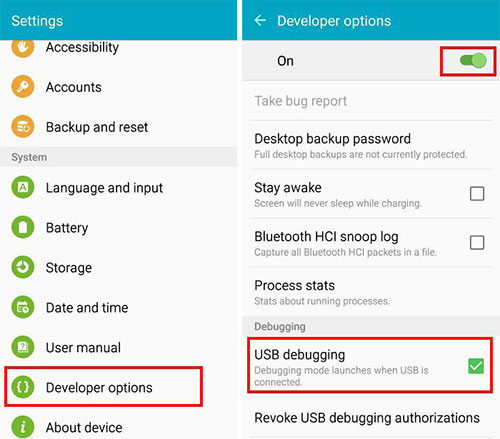 4 – Then install and launch "UnlockBase Cell Phone Unlocker v1.0"
5 – Enter the License Number and press "Apply"
6 – Then follow the guideline of this Video Tutorial:
Troubleshooting & Frequently Asked Questions :
Q: Does your solution ROOT our Phone ?
A: Our solution use one TEMP ROOT, our software will try it on your cell phone automatically during the unlock process, you can see that in the Video Tutorial above.
Q: Is it permanent unlock ? Even if I flash the phone ?
A: It's 100% permanent Unlock, once you unlock your phone with our solution you can do whatever you like (Upgrade or Downgrade Firmware, or even install custom firmware like Cyanogen or Avatar). Your phone will remain unlocked no matter what, for life !
Q: Do you offer unbranded version of your Software ?
A: No we don't offer unbranded version of UnlockBase Cell Phone Unlocker software.
Q: I install the software and  see the Icon on my Desktop, but when I double click it do not open, what to do ?
A: Please right-click the icon on your Desktop and select "Run as administrator"
Q: Where I can download the most recent version of the software ?
A: After you place your order you will receive by email  the License and the link to download the software. If during support session we ask you to download the latest version of the software or installer, please always use the link you received in the first email we sent you as we'll always update the archive of this Direct Download link with the latest upgrade of our software !
Q: My Samsung is CDMA, can you unlock it ?
A: Unfortunately we only unlock GSM phone, we don't unlock CDMA version from Sprint, BoostMobile, StraightTalk, or Verizon… It's very important to always invest in GSM Phone whenever possible, specially if you are an international traveler to make sure you can use it worldwide. CDMA is a standard that only work with some networks from the USA, and Japan….
Q: My cell phone is not detected, what should I do ?
1 – Make sure you install our Driver, click-here to download and install them again,
2 – Verify if USB Debugging is selected in your Samsung phone,
3 – Change USB Port of your computer until phone detected,
4 – Last resort change USB cable (most of the time cable is simply faulty).
Q: I get the error  « Error ! (Push_Filed) », can you still unlock my phone ?
A: Unfortunately this mean our software cannot Auto Root your phone at the moment. You can still manually root your phone with third party software (Like PingPong, iRoot, or KingoRoot) and then use our software to Unlock It. However we cannot provide support for these Third Party rooting software so if you prefer to give up or if it's too technical for you then please contact us by email and we will Void the license and refund your transaction.