The LG Stylo 4 was recently released by MetroPCS, although it was first rumored to be a part of T-Mobile. LG had released a lot of phones lately, including the LG Stylus Series, and many users are confused whether they should upgrade to that or this specific model. The LG Stylo 4 is valued $239 in MetroPCS but they've cut it down to $179 as an in-store credit (discount). It is also being offered by Cricket Wireless and it retails at $229.99.
There are a lot of offers from MetroPCS now, including a FREE iPhone SE when you SWITCH, but new things always fascinate us. And besides, who wants an expensive iPhone that is clearly a downgrade of Apple's earlier versions?
Hopefully, through this article, we will be able to help you answer a few of your questions. Is it worth to upgrade to LG Stylo 4? What makes it standout from the rest of its competition? Stay tuned…
LG Stylo 4 Versus Other Midrange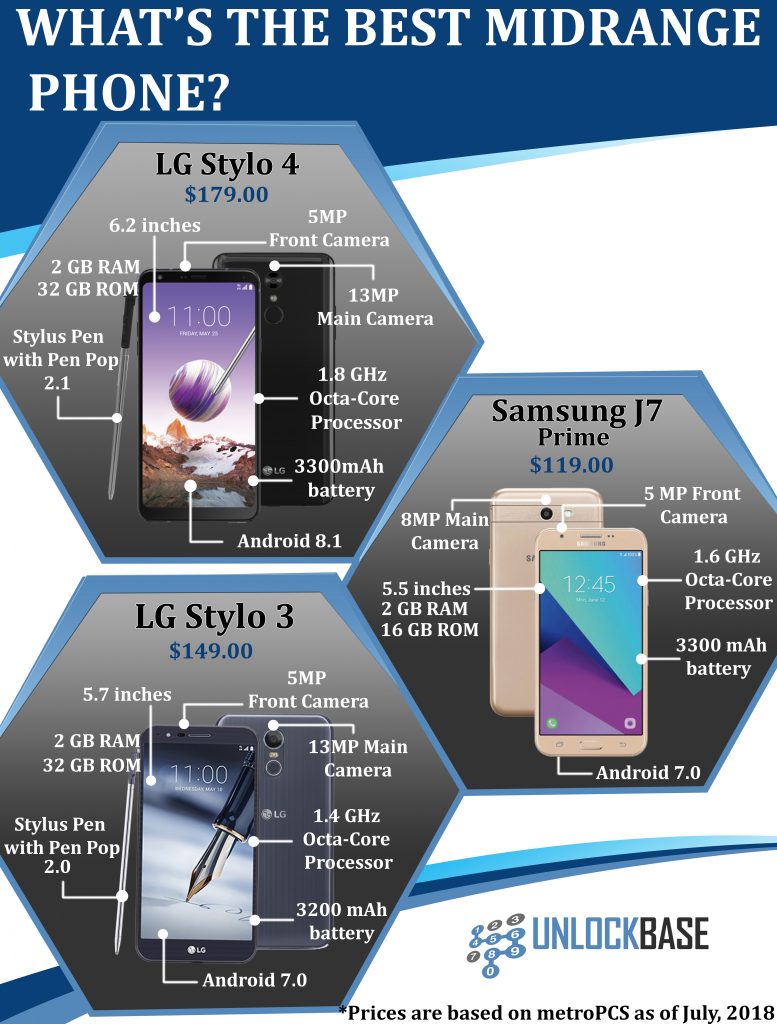 LG Stylo 4 is the total definition of an "up" game from LG. This year, the Seoul-based tech giant geared into increasing screen size to stand out from other major competitions that are already competing in the 6 inches arena.
The LG Stylo 4 stands gigantic at 6.2 inches and the iPhone SE will look like a midget standing only 4.87 inches tall. Other 2018 mid- range phones like the Samsung J7 Prime stands only 5.5 inches, while the previous version LG Stylo 3 Plus stands 5.7 inches.
This year, LG is trying to break through the mid range barrier by proving that size really matters, and the LG Stylo 4 does a very great job at standing out, and well, standing tall.
The Stylo 4's huge screen full-vision display really needs a big battery, we are yet to hear the reviews of battery life on this one just because it's pretty new, but it is disappointing that it only has a 3300mAh battery, only slightly larger than the previous version Stylo 3 Plus which has 3200mAh.
Still on this latest series, LG is trying to bring people the comfort of having a phone with a stylus, that is commonly known to be an arena for the Samsung Galaxy Note series. The LG counterpart is nowhere near half the price of any Samsung Galaxy Note phone but it sure is more than decent for its price.
It also has a built-in stylus and has an updated software for you to take notes and create GIFS conveniently.
Just like the usual mid-range phone, the Stylo 4 has enough machinery to compete- 2 GB RAM, 32 GB ROM, runs on Android 8.1, and an octa-core Snapdragon processor.
You'd love the fact that at such a low price point it already has a fingerprint processor- that is definitely one step ahead the competition. Well done, LG.
The fingerprint sensor also acts as a quick access button that is programmed to several features.
It has facial scan, but of course, that is not going to win against the iPhone X.
It also charges fast through a reverse USB type C charger, so that's a big plus for the LG Stylo 4.
The cameras aren't bad but they aren't great either. The main camera is 13MP and the front camera is 5MP with wide-angle lens. There's a Portrait mode that lets you blur your background like a DSLR trick, but since the images are gradient at night, that trick is not going to work.
There's more to the camera than insta-perfect pictures, because with the QLens feature of this phone, you can use your captured images to search for something online. But then again, that isn't something new.
As for the audio, it has a DTS:X Surround sound feature, not sure if you're the audiophile type that notices the sound difference no matter how little, but boy are the speakers awesome.
Final Verdict: Unlocking LG Stylo 4
For a mid-range phone, the LG Stylo 4 really cuts it to the budget. For a budget phone, it already has enough features that is necessary for security and good performance. And yet, LG decided to go beyond that and they've improved so much since the LG Stylo 3 Plus.
We're hoping LG makes more of these and keep improving them year after year, but we don't think the consumers are ready for a drastic price increase, though.
Bottomline is, LG Stylo 4 is a great phone for those who are in a budget.
If you bought one from MetroPCS and want to use it with other providers, UnlockBase can help you Unlock LG Stylo 4. There is nothing more useful than a phone that can be used in multiple networks, wherever you are in the world.
That's it for the LG Stylo 4.
Do you think we missed anything? Got any reviews for LG Stylo 4? Tell us about it and comment down below!