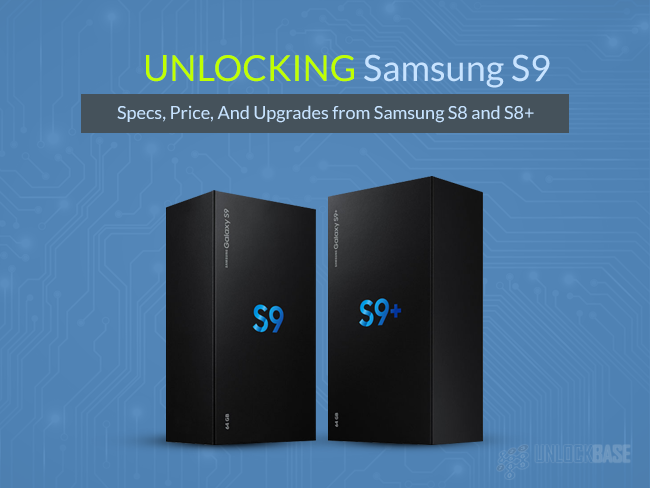 After Apple's release of the iPhone X, tech geeks always thought Samsung would come up with something as explosive and grandiose as that of the iPhone X, and that everyone thought of phones that are "foldable" coming from Samsung.
The tech giant already admitted that they are far from making that possible on the Samsung S9, but we are still lowkey expecting something that spectacular is going to happen.
Nonetheless, Samsung S9 is still a commendable phone with commendable features. Looking at it at first glance would make you think it is just like its predecessors Samsung S7 or S8, but it is definitely a notch higher than these phones.
Who champs? S9 vis-a-vis S8
You are probably wondering whether you should upgrade to the S9 or if it's better for you to just wait and save up for the much grander Android coming up later this year (who knows?). However, Samsung S9 is considerably one of the best phones available in the market today and it has the best specs we expect from a flagship so far.
The Samsung Galaxy S9 may look like only an upgraded version of the S8 but it has a more advanced and capable hardware, which can greatly help preserve the battery life, and it also has a more ergonomic design and user interface that adds convenience and character to the flagship phone.
However, if you don't own an S8 or S8+ yet and you plan to own a Samsung flagship next, you are better advised to settle with the S8. With the S9 coming in the shelves to replace the S8, the prices are surely going to go down as service providers are sure to offer big discounts and deals on the previous flagship.
Also, an unlocked Samsung S8 is currently over a $100 less than the current price of the factory unlocked Samsung S9, and the price is surely going to go down a few more hundred bucks once the S9 takes off in the market and S8 is going to be replaced.
We will compare both of the phone models in the sections below to help you know just what you are letting go when you choose the S8 over the S9.
Design: S9
Premium glass and metal build
5.8 inches for S9, 6.2 inches for S9+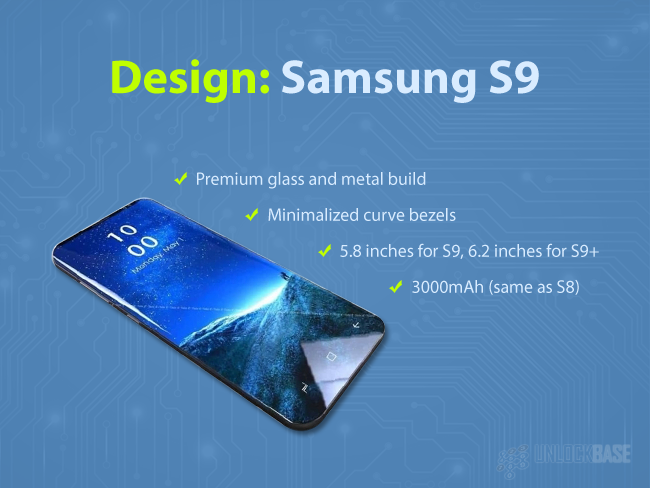 For the design, we'd like to say S9 is the winner. Although they look just similar, the Samsung S9 is a combination of customer inputs from the previous S- series phones that the company had gathered over the years.
S9 still has a 5.8 inch Infinity Display, which is practically the same size with the S8, except that there's a slight difference on how they designed it. The infinity display on the S8 goes edge-to-edge, that it is almost impossible not to accidentally press the screen and unknowingly open apps when you are merely just holding the phone. Although this design became a novelty with the S6 Edge, it was also quite annoying.
Samsung got the public's message (3 years later) and that's why they had changed how the Infinity Display on the S9 looks like. Technically, it is still edge-to-edge except that the curve on the sides is no longer part of the screen.
Samsung S9 looks like a typical 2017 phone; it's bezel-less and gargantuan in size. We are not sure if the Samsung S9 design is going to be a trendsetter this year, since it's the first flagship phone to come out this year.
Security
Ergonomic Fingerprint Sensor
Combined Iris Scanner and Face Unlock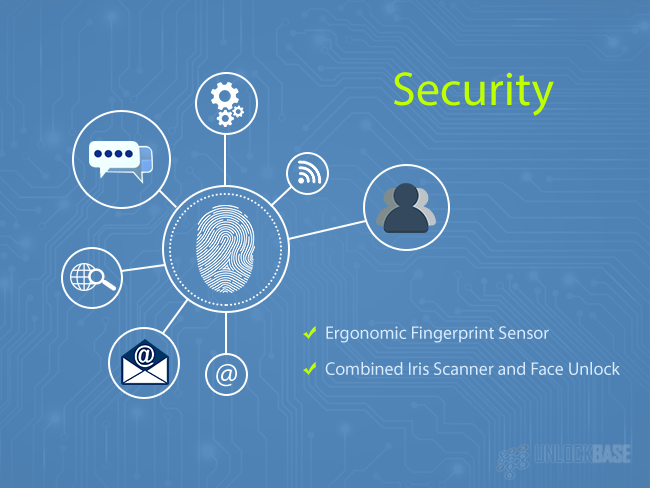 Aside from the screen, the S9 also has a more ergonomic placement of the fingerprint sensor. You can easily reach for the fingerprint sensor and it works quite fast as well. We consider this a smart move from Samsung because Apple didn't keep the Touch ID- which many iPhone fans didn't like.
Samsung also tried to enhance their Face Unlock by combining the Iris Scanner, which they termed as the Intelligent Scanner . The intelligent scanner works in the same way as that of the iPhone Face Unlock, however, it uses two different biometric data simultaneously.
There were no issues about the Face Unlock with the Samsung S9 as it is smart enough to deny an unlock using a photo. The security seemed very perfectly tailored, the only caveat is that you can only unlock the phone at a certain angle as the phone needs to scan your irises clearly for it to unlock. Unlike the iPhone X which can unlock your phone from multiple angles, the Samsung S9's Intelligent Scanner doesn't have 360 degree view to detect your face from any angle.  
This results to a rather awkward and unnatural way of unlocking the phone, but we are hopeful that Samsung will be able to improve this feature on the upcoming models.
Display: S9- Slightly better
5.8-inch AMOLED (1440 x 2560)
5.8-inch OLED (1440 x 2560)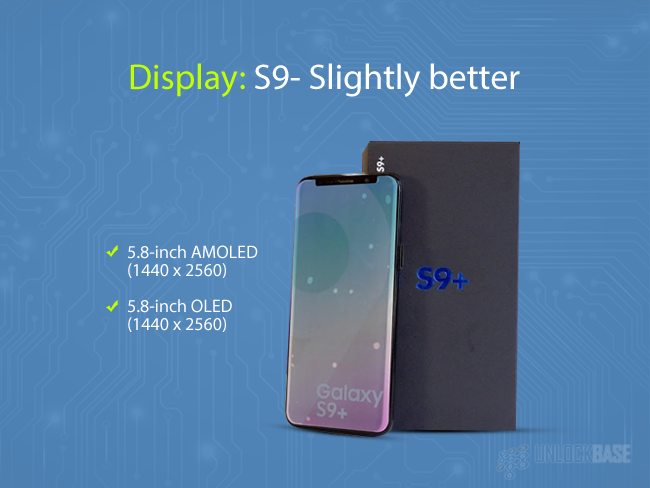 Samsung s9's display is slightly better than that of the S8. It still has an AMOLED screen + HDR for better video quality- pretty much the same specs. The S9 also has a brighter screen and it performs better than its predecessor.
Audio: S9
Front-facing speakers (not present on S8)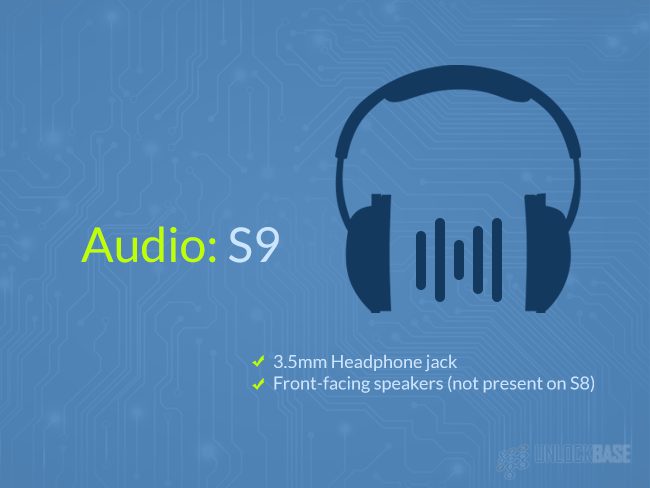 Samsung is keeping the headphone jack despite the ditch-the-headphone-jack trend that other phone manufacturers are doing.
Apple did it first and now phone manufacturers such as Sony are following the tracks and replacing the headphone jack with a USB type C of audio hub. That certainly doesn't invite the audiophiles who loves immersive music they can only enjoy with a headphone. That's one ball in the basket for the Samsung S9.
Also, Samsung S9 now has front-facing speakers which also improves the way sound gets out of the device.
Camera
Mechanical aperture shift f/2.4 and f/1.5 depending on the environment
S9+ has two times optical zoom (similar to Note 8)
Super slow motion 960fps (HDR)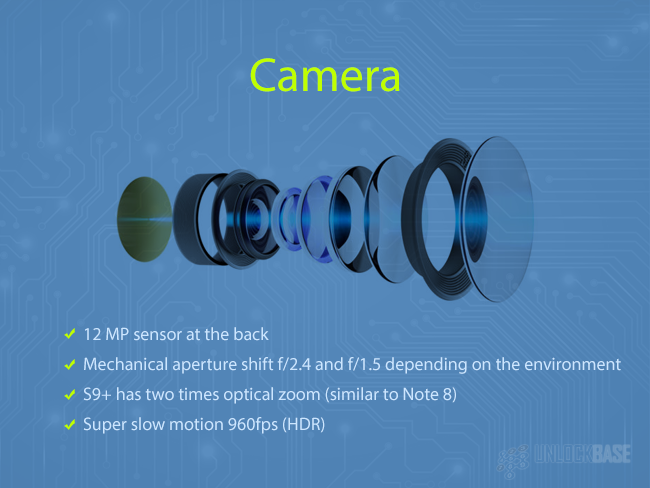 The S9 also has an improved camera, with two different apertures that shifts mechanically depending on the light. That ensures you can have awesome images both in high and low light and especially useful such as when taking images at night.
Aside from mechanical aperture shift,  the Samsung S9 also has a super slow motion feature just like that of the Sony Xperia XZ Pro, and at 960 frames per second, you are sure to get awesome videos out of a mere second in your life.
It seemed like Samsung went all out with their camera this year, because the Samsung S9 also has two times optical zoom which is similar to last year's flagship Galaxy Note 8. Combine these awesome features and you have an amazing camera phone that you can take with you day and night.
Hardware and Specs
Snapdragon 845/ Exynos 8895 (Europe) way better than the S8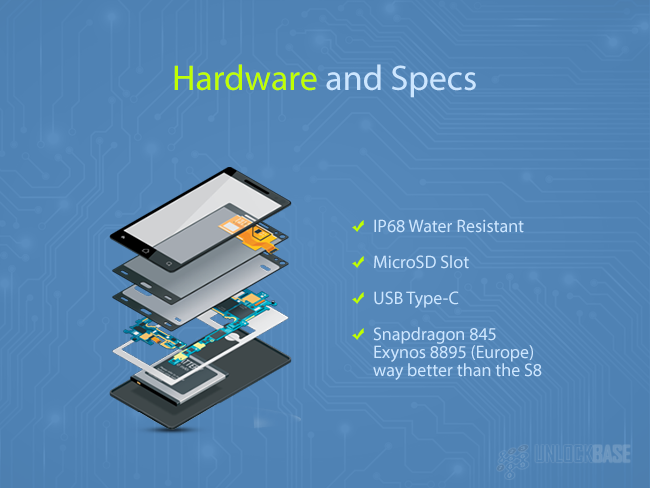 It's no surprise that the Samsung S9 has an IP68 level of water resistance as what the previous models have. What's surprisingly awesome this time is that Samsung S9 runs on the best chipset available to day, Snapdragon 845. The Samsung Galaxy S8 runs on a Snapdragon 835 headset, which as the numbers suggests, is a second-rate chipset compared to the new one.
The super fast chipset is expected to help the Samsung S9 save and manage its battery life for longer use. With an efficient chipset onboard, multitasking on this phone will not only be seamless, it will also be power efficient.
Software: S9
4GB RAM (S9); 6GB RAM (S9+)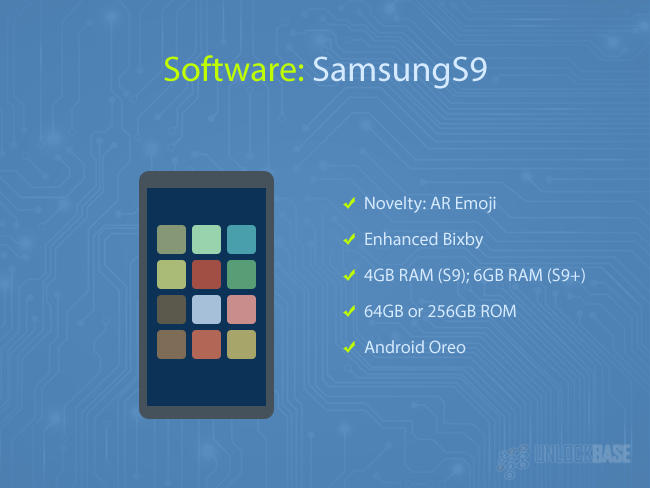 Samsung may have been short of time when they created the AR Emoji as it clearly seemed like a rush development. It's easy to assume this is how Samsung claps back on the Animoji of the iPhone X, but it wasn't a bad try.
On the other hand, Samsung runs on Android Oreo, which is the latest version so far, and for that we give Samsung a thumbs up. Samsung S9 is also available on two different memory capacity versions 64GB or 256 GB and that means you can store a whole lot of data on this one.
While that is not a new thing, it's sad to note that the Samsung S9 only has 4GB RAM, and only the S9+ has a 6GB RAM capacity. That's a pretty clever marketing tactic right there, but we're not sure if the Samsung S9+ can rely on that alone  to sell.
Takeaway
Although there was clearly no novelty on the Samsung S9, it is surely a sophisticated and convenient upgrade to that of its predecessors. Samsung finally applied the rules of constructive criticism among its flagship products, and they made the Samsung S9 almost infallible in every angle.
They can do better with the AR Emoji and the Intelligent scanner, though.