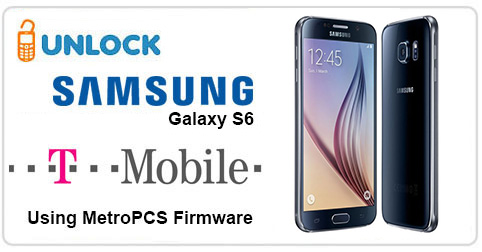 Update 1st July 2015: Don't want to wait? Use UnlockBase Cell Phone Unlocker software to Direct Unlock with Original USB Cable for any Samsung Galaxy S6 & S6 Edge, instantly 24/7. It's the cheapest option on the market today!
Update 19th June 2015: Too complicated ?! Don't want to risk to flash your phone with new firmware ?! Please take a look to our new Official mobile "Device Unlock" app method to unlock your Samsung using official Android App.
The Samsung Galaxy S6 (SM-G920) cell phone from T-Mobile USA is using a custom firmware preventing the phone from being unlocked by code as there is no way to enter it (these phone are simply not asking for "SIM Network Unlock PIN"). Before this post, the only way to Unlock the phone was by using the official T-Mobile  "Mobile Device Unlock App" which is an Android app called "Device Unlock" that allows you to request and apply a mobile device unlock directly from the device. And absolutely no code that you'll be able to buy online will work using this app.
So what do you do if you get an Unlock Code but you cannot use it?
Now there is a solution consisting of an upgrade to the firmware of the phone with MetroPCS Firmware instead of T-Mobile, and this will allow the phone to ask for the Unlock Code. Below you will find a tutorial about how to do this. Once you flash (update) your Phone with this New Firmware, please make sure that your Samsung SM-G920T is now asking for "SIM Network Unlock PIN". And if the answer is yes you can then click this link to order the Unlock Code of your Samsung Galaxy 6 from T-Mobile USA.
Service Name: Samsung T-Mobile USA [NEW GEN 2015] – NCK + SPCK (1<>4 Hours Mon-Fri) – [Tool ID: 775]
Please note: This method has been proven to work because it uses Samsung's Official programs and the Official stock MetroPCS provided Images. As with any Official carrier or manufacturer  firmware flashing this must be done at Your Own Discretion. The instructions are outlined CLEARLY and you must follow the instructions exactly. If any issues arise we cannot take responsibility for any issues. If you do not want to proceed, unfortunately we are unable to provide refunds as stated on our website before ordering. Please contact us for more information. You MUST perform these instructions and make sure the phone prompts with a NON accepted sim before you order or No Refunds!
Step by Step Tutorial Firmware Upgrade
Samsung Galaxy S6 (SM-G920T) to MetroPCS Firmware
Disclaimer: UnlockBase is not responsible if users break / brick or damage their phone while trying to use this method. You must not use this firmware for any other Android Cell Phone other than the Samsung Galaxy S6 (SM-G920T) from T-Mobile USA. Do so at your own risk. If you're not sure what you are doing, please seek assistance at a local cell phone service center in your area.
Step 1 (Preparation): 
Download ODIN v3.10.0 Service Software using this link (NEW: Odin v3.10.5 or Odin v3.10.6)
Make sure your phone battery is charged more than 60%.
Enable USB Debugging, by open Settings > Developers Option > USB Debugging
If Developers Option is hidden, go to Settings > About Phone > Built Number (tap on it for 5-8 times)
Make sure you install the Samsung Galaxy S6 USB drivers on your PC, if you haven't already.
Optional: Download the Original T-Mobile Firmware for Samsung SM-G920T.

Step 2 (Update Firmware): 
Run Odin3 v3.10.0 as administrator (Right-Click: Run as Administrator).
Switch OFF your Samsung Galaxy S6.
Boot in download mode, by pressing the Volume Down + Home + Power Key simultaneously.

When you see the screen below:

Tap Volume Up button to enter Download Mode.

Connect the Samsung Galaxy S6 to your PC with the USB cable.
Odin will automatically detect your phone and show the "Added!" message.
In the Odin, click on AP or PDA and then choose :- For Galaxy S6 (SM-G920T) : G920T1UVU1AOCH_G920T1TMB1AOCH_TMB_HOME.tar.md5 file.
Ensure Auto Reboot and F. Reset Time options are selected selected in Odin
while the Re-Partition option is unchecked (this is very important).
Click Start in Odin and wait for the software to update your phone.
Once the root installation is done, your phone will reboot
and soon a PASS message with a green background appears in the left-most box at the very top of Odin.
You can close Odin after device turns on.
Your Samsung Galaxy S6 is now fully updated with MetroPCS Firmware!
AFTER FLASHING A SAMSUNG GALAXY S6 FROM T-MOBILE WITH THIS FIRMWARE THE PHONE WILL FINALLY ASK FOR A NETWORK CODE WHEN YOU PUT A NON APPROVED CARRIER'S SIM CARD ON THE PHONE.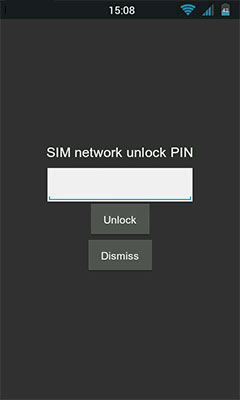 AFTER YOU HAVE UNLOCKED YOUR PHONE YOU CAN STILL FLASH A T-MOBILE FIRMWARE BACK TO THE DEVICE SO THAT IT GOES BACK TO ORIGINAL STOCK AND SO DOES NOT LOSE WARRANTY. BUT THE PHONE WILL RELOCK AS SOON AS YOU FLASH IT BACK WITH T-MOBILE FIRMWARE.
Video Tutorial from YouTube about the Flashing Process
Troubleshooting : I am stuck on the SAMSUNG BOOT LOGO! What do I do?
First, do not worry, your phone is not broken. Simply follow the instructions below:
a. Wait at least 5 minutes to make sure you are stuck on the logo screen
b. Pull the battery out and wait 30 seconds, then put the battery back in
c. Turn the phone on by: HOLDING VOLUME UP + HOME + POWER you will soon see the RECOVERY page
Tip: when the phone turns on let go of the power button ONLY, when you see the recovery let go of everything
d. Scroll down to WIPE factory user data reset and select it
when prompted scroll to YES and select it to do a factory wiping
e. Scroll down to WIPE CACHE PARTITION and select it,
when prompted scroll to YES and select it to do a wipe on cache
Tip: Use the volume rockers to navigate and the power button to Select your option
f.  Reboot the phone, you should load properly now