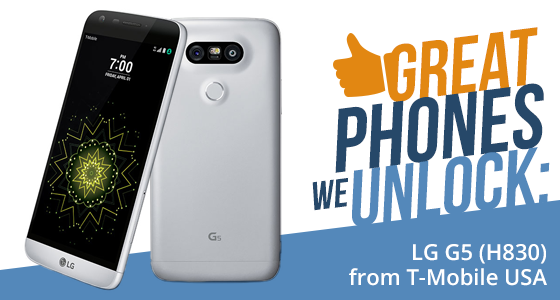 The new LG G5 is the first modular smartphone from the South Korean company, and it comes in an all-metal design, so you can upgrade it with accessories, but still appreciate the sleek look and feel. Key new features for the LG 5 include a uni-body design, an easy to slide-out battery, and MicroSD card slot, so you can add more power and memory quickly and easily. The screen is a 5.3" Quad HD screen with a high-contrast display with daylight mode.
As far as cameras are concerned, they are dual rear-facing with standard and ultra-wide-angle lenses. There's an 8MP camera at the front and 16MP on the rear. The 135° lens means you can capture a sprawling skyline, a stadium concert, or the full length of a beach. You can also zoom out ultra-wide (0.5X) – it's a first for a smartphone. You can take a variety of photos and videos from a micro close-up to a macro scene by simply pinching the screen.
The phone measures 149.4 x 73.9 x 7.7mm, and unlike its G series predecessors, it's not curved and is smaller and easier to hold. Reaching all corners of the screen is now possible.
The LG 5 features Always-on display so there's no need to press the button to check the time, date, or notifications, just a glance gives you the information you need.
Despite the Always-on display, to minimize power consumption, LG redesigned the display driver IC memory and power management function so that the display's backlight only illuminates one small part of the overall display. This means the Always-on Display requires only 0.8 percent of the battery's full capacity per hour to remain functional. With consumers turning on their smartphones up to 150 times a day mostly to just check the time, the G5's Always-on Display has been designed to make a notable difference in the life of the battery over the course of the day.
For greater connectivity, the LG G5's Friends Manager app enables you to connect, interact and play with all your LG owning friends.
T-Mobile is currently selling the LG 5 for $629.99 or for $26.25 a month for 24 months with $0 down.
Unlock your LG G5 (H830) with UnlockBase
If you want the freedom to choose your own service provider, no problem. UnlockBase, the web's leading remote cellphone unlocking service, is here to help. We can quickly, efficiently and economically unlock your LG5 using the Device Unlock App.
Device Unlock is an Android app that allows you to request and apply a mobile device unlock directly from the device. This allows you to automatically apply Mobile Device Unlock to the device without using a manual code. When your phone is locked with "Mobile Device Unlock" it's totally useless to order an unlock code. Unlocking your LG 5 costs just $29.90. Before using the app, you need to be sure your phone is 100% clean, not stolen or blacklisted.
To Unlock your LG G5 (H830) from T-Mobile USA please follow this Link:
https://www.unlockbase.com/phone-unlocking-service/tmobile-device-unlock-app-official-unlock/