Apr. 18
2016
How UnlockBase can improve your love life
Tips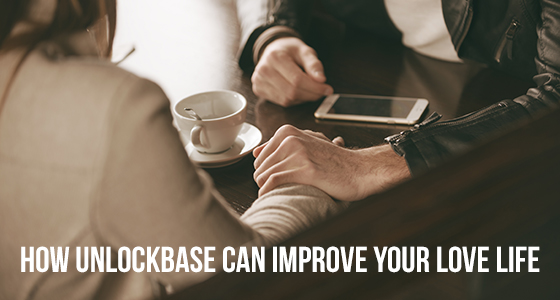 UnlockBase is the web's leading remote online cellphone unlocking site and has the web's largest database of cellphone models and service providers all around the globe. It may not sound very romantic, but when you consider the cellphone has become the medium of choice to flirt, romance, chat, share pictures and find hot dates all over the world, then you can start to see how UnlockBase can help. Several websites such as OK Cupid and Plenty of Fish, not to mention a whole raft of some of the more naughty dating sites, have modeled their entire business structure around their customer base using the cellphone. It means that finding the love, or even the lust of your life, can be as simple as just reaching for your phone to exchange flirty messages, chat for hours on social media apps, or better still, chat on the phone thanks to a generous cell phone deal.
That's where UnlockBase can play Cupid. A lousy deal from your service provider can seriously hamper your naturally romantic nature if you quickly run out of data, or exceed your monthly call minutes. Make no mistake, no matter how interesting things are getting on your phone, they'll stop you in mid-sentence or refuse to send that all important selfie if you should suddenly run out of credit. That's what they mean when they say the course of love can be cruel. And when you suddenly cut people off on the phone, it's Murphy's Law that they will assume the worst. Their imagination starts to run riot. Did he or she just blank me? Have they found someone better to talk to? Why did they suddenly and so rudely stop talking to me?
Fortunately, with UnlockBase, it takes only a few seconds to free yourself from a lousy phone deal and go in search of a better one. It's rather like unlocking your own libido, because once free of your all controlling service provider you are free to find any provider you want. One with better call rates, a better data package, or much better reception in your area so you are not constantly asking your loved one to repeat what they just said, or seeing only fuzzy images of them on an intimate Skype call – that gets tiring and unromantic very quickly.
If your cellphone is going to be your method for finding love and fulfillment it needs to be free to work its magic, and that's what an unlocked cellphone can be. The beauty of an unlocked phone is that it doesn't limit you to just searching for love in your own back yard. Imagine if you wanted to find romance in another part of the world. Your traditional cellphone provider will quickly pour cold water over that with texts that won't go through because they are not part of your regular package, crippling call rates, and quite often, the inability to actually connect with certain foreign countries.
Let UnlockBase unlock your phone and you can buy yourself a SIM card such as Lebara, Vectone or Lycamobile which are specially designed for long distance calling, with cheap call rates, generous text messaging costs and even free calls if your long distance lover uses the same service provider.
You don't need to test your patience or powers of endurance with Wattsapp or Viber messaging if you can just pick up the phone and chat for hours. Explaining how you feel and what you're trying to say is much easier when you just say it with spoken words, but unless you want romance crushing bills falling on your doormat from a normal cellphone service provider, your long distance love life will suffer without an unlocked phone.
UnlockBase doesn't just unlock your cellphone, it sets your spirit free.