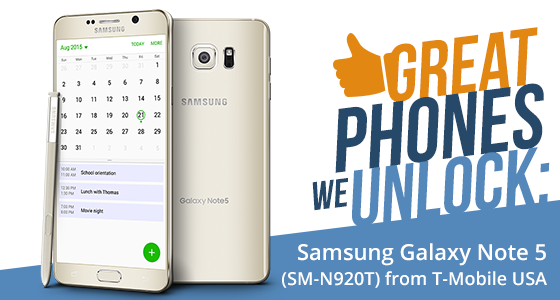 Most phablet fans would agree the Samsung Galaxy Note series is the daddy of all the phablets, consistently high quality and innovative as well as slick and easy to use. Samsung believe with the Galaxy Note5 they have delivered the best version yet.
Billed as the most powerful and beautiful model yet, with a 5.7 inch Quad HD Super AMOLED (518ppi) screen, it's still as big as ever, but now slimmer, framed by sleek aluminum metal and glass. The useful S Pen can be used on a sleek flat surface while the phone's dual-edge back lies comfortably in the palm of your hand. In fact, the new S-Pen is now even more like an actual pen, and writes like one too on the surface of the screen. The screen is made from super tough Gorilla glass.
The 32GB Samsung Galaxy Note 5 comes with a wireless charger. Just rest the phone on the charger and it's fully powered in 120 minutes. The advantage of the wireless charger is that you can keep it with you at all times, so even when you are travelling or stopping for refreshments, your phone can stay topped up to the max.
There are also a number of entertainment options with the Galaxy Note5 that a new dimension not just to using your phone, but the way you entertain yourself and your friends. This includes the ability to share your own experiences with others in real time by turning on your camera and using Live Broadcast that streams on You Tube to live the moment together.
The camera also features Video Digital Imaging Stabilization in addition to Optical Image Stabilization technology so there's no camera shake, it's so steady it's as if the camera is locked off, not hand held. You can record videos in 4K / UHD.
There's also a 16 MP rear camera and 5MP front camera. The camera's Advanced Selfie technology and range of effective filters mean photos are super sharp. Pictures and videos can then be shown on a TV screen with just one tap.
Connectivity is also easy with Galaxy Note5. SideSync enables you to respond to texts and get important reminders and alerts while you're on your computer.
In certain countries you can also take advantage of Samsung Pay, a hassle-free and secure way to pay with fingerprint authentication and additional layers of security
The Samsung Galaxy S5 retails at $699 cash or $29.17 a month for 24 months from T-Mobile with $0 down.
Unlock your Galaxy Note 5 with Unlockbase
If you're happy with everything about your choice of phone, but not your cellphone provider, you need to get in touch with Unlockbase. UnlockBase is the leading online remote unlock site, with the largest database of phones and service providers around the globe. You can unlock your Galaxy Note5 quickly, easily and cost efficiently for $29.90 using the Mobile Device Unlock App, the Android official unlock for T-Mobile USA. Just ensure your phone is clean, and not reported as lost or stolen.